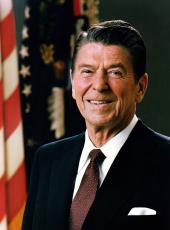 Remarks at the Welcoming Ceremony for Prime Minister Mohammed Khan Junejo of Pakistan
The President. Mr. Prime Minister, it's a great pleasure to greet you and your family today. This is your first visit to the United States, and all Americans wish you a warm and heartfelt welcome. Over 36 years ago Liaquat Ali Khan, one of Pakistan's proud founders and one of your predecessors, traveled extensively through our country. He told the American people of the friendship and good will the people of your then-new country held for America and its ideals. He said he hoped that the future will unfold itself in ways which will make Pakistan and the United States comrades in the noble task of maintaining peace and in translating the great constructive dreams of democracy into reality.
Mr. Prime Minister, as the leader of one of our country's closest partners and as the elected Prime Minister of a constitutional government, your presence here today symbolizes the realization of Liaquat Ali Khan's dream. Under your wise leadership, Pakistan is making great strides in the transition toward democracy. And this progress is all the more remarkable because, even in a volatile environment, it's being accomplished peacefully. Such peaceful change bodes well for Pakistan's future.
Mr. Prime Minister, Americans well appreciate that building free institutions and making them function effectively requires patience, perseverance, tolerance, luck, and plain hard work. But the results are worth it. Freedom unleashes the creative spirit of the human spirit and carries a nation to its greatest potential. Pakistan is demonstrating this by its impressive rate of real economic growth: about 6 percent annually. Your country's agricultural base has been strengthened and new industries have increased Pakistan's manufacturing capabilities. The United States, as one of Pakistan's major trading partners, applauds your government's efforts to foster enterprise and bolster the economic well-being of your people. Mr. Prime Minister, we're aware of your deep commitment to expanding the boundaries of opportunity and improving the quality of life of your people. Through increased trade and business and through our 6-year program of assistance, which was recently renewed, we are playing and will continue to play a positive role in helping you achieve your goals.
During that early visit to our shores, Prime Minister Liaquat Ali Khan described challenges to the free people of his country and the world. "Dark forces," he said, "were at work threatening to extinguish the torch of civilization which liberal institutions are trying to keep alive." Well, those words proved remarkably and sadly prophetic. Today Pakistan, a peaceful, nonaligned nation, has been unwillingly thrust into the role of a frontline state, courageously standing in opposition to Soviet aggression in the region. The brutal Soviet occupation of Afghanistan—which also was once nonaligned and free—is now in its sixth year. The assault on this noble people, the attempt to obliterate their homes, their farms, their religion, and their culture, continues unabated. Even as we speak, the valiant freedom fighters in Afghanistan are fighting and dying for a cause no free man, no moral and enlightened individual, can ignore.
And the world should also note that in pursuit of their neocolonial war of aggression against Afghanistan, the Soviets have repeatedly violated Pakistan's sovereignty. They have exacted a heavy toll in lives and property. In the first 6 months of 1986 there were more attacks on Pakistan's territory than in all of 1985. Yet through it all, the courageous people of Pakistan and their government have remained stalwart in their opposition to the Soviet Union's brutal aggression. America deeply admires Pakistan's steadfastness and bravery in this noble stand. Pakistan also has been admirable in its generosity toward the nearly 3 million Afghans who have fled their country-the single largest refugee population in the world. And by your actions, you have given new meaning to the historic traditions of Islamic hospitality. The United States is proud to be assisting you in this most humanitarian enterprise.
Your outstanding economic achievements and the progress you've made in your transition toward democracy are even more impressive-some might even say amazing—in light of the defense and refugee burden that you are forced to bear. The United States will continue to help where we can-economically and in the modernization of your armed forces. The cooperation between our two nations is as broad and deep as the friendship between our peoples is firm and strong. I look forward to our talks today, Mr. Prime Minister, and I'm confident that we will both benefit greatly from the exchange. These talks give us an opportunity to reaffirm our commitment to stand together in the interest of peace, stability, and progress in southern Asia and throughout the world. Mr. Prime Minister, we welcome you.
The Prime Minister. Mr. President, Mrs. Reagan, ladies and gentlemen: I thank you, Mr. President, for the gracious words you have spoken. I greatly appreciate, also, the warm reception that has been accorded to me and to my colleagues on our arrival. It is a manifestation, no doubt, of the friendly regards in which the United States holds Pakistan. The people of Pakistan fully reciprocate these sentiments. I bring to you their cordial greetings and best wishes.
For me, personally, this visit to the United States is an occasion of special significance, for I have the honor to come here as the elected representative of my people. We, in Pakistan, have always cherished democratic values. These are an essential part of our Islamic belief. Even when we have faced difficult circumstances, our faith in democracy has never wavered. The general elections held in Pakistan last year demonstrated our commitment to the democratic process. My government has since restored the Constitution along with all the fundamental rights. I'm sure all friends of Pakistan are gratified that the transition from martial law to constitutional rule has been accomplished in peace and stability.
I was particularly happy to receive your invitation, Mr. President. We have always entertained a profound respect for the United States, a great nation, conceived in liberty, the land of Washington and Lincoln, Roosevelt and Eisenhower. America has inspired generations of men the world over. The purpose of my visit is to look and to learn. I hope also that I may be able to reach out and inform the American people of our hopes and aspirations and share with you our concern in the face of the problems that confront us. The United States has a tradition of cooperation and support to foreign countries in their programs for economic development. Under your leadership the United States has renewed its commitments, also. To the effort for peace and security in our region, your economic assistance has been most valuable for Pakistan's progress. Your political and modern support has been invaluable in our struggle to safeguard principles, indispensable for the maintenance of freedom and independence in our region.
Mr. President, sir, it is an honor to meet you, and I look forward to the opportunity of exchanging views with a leader of your long experience. I'm confident that our talks will serve to deepen mutual understanding and to further promote cooperation between our countries. I look forward, also, to a stimulating exchange in meetings with the respected members in your administration and with the honorable Members of Congress. Myself, the Members of the Parliament of Pakistan, and the members of my entourage look forward keenly to meeting the American people in different walks of life.
Once again, I thank you, Mr. President, for your kind invitation. Thank you very much, sir.
Note: The President spoke at 10:10 a.m. at the South Portico of the White House, where the Prime Minister was accorded a formal welcome with full military honors. Following the ceremony, the President and the Prime Minister met privately in the Oval Office and then held an expanded meeting in the Cabinet Room.
Ronald Reagan, Remarks at the Welcoming Ceremony for Prime Minister Mohammed Khan Junejo of Pakistan Online by Gerhard Peters and John T. Woolley, The American Presidency Project https://www.presidency.ucsb.edu/node/258835