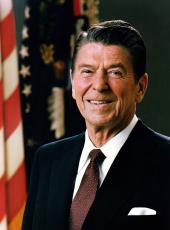 Remarks at the Welcoming Ceremony for Prime Minister Margaret Thatcher of the United Kingdom
The President. Prime Minister Thatcher, on behalf of the American people, Nancy and I extend to you and your family a warm welcome to the United States. Your visit here renews the personal friendship we began in your country just before you took office, and today as we meet in Washington at the start of my administration we also renew the friendship and alliance of our people.
Great Britain and the United States are kindred nations of like-minded people and must face their tests together. We are bound by common language and linked in history. We share laws and literature, blood, and moral fiber. The responsibility for freedom is ours to share.
When we talked in London just over 2 years ago—when neither of us was in office—I was impressed by the similar challenges our countries faced and by our determination to meet those challenges. You have said that we enter into a decade fraught with danger, and so we have. But the decade will be less dangerous if the West maintains the strength required for peace, and in achieving that goal, there is one element that goes without question: Britain and America will stand side by side.
Outside Cambridge curving rows of simple white markers testify to a time when peace was lost and Britons and Americans united to turn back threats to freedom. Our challenge today is to ensure that belligerence is not attempted again by the false perceptions of weakness. So long as our adversaries continue to arm themselves at a pace far beyond the needs of defense, so the free world must do whatever is necessary to safeguard its own security. A stronger, more vigilant NATO must be the background of that security and of our effort for equitable arms control.
The Atlantic Alliance will continue to be the steadfast center of our mutual security. But we're also both concerned with the totality of the East-West relationship. The Soviet invasion in Afghanistan was a brutal invasion, and you, Prime Minister, took a lead in rallying world opinion against it, and for that we commend you. The tension in Poland commands the attention of the world. Clearly, the Polish people must be allowed to work out their own solutions to their problems. Outside intervention there would affect profoundly and in the long term the entire range of East-West ties. There are problems in other parts of the world such as regions of Africa and Central America where Anglo-American cooperation is key to the success of Western efforts to find solutions.
Americans are grateful for British efforts to bring the American prisoners home from Iran. We remember and are grateful for the support you gave us when you visited here a little more than a year ago. We remember your words of encouragement. They gave us heart. And together we will work to continue to confront the scourge of international terrorism.
Finally, our two nations know that there is no true security unless there is economic stability. We have both suffered from substantial economic difficulties. They might be different in their complexities and require appropriately different solutions, but we know that we share one basic commitment: We believe that our solutions lie within the people and not the state. We are committed to unleashing the natural power of the individual to produce more and to make a better life for all. We believe that people will stay free when enterprise remains free, and we believe that there are no insurmountable problems when we let individuals make decisions outside the restricting confines of government.
Prime Minister Thatcher, I look forward to our discussions, to the pleasure of renewing our friendship, and to the opportunity to fortify the commitment between our countries. On behalf of all Americans I welcome you and your family to the United States.
The Prime Minister. Mr. President, I count it a double joy that I'm once again in the United States and that I'm being greeted here by you, Mr. President, newly in office, after a splendid victory but long since for me a trusted friend. Your warm welcome in this deeply moving ceremony will strike a chord in the hearts of British people everywhere.
Mr. President, these are not easy times in which to assume and to bear the responsibilities of national and international leadership. The problems are many, the dangers real, the decisions difficult. Indeed, weaker spirits might even be tempted to give way to gloom. But others like you, Mr. President, are stirred by the challenge. And that's why I value so greatly the opportunity to come to Washington to talk with you and to discuss the way ahead on so many of the problems of which you've spoken this morning.
We start from a common basis of understanding. For generations our two countries have cherished the same ideals. We've defended the same causes. We've valued the same friendships, and together we've faced the same dangers. Today, once again, our sense of common purpose and common resolution is being tested. It will not be found wanting.
The message I have brought across the Atlantic is that we in Britain stand with you. America's successes will be our successes. Your problems will be our problems, and when you look for friends we will be there.
Mr. President, the natural bond of interest between our two countries is strengthened by the common approach which you and I have to our national problems. You have mentioned some of the relevant things. We are both trying to set free the energies of our people. We are both determined to sweep away the restrictions that hold back enterprise. We both place our faith not so much in economic theory but in the resourcefulness and the decency of ordinary people.
Mr. President, you've spoken of a time for renewal. If we are to succeed in the battle of ideas, if we are to hold fast and extend the frontiers of freedom, we must first proclaim the truth that makes men free. We must have the courage to reassert our traditional values and the resolve to prevail against those who deny our ideals and threaten our way of life.
You, Mr. President, have understood the challenge. You've understood the need for leadership. In Britain you will find a ready response, an ally—valiant, staunch, and true.
Note: The President spoke at 10:11 a.m. on the South Lawn of the White House, where the Prime Minister was given a formal welcome with full military honors.
Following the ceremony, the President and the Prime Minister met privately in the Oval Office and then with their delegations in the Cabinet Room.
Ronald Reagan, Remarks at the Welcoming Ceremony for Prime Minister Margaret Thatcher of the United Kingdom Online by Gerhard Peters and John T. Woolley, The American Presidency Project https://www.presidency.ucsb.edu/node/246801