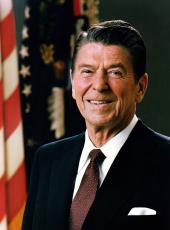 Remarks at the Welcoming Ceremony for President Raul Alfonsin of Argentina
President Reagan. President Alfonsin, it is an honor today to welcome you to the United States. It was 26 years ago when the last Argentine President came to Washington on a state visit. I certainly hope that what we accomplish today will clear the path for increased good will and cooperation between our peoples in many more such visits, and let's make certain it's not another 26 years.
Argentina and the United States, though at different ends of the hemisphere, have much in common. The spirit of freedom and independence that freed the people of the United States, only a short time later, spread to Argentina. And your country is one of the oldest democracies of the hemisphere. The flame of liberty burned red hot in Argentina. And your country was the first on the continent to ban slavery. This was no mere coincidence, Mr. President; the Argentine people are the heirs of a great legacy. Similar to our own experience, Argentina was a frontier society, a land where people came from many parts of the world to better themselves and to live in freedom, an undeveloped land, yet one blessed by God with a richness of soil and resources. Our forefathers, here and in your country, shared the challenge of turning a wilderness into a modern nation.
Today we continue to share the challenge of maintaining the economic growth and development so vital to the well-being of our peoples. Keeping a national economy vital and robust requires hard work, vision, and commitment. It requires tough decisions today in order to make a better tomorrow. We appreciate here, Mr. President, the severe economic problems that you inherited. A few years ago I, too, assumed the Presidency during a time of great economic uncertainty. Inflation and economic decline sapped our strength. Had we challenged our efforts into finding easy and short-term answers, had we looked to redistribution of existing wealth—rather than creating more—we would still be trapped in a seemingly endless morass. Instead, by focusing efforts on economic growth, increasing productivity, creating new incentives that encouraged citizens to work and save and invest, we unleashed a ground swell of economy-building activity in the private sector that turned decline into progress, inflation into stability, and national doubt into optimism and growth.
President Alfonsin, every country must make its own way and walk its own path, yet friends can and should help one another. The United States will do what we can to assist you in your efforts to improve the economic conditions of your country. Argentina, like the United States, is a land of few limits. Your people, educated and strong in spirit, have enormous potential. I can assure you in the strongest terms that the people of the United States want you and the people of Argentina to succeed and to prosper.
This prospect is made even more likely now that Argentina has returned to the ranks of democratic nations. As we've seen throughout the world, there was a strong relationship between freedom and economic development. Democracy frees the spirit of man to achieve, to build, and to create. It's the only system consistent with the decent and humane values at the heart of our societies.
Democracy means government derives its just powers from the consent of the governed. It means freedom of speech and religion, the freedom of assembly, and the rule of law. It's more than a form of government; it's a way of life, an ideal which seems to be a process, yet is an end in itself. It's not the easiest system, but it is the most just, and it brings a better and a freer life for all. The spirit of democracy is not found in great halls or in marching armies but is enshrined in the hearts of the people.
Juan Bautista Alberdi, the father of the Argentine Constitution, said it well: "The Constitution, liberty, authority are not written. They are realized. They are not decreed . They are created. They are made by education. They are not made in the Congress. They are made in the home. They don't live on paper. They live in the man."
Well, today is an exciting time to be an American—and I mean all of us. From the North Slope of Alaska to the tip of Tierra del Fuego, more people here are living in democracy than ever before. Ninety percent of this hemisphere's population lives in democracies or in countries in transition to democracy. This trend, however, is threatened by Marxist-Leninists who continue, with the heavy support of the Soviet Union and Cuba, to undermine freely elected governments and democratic movements.
In Nicaragua Communists, who were just one faction in the broad coalition that pledged to replace their former dictatorship with democracy, quickly seized control of the organs of power. The vast majority of those fighting for true democracy in Nicaragua for freedom of speech, religion, and press—actively opposed the former dictatorship. And the Nicaraguan people are joining the ranks of the freedom fighters. Nearly three times as many men are fighting the Communists right now as the Sandinistas had fighting Somoza before they seized power.
The free people of this hemisphere must not stand by and watch the Communist tyranny imposed on Nicaragua spread to the free lands of the Americas. We, like you, support the search for peace through the efforts of the Contadora group, strongly believing that if all 21 objectives were implemented, including the genuine democratization of Nicaragua, the Central American nations could live in peace and democracy.
Mr. President, as leaders of two great nations dedicated to democracy and committed to human rights, we are concerned not only with our own freedom but also the cause of freedom throughout our hemisphere. San Martin, a great freedom fighter of his day, once said, "In the last corner of the earth that I might find myself, I will be ready to sacrifice my existence for liberty."
Today democracy draws the people of the United States and Argentina, and all other Americans, closer in a bond of friendship and shared ideals. I welcome you, President Alfonsin, as an elected representative of your people and as a man committed to the political liberty we cherish so deeply.
President Alfonsin. Mr. President, I wish to begin my statement by expressing my gratitude to you for the warm reception you are granting to the President of all Argentines.
As you have said, it's very important that we meet at this historical time when a real wave of democracy is going through Latin America. This is our hope, Mr. President: that the peoples of Latin America actually live in that respect and actually enjoy the prerogatives and the liberty that the people of the United States enjoy.
That's, on the other hand, what our Founding Fathers wanted for us—both the Founding Fathers of the United States and those of Argentina. That's precisely what the men that gave us independence fought for, starting with General Washington in the North and General San Martin in Argentina.
As you know, as you said, Mr. President, it is necessary that these democracies actually achieve tangible economic results, so necessary to also achieve social democracy. That's why right next to hope, fear is also there in Latin America—the fear that arises from nonsatisfied expectations of our peoples, our democracies having inherited very difficult charges in the economic order.
It's a debt that in my country reaches the $40 billion and that in Latin America reaches the $400 billion. That, of course, conspires against the democratic systems. That, Mr. President, is no doubt one of the big differences between our two countries.
For us, the philosophy you just mentioned-the philosophy of the state of law, the respect of human rights—that is equal to both of us. But a man, Mr. President, to be called such thing, not only has to have just the right to exercise his fundamental liberties; he also has to have the possibility of living a dignified life.
That's why, Mr. President, in Latin America we are ready to govern with the austerity that our times are demanding. We are making the necessary adjustments to suppress the obstacles of our economy, but we cannot make adjustments that will actually impose sacrifices on those who have less. It's different from those developed countries in which the entire GNP is received by only 50 percent; in our countries, it doesn't reach even the 40 percent. And to ask from our peoples in that precise sector a bigger effort is no doubt to condemn them to marginality, to extreme poverty, to misery.
Of course, then we would mean that the demagogues that are always there would find in the arms those simple satisfactions that democracy couldn't grant. That's why, Mr. President, it has been very important for me to listen to your welcoming remarks, because you've shown a deep understanding of our problems. I am indeed persuaded that it couldn't be otherwise.
I am indeed persuaded that the United States understands the development of democracy is, of course, entrenched in our country. That's why there's been great expectations about the dialog that we will start today.
We will talk about the present, and we will talk about the future. We, two Presidents elected by the will of the people, will get together. We will, of course, talk about bilateral subjects and also those items that regard the continent as a whole. And, of course, in our dialogs the subject of Nicaragua and Central America will not be absent.
I am convinced that it's through dialog that we will be able to reach peace. And on the basis of the principle—a long-standing principle of international law in Latin America—of nonintervention, that will give us, of course, the possibility of democracy and pluralism in democracy to succeed without extracontinental interventions and affirming, of course, the freedom of man.
We will talk about all this, Mr. President, and as I said, there will be two men freely elected by the will of our peoples. So, Mr. President, it will be a dialog of both our peoples. That way and because of them we will try to reach solutions. We will work for them, for our peoples. We will try to build the future that our peoples deserve.
Note: President Reagan spoke at 10:13 a.m. at the South Portico of the White House. President Alfonsin spoke in Spanish, and his remarks were translated by an interpreter.
Ronald Reagan, Remarks at the Welcoming Ceremony for President Raul Alfonsin of Argentina Online by Gerhard Peters and John T. Woolley, The American Presidency Project https://www.presidency.ucsb.edu/node/259220