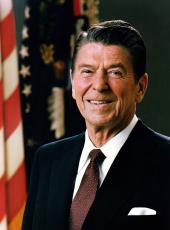 Remarks at the Welcoming Ceremony for President Mohammad Zia-ul-Haq of Pakistan
President Reagan. Mr. President, Begum Zia, it's a great pleasure for Nancy and me to welcome you to Washington today. Your visit to the United States this week both symbolizes and strengthens the close ties which exist between our two countries.
As you arrive here, the world, and your region in particular, are passing through a critical phase. We confront serious challenges that by choice and necessity will draw our peoples ever closer. It's vital that those nations committed to peace and progress work diligently together to achieve those goals.
One of Pakistan's founding fathers, Prime Minister Liaquat Ali Khan, visited Washington in 1950. And speaking before the United States Senate, he described our continuing challenge. He said, "This is the century of great awakenings in all parts of the globe. And it depends entirely on the leaders of the world whether mankind will awaken to the horrors of darkness or to a glorious dawn." Well, his words ring true even now.
Pakistan today stands in the front rank of the nations shouldering a great responsibility for mankind. Your courageous and compassionate role in giving shelter to millions of Afghan refugees is well known to the American people and will long be remembered. We're proud to stand with you, Mr. President, helping to provide for these tragic victims of aggression, while, at the same time, seeking a peaceful resolution of the circumstances which brought them to your country.
We also applaud your efforts and those of the Indian Government to reconcile your differences. The steps you take today to deter these relations will bring incalculable benefit to all the people of the sub-continent and will be memorialized in improvement of their lives.
Similarly, Pakistan's positive response to peace efforts in the Middle East have contributed to our confidence that our two countries can work together for peace and stability. After many years of disappointment, there is growing recognition in the Middle East that a continuation of violence can only breed a worsening conflict. This cycle must be broken. We're gratified to know that we can count on Pakistan's cooperation in confronting these perplexing problems.
We believe that the program of economic and security assistance on which we embarked last year will contribute to the tranquility and progress of the entire region, and it's our hope that reinvigoration of the relationship between our two countries will enable Pakistan to maintain its courageous stand on behalf of peace and amity of nations.
The United States-Pakistani friendship, which stretches back over 30 years, has been tested by time and change. It has endured, and, because of the substantial agreement between us on the great issues of peace, development, and security, it grows stronger daily.
Underlying our ties, however, is something which is even more critical in an enduring relationship and that is the warmth and understanding that exist between the people of our countries. This friendship is based on the mutual warmth and affection which have developed between our people, something which no government can mandate and which is indeed a cherished possession.
When you leave us and leave the United States next week, Mr. President, we want you to return home secure in the knowledge that the American people support close ties with Pakistan and look forward to expanding them in the coming years. We hope the friendship and hospitality that you receive during your stay will underline our good will and the permanence of our bond.
Mr. President, Begum Zia, welcome to the United States.
President Zia. In the name of Allah, the beneficent, the merciful. Praise be to Allah, Lord of the Worlds, and blessing and peace be upon the seal of the last of the prophets.
Mr. President, Mrs. Reagan, distinguished guests, ladies and gentlemen:
Sir, may I thank you most sincerely for your very kind words of welcome, for the warmth with which we have been received, and the generous hospitality that has already been extended to me, my wife, and the members of my delegation since we arrived in your great country.
Mr. President, I am no stranger to the United States. I've had the honor of coming here a few times before. But each time I have felt that it was a new experience for me. Perhaps this is because of the perpetual freshness, the vibrant dynamism, and the ceaseless, forward movement which characterize this great nation of yours.
My visit this time, Mr. President, is not just one of discovery or rediscovery. I take it as one of my—as a visit of great importance for renewal and reaffirmation: renewal of a friendship that has to us many ups and downs, and reaffirmation of those shared values and perceptions on which our relationship is based. I, therefore, look forward to the strengthening of our ties as the years go by.
Mr. President, west and southwest Asia, from the eastern Mediterranean to Afghanistan, is today in ferment. Armed aggression, military intervention, conflicts, disregards for universally accepted principles of international conduct have all combined to present a serious challenge to the security of the countries of this region. This in turn threatens to undermine the whole structure of the international relations upon which the peace of the world ultimately rests.
Mr. President, sir, Pakistan's continued commitment to the principle of nonalignment and to the objectives of the Islamic Conference are the fundamental postulates of its foreign policy. Pakistan is endeavoring to contribute effectively to the peace and stability of a troubled and turbulent region. But we cannot ourselves long remain immune from the dangers around us, Mr. President, nor have we in fact escaped their consequences.
The responsibility for providing refuge and a safe haven for nearly 3 million fleeing the repression in Afghanistan has been shouldered by our people as a humanitarian duty in the spirit of Islamic brotherhood. Nevertheless, the burdens are there, especially for a developing country like Pakistan.

But at the same time I must emphasize that we have borne these burdens ungrudgingly, and we will continue to do so, enshallah. We are conscious of the security implications of the great developments across our border. The qualitative change brought about by these developments and their impact on the entire region have evoked a response from the United States, which, Mr. President, we appreciate.
It was as a result of our common concern that our two governments decided on a program to enhance Pakistan's potential to withstand external forces of disruption and continue to play a stabilizing role in the region.
Mr. President, sir, it's our consistent endeavor to find equitable and humane solutions to the conflicts in our region. This task can only be accomplished through negotiation and mutual accommodation within the framework of the principles and resolutions of the United Nations. It must also inevitably entail the proper regard for the individual and collective dignity of the peoples involved.
In this endeavor, we have been fortunate, Mr. President, to have your understanding. What is more, sir, I claim that we have your friendship as well—a friendship mature enough to withstand differences of opinion and mirrored by the very candor and sincerity of our mutual exchanges. For all this, sir, we're indeed very grateful to you.
Mr. President, I have come here to deepen and strengthen this friendship. I'm looking forward to our talks later this morning. And I have no doubt that they will lead us to this goal and that our respective efforts on behalf of peace and stability in our region and in the world in general, enshallab, shall bear fruit. Indeed, Mr. President, borrowing your own words, it will be in the fitness of the things for me to conclude by saying, sir, that you and I have a rendezvous with destiny.

I thank you.
Note: President Reagan spoke at 10:15 a.m. on the South Lawn of the White House, where President Zia was accorded a formal welcome with full military honors.
Following the ceremony, the two Presidents met privately in the Oval Office. They then joined their delegations in the Cabinet Room for further discussions.
Ronald Reagan, Remarks at the Welcoming Ceremony for President Mohammad Zia-ul-Haq of Pakistan Online by Gerhard Peters and John T. Woolley, The American Presidency Project https://www.presidency.ucsb.edu/node/246006