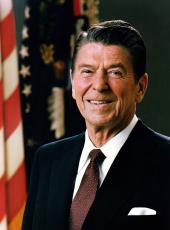 Remarks at the Welcoming Ceremony for President Miguel De la Madrid Hurtado of Mexico
President Reagan. Mr. President, it's an honor and a pleasure for Nancy and me to welcome you and Mrs. De la Madrid to Washington. We welcome you with the respect and admiration due to the leader of a great nation. We welcome you also with the warmth and good will with which one greets a friend.
A special relationship between the Presidents of our countries is becoming somewhat of a tradition, and the rapport we build as individuals is in keeping with the finest sense of that valuable tradition. Our ability to meet and, face to face, discuss the issues of the day, honestly and without reservation, is beneficial to both our countries. The trust between us is something of great value which should never be taken for granted.
Mr. President, I well recall first making your acquaintance in June of 1981 at Camp David. And the next time we met, you were President-elect of Mexico, and we agreed then, even before you were sworn into office, to maintain a continuing dialog and to meet and confer often. Your visit today builds upon the professional and personal bonds about which I'm speaking.
We have much to discuss. That is as one would expect between the elected leaders of two countries whose people, by the millions, interact with each other on a daily basis. Not only are our destinies tied, but in ways too numerous to count, our present as well.
Mr. President, we're fully aware of your commitment to overcoming Mexico's current economic difficulties. We applaud your dedication and wish you success in your drive to invigorate your economy and better the lives of your people. Our support represents the best wishes of a friend and more.
Mexico is now the third largest trading partner of the United States. We, on the other hand, are the world's largest market for Mexican goods. The prosperity and happiness of our peoples are inexorably linked by these bonds of commerce and friendship. I hope when you return home that you will bring the message to your citizens that the American people are on your, the people of Mexico's side.
The United States and Mexico have a common border and a common American heritage as well. The people of our countries—Spanish- and English-speaking alike-represent the values and culture of the New World, a bond shared by 650 million Americans from the North Slope of Alaska to the tip of Tierra del Fuego. It behooves all of us to work together to ensure the peace and stability of our hemisphere.
That is especially true in regard to Central America. Mr. President, I understand your deep concerns about the turmoil plaguing that region. We do not agree on everything concerning this situation. Yet, the level of respect in our relationship remains high, and that is the way it should be between neighbors who trust each other.
Where we do disagree is not,,on goals or principles. Instead, it is on thee means by which to achieve our goals. The magnitude of our agreement, on the other hand, is substantial and should not be underestimated. Both the United States and Mexico are motivated by a love of liberty and independence inherent in our systems of government and embedded in the souls of our people.
As you said in your book on constitutional law while assessing Rousseau's influence, "Liberty and equality are values incompatible with despotism, and mankind will not benefit from them while there may be oppressors and oppressed." Our fundamental beliefs suggest that a lasting peace for Central America must be based on the principles of democracy, on economic development that expands opportunity for all people, on noninterventionism, and on the avoidance of military cooperation with Communist and other aggressor regimes.
We appreciate the creative and energetic efforts to bring peace to the region by the Contadora group, in which Mexico has participated. The Contadora's 21-point document of objectives enunciates the goals we both support. We pray that the consensus that produced the document of objectives can translate what has already been done into sound treaty provisions that can be monitored, verified, and enforced on a reciprocal basis.
For the United States, the conflagration in Central America appears too close to ignore. Like a fire in one's neighborhood, this threat should be of concern to every nation in the hemisphere. We can and should work together to save lives and prevent further destruction.
Complicating the situation and making it even more dangerous has been the intervention of a totalitarian coalition which has undermined what we had hoped would be a democratic revolution. These totalitarians have been pouring gasoline onto the fire by pumping massive supplies of weapons into Central America and encouraging tyranny and aggression. Thousands of Cubans and Soviet-bloc military personnel have accompanied this flow of weapons and equipment into the region.
Responsible governments of this hemisphere cannot afford to close their eyes to what is happening or to be lulled by unrealistic optimism. I look forward to discussing with you, Mr. President, this issue of utmost importance.
President De la Madrid, earlier this year, you visited Buenos Aires where you said, "We do not want new conflicts and wars in our vast territory. We need peace and wellbeing. We do not want martyrs from warlike confrontations. We are civilian heroes." Well, I agree with that sentiment completely.
Let me reaffirm today that the United States will do what it can. It will go the extra mile to find peaceful solutions and to protect democracy and independence in the hemisphere.
Cooperation and respect between the United States and Mexico will do much in our efforts to promote peace and improve the standard of living of our people. As adversaries, our horizons would be limited. As friends, equal in each other's eyes and drawing from each other's strength, a universe of opportunity awaits.
Mr. President, I speak for all the citizens of my country when I say your friends welcome you to the United States.
President De la Madrid. Mr. President, I thank you and your distinguished wife for your cordial welcome.
I have come here to continue a personal dialog that we began in San Diego in 1982 and continued in La Paz in 1983. Being constantly in touch has allowed us to become better acquainted and, in our friendly and honorable dealings, to more effectively meet our responsibility to solve the problems and overcome the obstacles in the wide-ranging and complex relations between our two countries.
It is with great pleasure that I transmit through you warm greetings from the people of Mexico to the great people of the United States of America. We Mexicans wish to continue building not only peaceful and dignified neighborly relations but also a fruitful and positive friendship. Our two countries are reliable neighbors and friends, and we know how to conduct our relations in mutual respect for our independence and our cultural and political concepts.
We have learned to solve our problems with serenity and realism. Two peoples with different histories and cultures with imbalances and disparities have found the path of dialog and communication to be the basis for their understanding. The wide range and diversity of our bilateral relations highlight our dialog.
Our talks will cover trade and tourism, financing and investment, the very close relationship between our border zones, and human and labor aspects of the Mexican workers who migrate to the United States, to name only some of the most important topics. Progress has been made in several of these areas since the last time we spoke to each other. In others, solutions are pending, as will always be the case in our dynamic relations. The important thing, Mr. President, is that we must continue to tackle our problems frankly and in good faith, and that we, with imagination and determination, seek the best possible solutions for the benefit of our countries.
I must acknowledge, Mr. President, that I have always found this to be your attitude and that of your associates. Your government has supported various financial programs for overcoming our economic problems, and it has also been willing to help surmount difficulties in our trade relations. We must broaden and enhance this open attitude to dialog and negotiation.
Our exchange of ideas goes beyond solely bilateral matters. Both countries are members of the international community, and we share responsibilities on the American Continent. We are all concerned about threats to peace, the problem of the arms race, and the severe economic crisis that is hampering the efforts of developing countries to pursue their goal of economic and social progress in order to satisfy their people's legitimate ambitions and to banish hunger, unhealthy conditions, ignorance, and poverty.
The United States and Mexico should be concerned, as well, about the specially serious difficulties that Latin American countries are experiencing. Peace has been disrupted in Central America, and the risk of a generalized war, the scope and duration of which no one can foresee, is growing. Every country on the continent must do its utmost to restore peace and avoid war by respecting and upholding the sovereign right of its people to decide their own destiny and by rejecting interventionist solutions of any kind.
In peacetime, we must also support the Central Americans in their social and economic development programs and encourage their efforts to build democracy and respect human rights. To that end, let us apply the principles and rules of international law established by the countries of the American Continent: self-determination, nonintervention, equality of states before the law, peaceful solution of conflicts, and international cooperation for development.
Latin America is suffering the most severe economic crisis of modern times. Its peoples and governments have been obliged to implement harsh economic programs to cope with the situation. We are correcting the internal imbalances that come under our responsibility: the reduction of fiscal deficits and the imbalance in our commercial and financial accounts with foreign countries. The Mexican people are giving ample proof of their vigor and responsibility.
Nonetheless, our determined efforts require international understanding and cooperation in the field of trade and finance so that international conditions do not frustrate domestic actions. The crucial point is external debt servicing and the high and rising interest rates. In the short term, it is necessary to take effective action on the cost of money. The broadest and most far-reaching solution is to recover our payment capacity so that we can meet our debt obligations to regain our purchasing power abroad, to renew the process of economic growth, and to generate employment, thereby strengthening the basis of stability.
Solutions are not easy. It is we who must make the basic effort. We have already shown that we are both willing and able to do so. Now we ask the international community and essentially the industrialized countries to accept that. Since interdependence is an irreversible fact, the imperative of solidarity is a duty based not only on ethics but also on expedience.
Mr. President, I have no doubt that in a climate of frankness and friendship our talks will enhance our understanding of these topics, and we will be able to find new solutions to the problems that concern us. Mr. President, I thank you very much for your warm welcome.
Note: President Reagan spoke at 10:10 a.m. on the South Lawn of the White House, where President De la Madrid was accorded a formal welcome with full military honors. President De la Madrid spoke in Spanish, and his remarks were translated by an interpreter.
Following the ceremony, the two Presidents met privately in the Oval Office. They then joined U.S.. and Mexican officials for a meeting in the Cabinet Room.
Ronald Reagan, Remarks at the Welcoming Ceremony for President Miguel De la Madrid Hurtado of Mexico Online by Gerhard Peters and John T. Woolley, The American Presidency Project https://www.presidency.ucsb.edu/node/261208