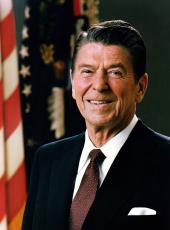 Remarks at the Welcoming Ceremony for President Li Xiannian of China
President Reagan. It is my pleasure today to welcome you, President Li. This is your first trip to the United States and the first visit by a Chinese head of state to our country. It's a great honor to have you, your wife, and the distinguished delegation who accompanied you as our guests. During my visit to China last year, I had the opportunity to get to know President Li. Under the guidance of President Li and other wise leaders, the Chinese people are enjoying greater productivity and a rising standard of living.
The American people are working with them as friends and partners in enterprise. Trade between us is at a record level and continues to climb. Scientific, technological cooperation is being put to use in a wide range of endeavors, and this too can be expected to increase. Our educational and cultural exchanges—already substantial-are expanding. We're in the initial phases of cooperation in the control of narcotics and antiterrorism. And by our common opposition to aggression, we are not only enhancing our mutual security but bolstering world peace as well.
Both our peoples should be proud that in a few short years a solid foundation of good will has been laid. Ours is an increasingly productive relationship based not on personality or momentary concerns, but on a recognition that our nations share significant common interests and an understanding of the many benefits we've reaped from the good will between us. Now, this doesn't mean that there are no areas of disagreement; however, we will continue to put any differences in perspective. When I met with you, President Li, in the Great Hall of Beijing, I suggested a Chinese principle that can serve as a tool in building an ever stronger bond between us: hu jing, hu hui—mutual respect, mutual benefit. Let us proceed in that spirit—hu jing, hu hui. As leaders of great nations, we should expect nothing more and accept nothing less.
President Li, we Americans highly value the ties we have built with the people of China in these last 13 years. We rejoice with you over the economic success your country is enjoying, and I'm pleased to be playing a small part in this modernization effort. We wish for the people of China what we wish for ourselves—to live in peace and to enjoy prosperity. By working together the people of both our countries can achieve this noble goal. We are pleased to have you with us.
On behalf of the people of the United States I say, huan ying. Welcome.
President Li. Mr. President and Mrs. Reagan, ladies and gentlemen, at the kind invitation of President Reagan I've come to pay a visit to a great country. On behalf of the Chinese Government and the people, I wish to extend a heartfelt thanks and the best wishes to the American Government and the people. Mr. President, I am very happy to see that you are recovering so fast, and I'm deeply touched by your participation in this welcoming ceremony.
The purpose of my coming to visit is to deepen mutual understanding, enhance our bilateral relations, increase the friendship between our two peoples, and safeguard world peace. I believe this purpose is in conformity with the interests and desires of our two peoples. Both China and the United States are great countries and both our peoples, great peoples. I am convinced that if China and the United States can establish a long-term and stable relationship of friendship and cooperation on the basis of the five principles of peaceful coexistence, it will greatly benefit our two peoples and world peace.
In the past two centuries or more the Sino-U.S. relations went through a tortuous road, with both exciting moments of joy and the painful periods that provoked thought. It is gratifying to note that since 1972 leaders of the two countries, judging the hour and sizing up the situation, have cooperated to lay down principles guiding bilateral relations and have reached a number of agreements that provide the foundation for the establishment of a long-term and a stable relationship of friendship.
The Sino-U.S. relations have made very big progress. A dozen years ago very few people could foresee the present level of development in our bilateral relations. However, I wish to point out that in our relations there are even today great potentials to be tapped and obstacles and difficulties to be overcome. The new situation demands our fresh efforts and new achievements. I hope that a dozen years hence, when we look back, we shall be able to feel gratified, as we do today, that as we proceed difficulties are increasingly reduced and our steps grow more vigorous.
Thank you.
Note: President Reagan spoke at 10:08 a.m. at the South Portico of the White House, where President Li was accorded a formal welcome with full military honors. President Li spoke in Chinese, and his remarks were translated by an interpreter. Following the ceremony, the two Presidents met in the Residence.
Ronald Reagan, Remarks at the Welcoming Ceremony for President Li Xiannian of China Online by Gerhard Peters and John T. Woolley, The American Presidency Project https://www.presidency.ucsb.edu/node/260141