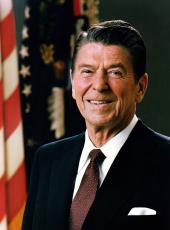 Remarks at the Welcoming Ceremony for President Jose Lopez Portillo of Mexico
President Reagan. I warmly welcome President Lopez Portillo on behalf of the people of the United States. But I also want to convey my personal greetings because of my personal respect and affection. The relationship we've built as individuals is indicative of a new dimension that we are bringing to the friendship between our two countries.
Our planned meeting of 2 months ago, which I was looking forward to with great anticipation, was abruptly canceled. And I want to thank you, Mr. President, for the consideration you've shown in visiting us here in Washington. You've done us a great honor in your visit to the White House.
You'll recall, Mr. President, the last time we met was in the Museum of Art, part of Mexico's rich cultural past—that was in Ciudad Juarez. We were surrounded there by magnificent pieces of art, part of Mexico's rich cultural past. It was appropriate that we should meet in such a place, for art transcends time and material consideration.
The same is true of the friendship between the peoples of Mexico and the United States. In a world filled with neighbors who resort to violence, neighbors who've lost sight of the shared values and mutual interests, the good will between Mexico and the United States is a blossom whose beauty we meet here to cherish and protect.
God made Mexico and the United States neighbors, but it is our duty and the duty of generations yet to come to make sure that we remain friends. I welcome you today with the pledge that this administration will sincerely and diligently strive to maintain a relationship of mutual respect and cooperation between our two nations and that decisions which affect both sides of our border will be made only after the closest consultation between our governments. Our very proximity is an opportunity to demonstrate to the world how two nations, talking together as equals, as partners, as friends, can solve their problems and deepen their mutual respect.
Mr. President, you are a scholar, a man of art, and a political leader of a proud and independent nation. There are many items of importance on our agenda. I look forward to a far-reaching exchange of views that will cement the ties between us. The personal friendship that we're developing must be equaled by the closeness between our two peoples.
President Lopez Portillo. Mr. President, under the sign of friendship which began in Ciudad Juarez, it is now for me a great pleasure to be here in the Capital City of your great country.
We are sorry that we did not meet in Tijuana as we had planned. But I am very happy that we are meeting now here at the White House, and it also pleases me enormously to see that you have totally recovered from the attempt that was brought on by absurd violence. I am very happy to see that you have enormous capacity of recovery. And in your good health and in your strength, I can see the good health and the strength of your nation.
There are few countries in the world that have so many items to deal with among themselves as the United States and Mexico. We're not only neighbors, we are also the representatives of two worlds. Literally and geographically speaking, we represent the North and the South along 3,000 kilometers of border. Therefore, there are structural matters between us that have been shaped by our history and our geography.
We also represent the relationship between the developing world and the world that has already been developed. And we're also immersed in a regional context that shapes our relationship. I come here now, sir, as a friend without any prejudice, to talk over these matters with you and to prove with my coming that there can be friendship among friends and that this friendship can have as its main pillar and basis the rule of reason.
In an absurd world, the reasonable thing to do can be the possible thing to do. And what is reasonable is based on respect and on the law. There are many problems that we have to deal with. We will be very happy to find our similarities. And when we do not have coinciding opinions—and it is very possible that in this world of plurality there may be times when we do not have coinciding opinions—then we will talk things over without arrogance.
Arrogance is a dangerous deviation of they who are in a weaker position. The other very dangerous aspect is submission. We will select the road of respect and the rule of reason without any submission and without any arrogance.
I believe that few times in our history has there been an opportunity for good understanding as there is today to understand each other well and to deepen and make headway in our relationship.
I feel, Mr. President, that you have great good will and a friendly feeling. I feel that you are a decent individual and an honest one. I shall make a great effort to respond to the kindnesses that you have with me.
We have established a friendship which no doubt will be both symbolic and solid. I am absolutely certain that we will [be] able to achieve what our two peoples and nations want of us. We want to be understood, and in turn, we want to understand. We want to respect, and we want to be respected. We want a solid relationship that will seek out the mutual interests of two countries that are neighbors and friends.
I am very certain, Mr. President, that if we go beyond rhetoric and prejudice, we shall be able to achieve our goals. And this will be for the good of both countries.
I thank you very much.
Note: President Reagan spoke at 10:35 a.m. at the South Portico of the White House. President Lopez Portillo spoke in Spanish, and his remarks were translated by an interpreter.
Following their remarks, the two Presidents met briefly in the Yellow Oval Room, and then they left the White House for an overnight stay at Camp David, Md. Following their arrival there, they met for discussions, first privately and then with their delegations.
In the evening, President Reagan hosted a dinner for President Lopez Portillo and his delegation.
Ronald Reagan, Remarks at the Welcoming Ceremony for President Jose Lopez Portillo of Mexico Online by Gerhard Peters and John T. Woolley, The American Presidency Project https://www.presidency.ucsb.edu/node/246792