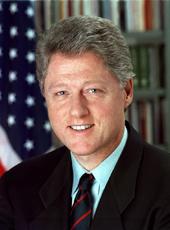 Remarks at the Welcoming Ceremony for President Jerry John Rawlings of Ghana
President and Mrs. Rawlings, distinguished members of the Ghanaian delegation, my fellow Americans. Mr. President, Hillary and I are delighted to welcome you and Mrs. Rawlings to the United States. Nearly a year ago, your country gave us a greeting I will always remember. On that great day, it was over 100 degrees Fahrenheit—[laughter]—and we had a half million people in Independence Square in Accra. We thought we should arrange a similar meeting here today. [Laughter]
Actually, for the South Grounds of the White House, we have a large crowd of people, young and old, from all parts of America, including a significant number of people whose roots are in your country. And in our hearts, our welcome is warm. In Independence Square, before the largest crowd I had ever addressed, I learned the meaning of akwaaba, your word for "welcome." It was also written on billboards and on posters, and unforgettably written in the faces of all the Ghanaian people we saw. Mr. President, Mrs. Rawlings, it gives me great pleasure to say to you this morning, akwaaba. Welcome to the United States.
Our trip to Ghana marked an important step forward for Africa and the United States, symbolizing a new beginning for both of us, a partnership built on mutual respect and mutual benefit. On our part, it signaled to the world our respect for Africa's achievements and aspirations after centuries of colonialism and decades of cold war. On Africa's part, it signaled your readiness to work with us to forge a better future of open societies and shared responsibilities.
Mr. President, under your leadership, Ghana has continued to flourish. It remains a vivid example of what democracy and open markets can do for the African people. Over the past 5 years, your economy has grown steadily. You have an independent judiciary, a lively Parliament, a thriving civil society.
Ghana is a partner with other African nations, seeking to preserve peace in the region, in Liberia and Sierra Leone, where you support the ECOMOG regional peacekeeping forces, and through your partnership in the Africa Crisis Response Initiative. You also send peacekeepers to other spots far from home, from Lebanon to the former Yugoslavia. And for that, we are grateful.
The United States needs strong partners like Ghana. It is no secret that hard challenges lie ahead for Africa. Recent headlines have described the continuing upheaval caused by terrorism, civil war, military aggression, the senseless cruelty suffered by innocent people caught in a web of violence. Clearly, there remains much to be done. But equally clearly, these headlines do not tell the full story of Africa, of more than 700 million people who want what people the world over want: to work, to raise a family, to live a full life, to bring a better future to their children.
A year after my trip to Africa, it is important to highlight what the headlines often don't: the hard work of the African people toward these lofty goals, the progress we are making in spite of setbacks. In Ghana, as in other African nations, we are deepening our link through growing trade and investment, air travel, and Internet access. I look forward to discussing this progress with the President and to talking about how we can build on it.
Something else of far-reaching importance is happening in Africa, something unthinkable last year when I visited Accra. Three days from now there will be a democratic Presidential election in Africa's most populous country, Nigeria. For 28 of its 38 years of independence, Nigeria has been run by military dictators. Now it has a chance to start anew.
The friendship between Ghana and the United States grows deeper every year. Ghana received our very first Peace Corps volunteers in 1961, and nearly four decades later, new Peace Corps volunteers still make a difference there. Across a wide range of common endeavors, our nations cooperate and learn together. More and more Ghanaians are coming to America to help us build our future. More and more Americans visit Ghana and the rest of the continent to understand the history that binds us together.
Mr. President, your visit underscores the debt all Americans owe to Ghana and to Africa for the brilliant contributions that African-Americans have made and continue to make to the United States.
The writer and crusader W.E.B. Du Bois was a citizen of both Ghana and the United States. Near the end of his life, he wrote his greatgrandson that his very long life had taught him two things: first, that progress sometimes will be painfully slow, and second, that we must forge ahead anyway because, and I quote, "the difference between 100 and 1,000 years is less than you now think." He concluded, "doing what must be done, that is eternal."
Mr. President, you have done so much of what must be done. It will live eternally, and we will be eternally grateful for the friendship between our two nations. Let us extend it in the new century for the new millennium.
Mr. President, Mrs. Rawlings, welcome to the United States.
NOTE: The President spoke at 10:15 a.m. on the South Lawn at the White House, where President Rawlings was accorded a formal welcome with full military honors. In his remarks, he referred to Nana Konadu Agyeman-Rawlings, President Rawlings' wife. The President also referred to the Economic Community of West African States Monitoring Group (ECOMOG). The transcript released by the Office of the Press Secretary also included the remarks of President Rawlings.
William J. Clinton, Remarks at the Welcoming Ceremony for President Jerry John Rawlings of Ghana Online by Gerhard Peters and John T. Woolley, The American Presidency Project https://www.presidency.ucsb.edu/node/228844