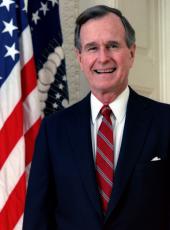 Remarks at the Welcoming Ceremony for President Francesco Cossiga of Italy
President Bush. Mr. President and distinguished members of the Italian delegation, good morning, and a warm, hearty welcome to the White House.
Mr. President, when your visit was being planned, I suggested we invite a few friends of Italy to greet you. Well, we discovered that finding friends of Italy here in America is like finding fine art in Florence or canals in Venice: they're all around us. And Barbara and I are just delighted to have this opportunity to return the warm hospitality that we received in Rome earlier this year. Italy was my first stop on my first visit to Europe as President, en route to a critical and ultimately highly successful NATO summit. And I'll always remember that the road to continued alliance unity began in Rome.
Mr. President, our two countries are linked in many ways, by ties of friendship and the bonds of family. And on this past Memorial Day weekend, I paid a visit to the cemetery at Nettuno, on the coast south of Rome, to honor the thousands of American soldiers, many of Italian ancestry, who gave their lives to help liberate Italy.
For more than 40 years Italy and America have been friends and allies, fellow members of the family of free nations. And President Cossiga is himself a symbol of Italy's democratic renaissance, a man of supreme ability and integrity who has served his nation in more positions of public trust than we have time to name. And I am particularly pleased that the President has honored us with a visit to America on the eve of our Columbus Day. The son of Genoa, discoverer of the New World that became America, is celebrated here in our country, and through the tradition of Columbus and the great explorers live on.
Soon, aboard the space shuttle Atlantis, a space probe begins its 6-year voyage to the planet Jupiter. Galileo -- a mission across the millions of miles of space to the moons the famed astronomer discovered over three centuries ago -- Galileo is just one element in a very exciting, very ambitious space program. And I know that the Vice President, Dan Quayle, who is doing a tremendous job as Chairman of our National Space Council, agrees with me that every voyage into space is a voyage into our future.
And Italy, too, is active in the new world of space exploration. After his meetings here, President Cossiga will visit my hometown of Houston and the Johnson Space Center. And he's going to hear firsthand how much the U.S. values its partnership with the Italian Space Agency, a partnership that's going to be built to result in the flight of the first Italian astronaut aboard one of our space shuttle missions in 1991.
In just a few minutes, the President and I will move inside to begin our discussions. Both of us have been to Poland this year. And we'll discuss the momentous changes taking place in Eastern Europe and the progress we've made in developing concerted Western action to support movement towards democracy there. And of course, we'll talk about developments within the Soviet Union and our determination to continue pushing forward with NATO's call for the early conclusion of a conventional arms reduction agreement with the Warsaw Pact. And we will also discuss other issues of mutual concern: the war on drugs that we're waging here in the United States, and Italy's crackdown on organized crime, narcotics trafficking, and drug abuse.
We'll discuss alliance issues and the need for unity that is critical today, when tensions are easing but the threat to peace and freedom still exists. And I look forward to a productive meeting, a meeting of the mind and heart that takes place between friends, takes place between allies.
President Cossiga, welcome, sir. I wish you and your distinguished colleagues a pleasant and productive visit to our country. There are few nations where the ties are so strong, the affection so genuine and mutual, than between our two countries. And I know that here and on the rest of your travels you will find America welcomes you with open arms. And thank you, and God bless you. And God bless the United States of America and the Republic of Italy. Welcome to the White House.
President Cossiga. Mr. President, I am most grateful to you for your warm words of welcome. It is a great pleasure for me to be in this great country with which Italy has ancient and solid ties of friendship and alliance, as the result of a choice that is shared by the whole of the Italian people, as the expression of a common desire for peace and of common values of freedom and democracy.
After 40 years of history marked by confrontation between the East and the West, we are witnessing great changes occurring worldwide, events that are full of promise and that strike the imagination of our peoples. The changes in the direction of democracy which are taking place in the Soviet Union, Poland, and Hungary are developments that would have been unthinkable even a very short time ago. In this new climate, it is becoming possible to act with realism but with well-grounded confidence to restore that whole and free Europe of which you, Mr. President, have spoken with such vision and insight.
The West has the historic duty to contribute to us making this difficult process successful, giving generously of its farsighted support and its financial assistance. I'm thinking in particular of the great Polish nation that is currently in the throes of serious difficulties in its courageous attempt to work its renewal and which needs more substantial aid from us.
Italy, Mr. President, identifies a specific role at home and is ready to take on direct responsibilities in creating a new relationship with Eastern Europe, in particular with the countries of the opposite shores of the Adriatic and over the Alps, which do not divide but unite the peoples in the Danube Basin. This is a demanding mission which Italy intends to pursue with the aim of contributing towards overcoming the political tensions and the economic difficulties in the southern part of central Europe, which if not kept at bay might lead to upheavals and dangerous tendencies towards disgregation. [disintegration].
For both geographical and historical reasons, Italy's policy towards the Middle East and the Mediterranean area is imbued with the same concern. In these areas, we should work not only to settle the grievous conflicts which are still being waged but also to prevent the economic and demographic imbalances from worsening and threatening the stability of the whole area.
In relation to the friendly sister nations of Latin America, too, Italy views her aid policy as a means not only of assisting their economic development but also of restoring or consolidating free and democratic systems.
Mr. President, we are the witnesses of a new and major turning point in history. A decade which opened under the cloud of confusion and uncertainty is about to end under the sign of hope -- a decade whose beginning was marked by difficult and painful decisions on the part of those vested with the responsibilities of government. But those decisions have contributed, as indeed they were designed to, towards strengthening peace and opening up encouraging prospects for reconciliation and dialog. It is our duty today to look ahead to the future, indeed, to build up that future by taking the initiative with determination and, at the same time, to consolidate the foundations of what we had already constructed: the edifice of the alliance between the free nations of the West.
In Italy we listen with great interest to the reference you made last May to the common values which constitute the very mortar that binds the United States to Europe and the basis of our defense alliance, which for over 40 years has helped to keep peace. At a time when it is precisely these values that are winning through, even outside the alliance, we must confirm with even great forcefulness and conviction our commitment to fostering them. Together we must continue to close ranks on the side of freedom and justice, human rights, and the peaceful progress of all peoples, particularly by bridging the gap between north and south. Together, we must extend a hand of friendship to the peoples who are still deprived of the benefits of economic development. The more closely united Europe of tomorrow is ready to take up these challenges in a spirit of open cooperation with the United States and the conviction that entrenchment is incompatible with progress, entrenchment is incompatible with prosperity.
Scientific progress and economic growth are the indispensable preconditions for extending development to all sections of society and to all the regions of the world. Moreover, we are convinced that technological and industrial development, which is the expression of the irreversible progress of mankind, is not incompatible with environmental protection and respect for nature. However, we must do all we can to seek to strike a just balance which will demand imagination, political courage and, above all, the cooperation of everyone.
Mr. President, I am particularly happy to make this visit because I'm certain that we will be able to further strengthen our two countries' bilateral relations, that already constitute a tightly interwoven network in the areas of the economy, culture, science, and combating the scourge of crime and drug trafficking. It is only by continuing to closely coordinate our efforts that we shall be in a position to defeat the tremendous threat looming over our societies because of drugs.
Common values, common interests, common duties -- these form the solid and concrete basis of relations between Italy and the United States on which we have to work together. I trust that my visit, which is so important and so welcome to me, may constitute a significant step forward in this new dynamic and mutually enriching process.
God bless you, Mr. President. God bless the United States of America. God bless Italy.
Note: President Bush spoke at 10:15 a.m. at the South Portico of the White House, where President Cossiga was accorded a formal welcome with full military honors. President Cossiga spoke in Italian, and his remarks were translated by an interpreter. Following the ceremony, the two Presidents met in the Oval Office.
George Bush, Remarks at the Welcoming Ceremony for President Francesco Cossiga of Italy Online by Gerhard Peters and John T. Woolley, The American Presidency Project https://www.presidency.ucsb.edu/node/263871