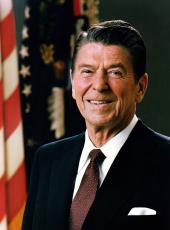 Remarks at the Welcoming Ceremony for President Felix Houphouet-Boigny of Ivory Coast
President Reagan. We're privileged to welcome to Washington today one of the world's senior statesmen, a man of outstanding stature and the father of his country-His Excellency President Felix Houphouet-Boigny of Ivory Coast.
On the African Continent and throughout the world, he is known as a spokesman for reason and open communication as the means for resolving conflict and ensuring a better world. We share with President Houphouet this belief in dialog. I look forward to our discussing today, and in many days to come, on the vital issues which face the African Continent and the world.
Ivory Coast itself is an outstanding example of the progress and prosperity that can be achieved in an atmosphere of peace, security, and individual liberty. The President has often emphasized these as the fundamental ingredients of economic well-being and advancement. And we share his conviction-that only in conditions of peace and liberty can a nation achieve lasting economic and social progress.
It's a particular pleasure for me to welcome today the leader of a nation which has so warmly and graciously welcomed so many of our own representatives. Mr. President, I have received enthusiastic reports about Ivory Coast and its economic vitality and vast potential from Secretaries Baldrige and Block, several Senators, Assistant Secretary of State Crocker, and others. And all of them were struck by the advances your country has made—advances reflecting your commitment to a free economy which encourages producers through a philosophy of hard work and self-help.
There is a saying in Ivory Coast, "If your stomach is empty, ask your hands why." Well, you and your countrymen have worked hard, and in doing so, you've improved your lives and gained the respect of the world. The remarkable progress of your country's agricultural endeavors is a tribute to your enlightened leadership. By making it possible for your farmers to get a fair return for their work and by recognizing the importance of this sector of your economy, you've spared the people the deprivation that has befallen many others.
Ivory Coast has built one of the richest economies in Africa by understanding that before wealth can be divided, it must be created. Ivorians can be proud of their solid record of economic improvement since independence. At the same time, your income distribution is among the fairest on the continent.
I'm pleased that the American private sector has been able to play a role in realizing what you refer to as Ivorian well-being.
As we welcome you once again to our country, we note that many changes have occurred since your last visit to the White House in 1973. Nations around the globe, including the Ivory Coast and the United States, are struggling to overcome a period of severe economic problems and uncertainty. But together, we can face the future with confidence.
Our two peoples share a desire for liberty and progress that can and will triumph over adversity. So today, let us renew our pledge to each other that as we walk the road to the future, we, the people of the United States and Ivory Coast, will do so as friends.
Mr. President, welcome to the White House.
President Houphouet. Mr. President, it is with great pleasure that I return to your magnificent country, where each of my stays has been a source of discovery and admiration, and has strengthened my confidence in the future.
Your thoughtful words of welcome add to my pleasure, because they are evidence of your friendly interest in my country, and of the strength of the ties that have developed between the United States and Ivory Coast over more than 20 years.
In extending to me your invitation, which honored me greatly, you were kind enough to tell me how much you value personal contacts between heads of state. I share your view entirely and look forward to being able to discuss with you the problems that concern me and which I cannot conceive of being resolved without effective and forceful steps by the United States of America. That is why I am so keenly interested in hearing your views in regard to the various areas where the fate of humankind is being played out.
Mr. President, I thank you most warmly for having afforded me the opportunity, once again, to greet the American people through you and to express to them the great admiration and friendship of the people of Ivory Coast, who share their commitment to the timeless values of peace and justice.
Long live the United States of America; long live our friendship.
Note: President Reagan spoke at 10:40 a.m. on the South Lawn of the White House, where President Houphouet was accorded a formal welcome with full military honors. President Houphouet spoke in French, and his remarks were translated by an interpreter.
Following the ceremony, the two Presidents and U.S. and Ivorian officials met in the Oval Office.
Ronald Reagan, Remarks at the Welcoming Ceremony for President Felix Houphouet-Boigny of Ivory Coast Online by Gerhard Peters and John T. Woolley, The American Presidency Project https://www.presidency.ucsb.edu/node/262703