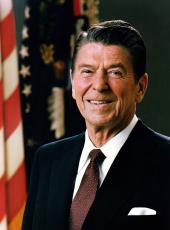 Remarks at the Welcoming Ceremony for President Anwar el-Sadat of Egypt
President Reagan. It's an honor and a very great pleasure to welcome President and Mrs. Sadat, those who've accompanied them here from their country, and for their family. Egypt and the United States enjoy a warm and a strong relationship, testimony to the honest good will of the people of both nations and recognition of President Sadat's foresight and leadership.
We are today friends and partners. We've come to trust each other so much that the bonds of unity grow stronger each day. We are a young country; Egypt a nation mature and rich with the blessings of time, a nation which cradled Western civilization in its arms. History will record that in the last half of the twentieth century, Egypt reemerged as a significant force among the nations—not by conquest, but because one man with the courage that it took set out to lead mankind toward peace.
In 1799 the Rosetta Stone was discovered, a tablet that served as a key to the understanding of Egypt's history. Well, like that famous stone, President Sadat serves as a key to understanding the depth and character of the Egyptian people, opening the eyes of the world to new opportunities for peace.
Mr. President, earlier this year you said, "The answer to our present anxiety and fears in the world is not for us to cling to the past, with all its negative aspects, but to forge ahead toward a happier future."
Those words exemplify the values that speak well of your roots, roots planted deeply in the great and ancient culture of Egypt, roots planted deeply in the village culture of which you have spoken so often and so eloquently. We know, President Sadat, what you have done was not intended to bring the blessing of peace just to your own nation, itself a laudatory goal, but to all the people of the Middle East, something smaller minds had discarded as impossible.
There are those who claim the ingrained hatred can never be overcome. To them I assert, President Sadat has shown the way. There are those who think that distrust will always submerge and suffocate faith. To them I assert, President Sadat has shown the way. And there those who say that peace is impossible and are afraid to reach out. And again I assert, President Sadat has shown the way.
Mr. President, you were a soldier, but your greatest victory came in preventing bloodshed and thereby capturing the hearts of peace-loving people everywhere. Your courage in taking the first step, your good faith in pursuing a tangible agreement with a former enemy, your maturity and moderation in the face of frustration since Camp David—all of these are worthy of a man whom history will undoubtedly label one of the twentieth century's most courageous peacemakers.
I welcome this opportunity to get to know you personally and to discuss ways to strengthen our bilateral relations. We want you to know that although the Americans have changed Presidents, we have not altered our commitment to peace or our desire to continue building upon the achievements of Camp David.
Our mutual concern for the regional stability of the Middle East is a timely matter for discussion. External threats and foreign inspired subversion menace independence. As we both know, the only beneficiary of violence, chaos, and blind hatred will be our adversaries.
But, good men, with the help of God, cooperating with one another, can and will prevail over evil. We're anxious to explore with you the road ahead and to see that the Egyptian people enjoy the fruits of peace and security from aggression. You have taken the first steps on a long, arduous journey with many obstacles to overcome. But today I assure you and the Egyptian people that we will walk that road together and that we will not be deterred from reaching our destination.
Welcome, President Sadat.
President Sadat. Mr. President, thank you for your very kind words. It is with pleasure and happiness that I met with you, and I'm going to hold a dialog which is certain to strengthen the structure of peace and enrich our perception of the world today. We look upon you with admiration and esteem. You are a man of faith and determination. Your leadership is inspiring, and your commitment is unwavering. Since you assumed your awesome responsibility as the leader of this great Nation, you set an admirable record of achievement and fulfillment.
You vowed to work for a stronger America, capable of confronting the challenges of our age. You pledged to exert tireless efforts in order to make the world more secure and just. You promised to introduce a better international equilibrium for the benefit of free nations. Within a few months, much has been achieved through your vigor and determination. We remain hopeful that much more will be attained in the months and years ahead.
Mr. President, we are holding our talks at a crucial moment. It is crucial for our region, for the Middle East, for the United States, and for the world at large. The rising tension and violence which we witnessed during the past few weeks in our area is a living evidence of the urgent need for a comprehensive peace in the Middle East.
No other goal is more pressing or crucial. At the same time, no other nation is more qualified to serve and safeguard the noble cause than your great nation. I'm confident that you will assume this responsibility with a sense of purpose and history, and I'm sure also that you will continue to play the role of the full partner willingly and vigorously.
Mr. President, we are equally committed to the cause of peace. No event or development can shake our belief that peace is the word of God and the only road to a happy future. It is a sacred mission that doesn't belong to a few persons or to one nation; rather, it belongs to mankind.
While I look forward to our talks today and in the days ahead with optimism and confidence, I'm sure much will depend on our common strategy for peace and stability. Much needs to be done to strengthen peace in the Arab world, in Africa, and in the Third World. New steps have to be taken to introduce a global balance that does not leave small nations under the mercy of those who possess the means of pressure and intervention.
Mr. President, I would like to address a word of appreciation and gratitude to the gallant American people. We are proud of our friendship and cooperation. You are a great companion and a most reliable friend and, like us in Egypt, you are a nation of believers. We shall do all that we can to bolster this friendship and intensify our cooperation in all fields. May God Almighty illuminate our way and guide our steps.
Together, Mr. President, we shall overcome.
Note: President Reagan spoke at 10:10 a.m. on the South Lawn of the White House, where President Sadat was given a formal welcome with full military honors.
Following the ceremony, the two Presidents met in the Oval Office. Also present at that meeting were the Vice President, Secretary of State Alexander M. Haig, Jr., and Assistant to the President for National Security Affairs Richard V Allen, and, on the Egyptian side, Minister of Foreign Affairs Kamal Hasan 'Ali, Minister of State for Culture and Information Mansur Muhammad Mahmud Hasan, and Ambassador Osama al-Baz, First Under Secretary in the Foreign Ministry. President Reagan and President Sadat then met in the Cabinet Room with their delegations.
Ronald Reagan, Remarks at the Welcoming Ceremony for President Anwar el-Sadat of Egypt Online by Gerhard Peters and John T. Woolley, The American Presidency Project https://www.presidency.ucsb.edu/node/246802