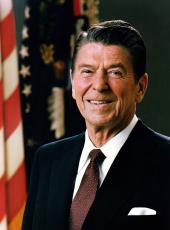 Remarks at the Welcoming Ceremony for President Antonio dos Santos Ramalho Eanes of Portugal
President Reagan. Mr. President, Nancy and I are honored and delighted to web come you and Mrs. Eanes to the United States. Ever since President George Washington opened formal diplomatic relations between Portugal and the new American Republic, our history has been one of warm friendship. And, Mr. President, I know I speak for our people when I say a friendship as warm and true as ours is more valuable than the richest treasure. I've looked forward to this opportunity to get to know you personally and to discuss relations between our two countries, as well as international matters of mutual interest.
In the 9 years since the revolution of April 25th, 1974, Portugal has made great strides in building a vigorous democracy. Today, the fundamental institutions of a democratic country—an open press, a free economy, and broadly based political parties—are in place and flourishing. We in the United States recognize, Mr. President, that the establishment of democracy in your country met sharp challenges. Portugal's success in surmounting those challenges demonstrates the courage of your leaders and the love of your people for freedom.
And you, yourself, Mr. President, have played a large and crucial role. during these past 9 years. You have stated that Portugal must have an open, clear democracy. And as President, you've labored tirelessly to give Portugal just that. Your efforts have earned you not only a place in your nation's history but a chapter in the noble story of freedom throughout the world.
In foreign relations, our two countries share a number of vital interests, and these will receive due attention during our discussions today. I might note in particular, Mr. President, that your nation's experience in Africa gives Portugal a unique and invaluable perspective on current events on that continent, especially in Angola and Mozambique. Both our nations are actively interested in southern Africa, and your country has always been generous in sharing with us insights drawn from your own wide experience. During your stay here, I would like to discuss southern Africa, and I want you to know that the United States not only values the counsel you've given to us on this matter in the past but intends to remain in close consultation with Portugal about it in the future.
Along with our allies, Portugal and the United States share the responsibility of defending the Western World. Our security relationship is critical to the NATO alliance and to both our nations. We in the United States take pride in our military cooperation' with your country. Currently our two governments are negotiating a new security cooperation agreement that will broaden and strengthen our collaboration on common defense objectives. The United States fully supports Portugal's efforts to enlarge its role in Western defense. We recognize that as those efforts proceed, Portugal will need to modernize its armed forces, and we're committed to helping you do so.
We take further pride, Mr. President, in the economic cooperation that we have established with Portugal, particularly in recent years. That cooperation expresses the concern of the American people for the well-being of the Portuguese people and this country's unshakeable support for your country's economy and democracy.
Mr. President, 15 days ago an event took place that sickened people throughout the world. The Korean Air Lines massacre reminds us that although we in the West belong to a community of nations that strives to do good, others in the world do not shrink from doing evil. Let us in the Western alliance join together to retrieve meaning from those scores of innocent deaths, and let us rededicate ourselves to the defense of human freedom.
I am confident, Mr. President, that your visit to the United States will strengthen relations between our two countries and reaffirm our commitments to shared goals. I know that my countrymen are eager to give you a warm reception. Nearly half a million Portuguese have come to America as immigrants, and both they and their descendants have earned the gratitude of all Americans by contributing honorably and diligently to the building of our country.
So, once again, Mr. President, Mrs. Eanes, on behalf of the American people, welcome to the United States.
President Eanes. Mr. President, I wish to thank you for the most generous welcome you have extended to us and for the words addressed to me as the representative of the Portuguese people who, as you know, is a loyal and firm ally of the United States of America. The ties uniting Portugal and the United States are indeed strong. The Portuguese maritime adventure, the Atlantic Ocean and the geopolitical concepts that it imposes, the sharing of the same democratic ideals, and the presence in the United States of a large and significant Portuguese community creates real affinities and require from our countries a mutually advantageous approach.
It is with great pleasure that I pay this official visit to your country, Mr. President, certain as I am that it affords an opportunity for an open and frank exchange of views on political and international developments and, in a very special way, on the most positive means of strengthening the relations between our two countries.
It will thus be possible to reaffirm our loyalty to mutual commitments and to reinforce our longstanding cohesion in the defense of our common interests. This is an objective that is imposed on us by the present and by the future, and it is an aim that it is all the more important to attain inasmuch as your actions, Mr. President, have proved, through your courage and your consistency in the defense of democratic principles, that the values of freedom have, in you, a committed defender.
Portugal is a small country with a long history and vast political experience. With its eight centuries of independence, Portugal has participated in the long and complex course leading to the Europe we know today. But with its active presence in various regions of the world that it discovered and helped to know and to develop, Portugal has gained practical political knowledge that contributes to our unique way of relating to and understanding other peoples. From our history, we draw the conviction that the assertion of freedom of expression and of pluralist democracy, as well as the permanent guarantee of human rights and firmness in the defense of the essential values of our society, cannot be called into question. For us, the search for negotiated solutions to all conflicts, respecting other positions and different cultural patterns, is also natural, provided that those solutions do not run counter to the autonomy and sovereignty of each people and are expressed in terms of a common concern for safeguarding the peace.
In these last few years, the Portuguese overthrew a dictatorship half a century old and managed to overcome new totalitarian attempts through the rigorous fulfillment of the rules of a pluralist democracy, at a time when some believed that such an objective was already impossible to achieve. The Portuguese showed that when democracy is given an opportunity, a serious, committed opportunity, the totalitarianisms that deny freedom are defeated by the only real and consistent way of ensuring victory—the citizens free choice.
But the superiority of democracy must equally be evidenced in its capacity to guide society, adjusting social expectations to what it is really possible to organize. Societies, or some social groups, when faced with the impossibility of attaining material expectations that they consider legitimate or that have been promised to them, may question the validity of global models of political organization and then nourish radical tendencies.
Only a political power that is democratically legitimate, competent, and efficient and able to ensure the balance of interests, a negotiated consensus, and conscious participation will be able successfully to carry out the tasks of economic reorganization.
In this regard, the greatest concern for the present and the immediate future lies in the economic area, both in respect of Portugal and within the framework of the Atlantic alliance and of international relations in general. And further, it is in that context of global democratic concern that it is justified to expect the demonstration of the solidarity of the democratic countries and, first of all, of the United States. In this way, our security will be reinforced, guaranteeing the present and future substance of the Atlantic alliance and illustrating, in many other areas and in practical realities, that all truly democratic forces and programs may count on effective support.
I am certain, Mr. President, that our exchange of views on these and other subjects, while confirming our alliance, will justify a future of active and committed cooperation. I look forward to meeting with you, Mr. President, and discussing with you means for us to carry out this fruitful cooperation in the future between the United States and Portugal.
Thank you very much.
Note: President Reagan spoke at 10:09 a.m. on the South Lawn of the White House, where President Eanes was accorded a formal welcome with full military honors. President Eanes spoke in Portuguese, and his remarks were translated by an interpreter.
Following the ceremony, the two Presidents met in the Oval Office.
Ronald Reagan, Remarks at the Welcoming Ceremony for President Antonio dos Santos Ramalho Eanes of Portugal Online by Gerhard Peters and John T. Woolley, The American Presidency Project https://www.presidency.ucsb.edu/node/244601