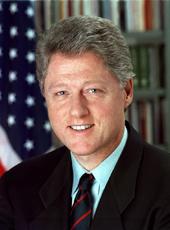 Remarks at the Welcoming Ceremony for President Andres Pastrana of Colombia
President Pastrana, Mrs. Pastrana, members of the Colombia delegation, I am proud to welcome you to the United States and to the White House.
Two months ago when Andres Pastrana stood in historic Bolívar Plaza, the people of Colombia inaugurated not just a new President but a new spirit of hope: hope for change; hope for reconciliation; hope for the fulfillment of his citizens' most profound dreams.
President Pastrana was inspired to public service by his father, who was Colombia's President a generation ago, and by the enduring spirit of the liberator, Bolívar. He was already working for the public good while still a teenager, backpacking across the country to collect money for the poor and raising funds for young burn victims.
Now, Mr. President, as Colombia's leader, you have made it your mission to renew your country for all your citizens; to revive the economy; to lead in the global fight against narcotics; to bring relief and progress to people caught in the crossfire of violence among rebels, paramilitaries, and drug traffickers; to bring peace.
Colombia is the last site of major civil strife in our hemisphere. In recent years, the violence and suffering have grown; the struggle has become intertwined with the deadly drug trade. The conflict has claimed the lives of many dedicated public servants. It has forced Colombians to flee their homes and made it difficult for others to run their businesses and farms.
Mr. President, we admire your courage and determination to end the violence, to heal the wounds of the past, to build a better future. We call on the insurgents and paramilitaries to respond to your bold initiative for peace by ending terrorism, hostage taking, and support for drug traffickers.
All around the world today, men and women who have suffered too long from the poison of hatred are choosing the path of peace: in Ireland, in Bosnia, in Southern Africa, and Central America, now with renewed hope in the Middle East, and just this week with the agreement to end their longstanding conflict in Peru and Ecuador. With your leadership, Mr. President, peace can come to Colombia, too.
As you embark on your mission to build an honorable and enduring peace, count on the United States as a friend and partner. Count on us, too, as you work to bring prosperity to all Colombians. We will work together to create jobs and improve opportunities for both our peoples. We already are your largest trading partner and foreign investor. But there is much more we can do together. And as part of the extraordinary process of integration now taking place all across our hemisphere, we will work together, and with our other friends throughout the Americas, to uphold human rights, root out corruption, fight crime, advance education and health care, overcome poverty, and protect our common environment. We will work together to combat illegal drugs. We have worked together, but we must do more, for both our peoples have suffered greatly from the drug trade and its brutality. The battle against drugs is a common battle. It must unite our people, not divide them.
Colombians deserve normal lives. They deserve to live free in their homes with their families, to enjoy the phenomenal richness of their culture, the vallenato music, the paintings and sculptures of Botero, the fantastic writings of Gabriel Garcia Marquez.
Mr. President, we in the United States watched with pride as you took the oath of office in August, wearing the suit of clothes your father had worn when he was inaugurated President of Colombia 28 years ago. You said then, "This is not my day, but the day of all Colombians. Change begins today."
This is a new beginning for Colombia. It is also a new opportunity to strengthen the bonds between our peoples. So let us begin today. Again, Mr. President, welcome, and welcome back to the White House.
NOTE: President Clinton spoke at 9:50 a.m. on the South Lawn at the White House, where President Pastrana was accorded a formal welcome with full military honors. In his remarks, he referred to President Pastrana's wife, Nohra. The transcript released by the Office of the Press Secretary also included the remarks of President Pastrana.
William J. Clinton, Remarks at the Welcoming Ceremony for President Andres Pastrana of Colombia Online by Gerhard Peters and John T. Woolley, The American Presidency Project https://www.presidency.ucsb.edu/node/225285