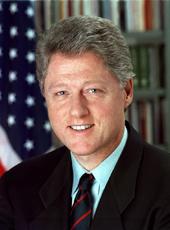 Remarks at the Welcoming Ceremony for Premier Zhu Rongji of China
Premier Zhu, Madam Lao, members of the Chinese delegation, distinguished guests. Premier Zhu, welcome to the White House and welcome to the United States. Your visit is an important event in the long relations between our people, a relationship that spans nearly the entire history of the United States. Before this city even existed, even before our Constitution was signed, China granted our newly independent Nation equal standing with the powers of Europe.
In the late 18th century, it took a ship sailing out of Boston over a year to make the voyage to China and back. Today, our people can communicate back and forth in less than the time needed to speak this sentence. But better communication has not always brought better comprehension.
We have done great things together, and we have disagreed on many occasions. For over two decades in this century, we had no conversations at all. That was not healthy for either China or the United States.
At the dawn of a new century, we now recognize that our interests coincide on many issues and diverge on some others but that we have a fundamental responsibility to speak with candor and listen with an open mind. And certainly, we can agree that China and the United States can best achieve our hopes in the next century if we continue to build a constructive strategic partnership, a relationship that allows us to make progress on the issues that matter to our people.
Those issues include stopping the spread of deadly weapons, building a secure and stable Asia-Pacific region, ensuring free and fair trade under international rules, promoting economic growth while protecting the environment, embracing the universal principles of political freedom and human dignity.
Mr. Premier, under your leadership, China has pursued wise economic policies, striving to maintain growth, low inflation, a stable currency. You have fought hard against corruption, reinvented your government to make it more efficient, and reformed state-owned enterprises.
China's stability during the Asian economic crisis has been crucial to Asia's hopes for a recovery. That has been good for millions of Asians who depend upon China's economic health and for millions of Americans, from small investors to farmers to people who work for the many companies doing business in China. America has a stake in China's success, in a China that has overcome the challenges it faces at home, a China that is integrated into the institutions that promote global norms on proliferation, trade, and the environment, a China that respects human rights and promotes peace.
I am grateful for the Premier's visit, following up on President Jiang's visit here and my visit to China. I am very grateful for the opportunity it gives to both of us to address our potential and our differences in an honest, open, realistic manner.
Mr. Premier, I hope you and the American people learn a lot from each other as you travel across our Nation and speak in your candid, forthright way. I look forward to our discussion this morning. And again I say, welcome, you are very welcome to the United States.
NOTE: The President spoke at 9:50 a.m. on the South Lawn at the White House, where Premier Zhu was accorded a formal welcome with full military honors. In his remarks, he referred to Premier Zhu's wife, Lao An, and President Jiang Zemin of China. The transcript released by the Office of the Press Secretary also included the remarks of Premier Zhu.
William J. Clinton, Remarks at the Welcoming Ceremony for Premier Zhu Rongji of China Online by Gerhard Peters and John T. Woolley, The American Presidency Project https://www.presidency.ucsb.edu/node/228856