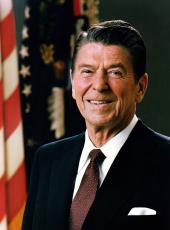 Remarks at the Welcoming Ceremony for Chancellor Helmut Kohl of the Federal Republic of Germany
The President. Today it's an honor to welcome Chancellor Kohl. This marks his sixth visit to us as leader of the German Federal Republic. He and his fellow citizens are friends and partners with whom we share a desire for peace and a commitment to the principles of human freedom. Our nations' solid bilateral ties, our resolve to maintain the viability of the Western alliance, and our dedication to the values and ideals which are the underpinning of political and economic freedom have been a great boon to the German and American peoples. The great German writer-philosopher Gotthold Lessing once wrote: "Nothing under the sun is ever accidental." Well, 40 years of European peace have been no accident. The good fortune can be traced, to a great degree, to the solidarity and cooperation between our two peoples and governments.
When a buildup of intermediate-range missiles by our adversary threatened the peace, our alliance was put to the test. Chancellor Kohl and his government stood firm in the face of a well-orchestrated international and domestic propaganda campaign aimed at paralyzing our ability to respond. The deployment, however, of weapons is not an end in itself; it is a means to an end. What we seek is the security of our countries, the freedom of our peoples, and the peace of the world. Our strength of purpose, as well as our military might, are vehicles in the search for a lasting peace.
Chancellor Kohl's visit comes at an opportune time. I look forward to discussing with him my recent meetings with General Secretary Gorbachev and subsequent events. There is, as I will explain, ample reason for optimism. Whatever progress is made, it will be based on the solid foundation Germans and Americans have built together, particularly in the last half decade.
Three years ago I presented a plan which would have reduced American and Soviet longer range INF missiles to zero globally, thus called the zero option. Building on the diplomacy of interceding years as well as the deployment of our cruise and Pershings, General Secretary Gorbachev and I came close in Iceland to reaching an agreement that would have drastically reduced these missiles on both sides. We are now striving to build upon the progress achieved in Reykjavik. And it should not escape anyone's attention that the Soviet Union and the United States are now seriously talking about reducing offensive weapons. This is a giant step forward from the time, not so long ago, when arms talks merely put a cap on weapons at high levels, permitting the building of more missiles and more warheads.
When the next agreement is finally reached with the Soviet Union—and I say when, not if—it will not be the result of weakness or timidity on the part of Western nations. Instead, it will flow from our strength, realism, and unity. Our allies in these last few years have withstood intimidation and brazen interference in their domestic political processes. Our adversaries misjudged individuals like Chancellor Kohl and the other leaders of the Western democracies. Under intense pressure, they did what was necessary: held firm. And because of their fortitude, the free world is now neither vulnerable nor subservient.
The record of the European peoples is long and glorious. In so many ways, Europe is the cradle of modern civilization. The indomitable spirit demonstrated by our European neighbors and allies in the postwar era—from the Berlin Airlift to our solidarity leading to my recent meetings in Iceland-has made the difference. The tide has been met, the tide turned, and the flow of history is now on the side of the free. We in the West are now engaged in a great technological revolution: in medicine, electronics, physics, and so many fields of human endeavor. More has been discovered in the 20th century than in all the preceding centuries put together.
Our scientists, at this moment, are making great strides toward developing technology that can protect mankind against ballistic missiles, and that protection applies to the United States, our allies, and, yes, even our adversaries, if need be. A purely defensive system that makes these missiles ineffective also makes them more negotiable. A defensive system makes an arms reduction agreement more likely because it offers protection against cheating. This and not trust will lead to reducing, and we hope ultimately eliminating, the nuclear arsenals that now threaten all humanity. If a defensive system was not a viable option, the Soviet Union would not be committing so much of its own resources in developing and deploying strategic defenses of its own.
Technology can open up new doors to peace and security, and that's what our Strategic Defense Initiative is all about. The time has come to rechannel the efforts of some of our best minds to develop tools which can be used to maintain peace, tools that protect rather than kill. The United States stands ready, as I assured Mr. Gorbachev in Iceland and reaffirm today, to negotiate seriously about safeguards that will enable the Soviet Union to share in the benefits of strategic defense. What we in the West have done to rebuild our strength and revitalize our alliance has guaranteed the peace, but a lasting peace cannot be based simply on an arms agreement. Better relations must include more and open, freer contacts between people and governments, a respect for human rights, and an end to those regional conflicts that continue to plague mankind.
Chancellor Kohl and the German people have been steadfast in their support and in their friendship for many years. They know, as we do, that our destinies and those of all free people are tied. We strive for a free, secure, and prosperous world—a world at peace; and we do it, together, with our friends and allies, the German people. So, it gives me great pleasure to welcome Chancellor Helmut Kohl, a partner, colleague, and friend.
The Chancellor. Mr. President, Mrs. Reagan, Excellencies, ladies and gentlemen, let me thank you in my own name and on behalf of my wife and my delegation for the friendly and warm welcome you have extended to us. I'm delighted to be in Washington again, and I feel that this wonderful fall day, with its sunshine, is a very true symbol standing for the nature of the relationship between our two countries.
And it gives me particular pleasure, Mr. President, to see you again—a good friend of our country and an esteemed personal friend. This is the seventh time that we have met since I took over the office of Federal Chancellor back in 1982, and this figure alone gives an indication of the intensity and closeness of the relations between our two countries and governments. And in addition, we have often been in contact, consulting each other by letter or telephone. And I would like to take this opportunity before the public of your country, here, to express my appreciation and my great gratitude for this trustful cooperation. I thank you for this form of close cooperation which is based on mutual trust, and it is a token of a friendship and partnership underpinned by shared values, ideals, and interests.
Germans and Americans are united with the British, the French, the Italians, and others in the Atlantic alliance, an alliance of historical dimension. It is a community based on reciprocity, a defensive alliance against aggression and political blackmail, an alliance for the preservation of democracy, freedom, and human rights. The security of the Federal Republic of Germany is indissolubly linked with this alliance and through our partnership with the United States of America. Only with the assistance of the United States can the security of Western Europe be assured. The American troops in the Federal Republic of Germany are defending our common freedom together with our troops, and they are welcome in our country. Mr. President, you and your fellow citizens in this country should know that the vast majority of the citizens of the Federal Republic of Germany are in favor of the presence of these troops, and they regard them as their friends. And we know that we can rely on each other.
The European allies render an important contribution to our common defense. And the 12 states united in the European Community are undergoing a dynamic process of political and economic integration through which the European pillar of the alliance will be strengthened. And we Europeans, Mr. President, have recognized that this is the only way in which we can play a role in tomorrow's work. In your speech to the European Parliament in Strasbourg in May 1985, Mr. President, you welcomed and appreciated this development. It will not be detrimental to our alliance, but it is going to strengthen it.
It remains our goal—and I know that I share it with you, Mr. President—to create peace and security with ever fewer weapons. In Reykjavik, thanks to your serious and consistent efforts in pursuit of peace, a major step was taken in this direction; and we must now take the opportunities that present themselves without endangering our defensive capability. Your meeting with General Secretary Gorbachev confirmed that the Soviet Union, too, is interested in an improvement of the relations between West and East. And we should take the Soviet Union at its word and sound out at the negotiating table where real progress could be made. My government is contributing actively to the efforts to promote dialog and cooperation, confidence, understanding, and reconciliation. The world is looking hopefully to the two superpowers, but the small- and medium-sized states must play their part and make their contributions as well.
Mr. President, in your impressive speech to the young Germans gathered at Hamburg Castle, in my home district, in 1985, you said: "The future belongs to the free." Let us continue to work together for this goal. We must convince the young people, the young generation, in the United States, in the Federal Republic of Germany, all over the world, that it is worthwhile to stand up for our values for freedom, democracy, and the rule of law. You have been persuasive and vigorous, Mr. President, in your support of an increase in youth exchanges between our peoples. For that, I am grateful to you, and we will discuss this subject further. Together, we shall create conditions under which even more young people from our two countries will have the chance to get to know one another.
Mr. President, under your leadership, the United States of America has rediscovered self-confidence and regained a spirit of enterprising leadership. As in the past, these are the qualities that will enable the American Nation to master the challenges of the future. The Federal Republic of Germany, with all its citizens, will be a loyal friend and partner to the United States of America as it goes about this task.
Thank you very much.
Note: The President spoke at 10:05 a.m. at the South Portico of the White House, where Chancellor Kohl was accorded a formal welcome with full military honors. Chancellor Kohl spoke in German, and his remarks were translated by an interpreter. Following the ceremony, the President and Chancellor Kohl met in the Oval Office and then in the Cabinet Room with members of their staffs.
Ronald Reagan, Remarks at the Welcoming Ceremony for Chancellor Helmut Kohl of the Federal Republic of Germany Online by Gerhard Peters and John T. Woolley, The American Presidency Project https://www.presidency.ucsb.edu/node/254143