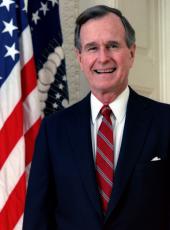 Remarks at the Welcoming Ceremony in Budapest
Thank you, ladies and gentlemen. Thank you very, very much. Thank you, Mr. President. Is somebody going to translate this? I'm going to take this speech, and I'm going to tear it up. You've been out here too long.
Let me just speak to you from the heart, and I'll be brief -- tear that thing up. [Applause] Thank you. You've been standing here long enough. But Barbara and I feel the warmth of this welcome, and the rain doesn't make a darn bit of difference. We feel at home right here in this great capital.
And I salute the leaders of Hungary; I salute the reforms and change that is taking place in this wonderful country. And I want you to know that I am here as President of the United States because we have in our country a special affection and feeling for the people of Hungary. We are delighted to be here. We're only here for 2 nights and 1 day, but I am looking forward to my consultations and my discussions with the leaders of this great country. And I will be bringing them the warm greetings from the American people and the conviction of the people of the United States that we must work with Hungary. We want to work with Hungary to continue the changes and the reforms that are going forward in your great country as of today.
So, thank you very much for this welcome. You'll have to listen to me tomorrow, I'm sure, at some drier time and drier place. But once again, once again, long after this rain is gone, I'm going to remember the warmth of the welcome from the people of Hungary.
Thank you. God bless you, and God bless your great country. Thank you very much. Thank you all.
Note: The President spoke at 7:45 p.m. in Kossuth Square. In his remarks, he referred to Bruno Straub, President of Hungary's Presidential Council.
George Bush, Remarks at the Welcoming Ceremony in Budapest Online by Gerhard Peters and John T. Woolley, The American Presidency Project https://www.presidency.ucsb.edu/node/263822