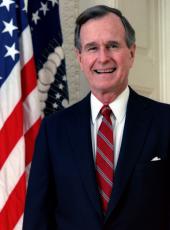 Remarks at the Welcoming Ceremony in Brussels
Prime Minister Martens. Mr. President, it is my very special privilege to welcome you tonight to Belgium, where all our allies are gathering this very day to hear a message that you, Mr. President, will present tomorrow at the NATO Headquarters. This is a cold evening, Mr. President, but there is a glow of anticipation alive in all of us who have been witnessing the events of recent months.
Now that Christmastime is near, we are looking for good tidings. And I believe that with constancy and determination we may proceed in that direction and not be led astray. Welcome to Belgium!
The President. Well, thank you very much, Prime Minister Martens, for that welcome. You have this wonderful way of making people feel genuinely welcome.
Today we met in Malta, Winston Churchill's "tiny rock of history and romance"; ancient stepping stone to Europe; today, the crossroads of East and West. And tonight we meet in Brussels, and tonight we stand at the crossroads of history on our way to a Europe made whole and free.
At the outset of these remarks, may I, sir, express the condolences from the American people for the sad accident that happened right here today. And I express my condolences to the families, if you will, of those whose lives were taken.
It's always a pleasure to come back here to Brussels. This city represents the finest that Europe has to offer in friendship and hospitality. And it also represents the strength and the vitality of European institutions, nourished and protected for more than 40 years by the security shield of NATO, one of the great success stories of our century, and now increasingly invigorated through the European Community. Brussels itself symbolizes a vibrant and growing transatlantic partnership, one that has helped foster the astounding changes that we're seeing today.
The modern Atlantic alliance was born at sea. It was on a battleship off the coast of Canada that Franklin D. Roosevelt and Winston Churchill met during Europe's darkest hours -- great leaders, a rendezvous at sea, rendezvous with destiny. The legacy of that meeting became known as the Atlantic Charter, significant not for its details but for its vision. And it spoke of a day when all peoples in all nations would enjoy freely to choose their form of government and live lives rich with opportunity and hope. It spoke of a day when nations would resolve their differences at the negotiating table, not on the field of battle.
Tonight, I've come to Brussels to share with our friends and our allies the results of that vision, results borne of strength and solidarity, continuity and commitment. It seems like the world is changing overnight. But the yearning for freedom lives within all of us, and always has. And that simple truth is manifested in the thunderous events that are taking place just a few hundred kilometers to the east. And that simpler truth brought Mikhail Gorbachev and me together on a windswept harbor off Malta.
The seas were as turbulent as our times, but it was not an ill wind carrying us on our mission. No, it was the winds of change -- strong and constant, profound. And today, as the sun broke through the clouds there at Malta, we could see a new world taking shape, a new world of freedom.
Much was accomplished to accelerate and improve East-West relations. And I made clear to Chairman Gorbachev that the United States supports fully his policy of perestroika. And I outlined steps we are prepared to take to demonstrate that support. Much remains to be done. But none of these positive developments that we are seeing, nor the steps that I have laid out with the Soviet Union, would be possible without the enduring foundation of the North Atlantic alliance.
For 40 years, NATO was dependent on our democratic way of life -- defended it. And by protecting freedom for the peoples of the West, it has held out the hope of a better future for the peoples of the East. Here in Brussels just 6 months ago, we pledged again as allies to work together to end the division of Europe, and we now stand at the threshold of making that dream a reality. Europe is in the midst of the most profound transformation in four decades. Now, more than ever, this alliance of free nations remains the bedrock of peaceful change in Europe, and that is what I will be discussing with my NATO colleagues tomorrow. I'm sure they will agree with that.
It's an exciting time for the alliance, for America, and for Europe. Thank you again, Mr. Prime Minister, and God bless you and the wonderful people of Belgium.
Note: The President spoke at 7 p.m. at Zaventem Airport. In his opening remarks, he referred to an explosion that occurred at a private shooting range in Brussels.
George Bush, Remarks at the Welcoming Ceremony in Brussels Online by Gerhard Peters and John T. Woolley, The American Presidency Project https://www.presidency.ucsb.edu/node/264023