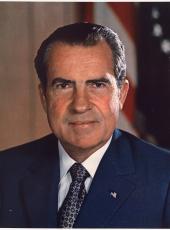 Remarks to the Washington Conference on International Narcotics Control.
Mr. Secretary, and ladies and gentlemen:
As I look over the guest list for this Conference, I realize that most of you have been attending conferences all of your official lives and I suppose that when you come to another conference you wonder how this one is different, whether this one is any more important than all the others.
I simply want to say at the outset that I consider this Conference to be as important as any that any one of you has ever attended. I consider it certainly as important as any I have ever attended since the period I have been in public life, because winning the battle against drug abuse is one of the most important, the most urgent national priorities confronting the United States today.
As President of the United States, I feel that I bear no more solemn trust than to help to win this battle, and as public officials, everybody in this room, people who represent America in this country and all over the world, you could not be engaged in a finer humanitarian cause than in winning this battle against drug abuse.
As we all know, the global drug problem is enormously difficult. It doesn't lend itself to immediate or simplistic solutions. Nevertheless, looking back over the 3 years since I declared total war on drug abuse and labeled it America's public enemy number one, I think the depth of our national commitment is clear. Our total Federal funding for this effort has increased 11 times over what it was in 1969. It is up to almost three-quarters of a billion dollars of the budget currently pending in the Congress.
From an organizational standpoint, we have mobilized to meet this problem on all fronts. We have set up a Special Action Office for Drug Abuse Prevention to direct the treatment and rehabilitation work under Dr. [Jerome H.] Jaffe. We have also set up in the Department of Justice a new Office for Drug Abuse Law Enforcement to attack domestic distribution and pushers. And I have named a Cabinet Committee on International Narcotics Control which coordinates our worldwide campaign to cut off the sources of supply.
Here we are attacking the problem therefore on all fronts in the most effective way that we can through our various Government agencies.
I also have assumed some personal responsibilities. I have been deliberately cracking the whip, as many of you in this room know, in my personal supervision of this program, and I will have to admit that we have knocked some bureaucratic heads together because of my directive, which I gave in the East Room 2 years ago, that Government agencies should quit fighting each other about this problem and start fighting the problem.
I wanted to see some solid results coming through in terms of saving the lives of thousands of young people who otherwise would have become hopeless drug addicts. And now we can look at some of the results. We can view them not with complacency, but with some pride and also with the determination to go forward to get even better results in the future.
Dr. Jaffe, in his field, reports that we have created more federally funded drug treatment capacity in the past year than in the 50 years before that. We now have the capability to treat over 100,000 drug addicts in these programs.
If the Congress approves the pending drug funding request, we should have the capacity, if needed, to treat a quarter of a million heroin addicts in America by this time next year.
Now that, of course, is a sobering number-the fact that we might need the capacity to treat a quarter of a million indicates the enormity of the problem and the need to work on it, not only on the treatment area but also particularly in the source of the supply and in the enforcement area.
Turning to the law enforcement area, the number of arrests of drug traffickers in this last fiscal year was double the number in 1969. The seizures of heroin and other illicit drugs are at an all-time high. But as I have told those who have reported to me just within the last month on this, this isn't good enough. We have to double the number, triple the number, and go from there to a complete victory over those who are engaged in this illicit trade.
Very sharp recent increases in the prices of heroin throughout the eastern United States indicate that the supply is drying up and that the pressure is on the criminal drug trade. And I can assure all of you, and I can assure those who may be the subject of those who might be prosecuted, that we are going to keep the heat on until the despicable profiteers in human misery are driven out of their hiding places and are put in prison where they belong. Nor will this effort stop at our own borders.
The men and women who operate the global heroin trade are a menace not to Americans alone, but to all mankind. These people are literally the slave traders of our time. They are traffickers in living death. They must be hunted to the end of the earth. They must be left no base in any nation for their operations. They must be permitted not a single hiding place or refuge from justice anywhere in the world, and that is why we have established an aggressive international narcotics control program in cooperation with the governments of more than 50 countries around the world. That is why I have ordered the Central Intelligence Agency, early in this Administration, to mobilize its full resources to fight the international drug trade, a task, incidentally, in which it has performed superbly.
Let me interject here a word for that much maligned agency. As I have often said, in the field of intelligence we always find that the failures are those that are publicized. Its successes, by definition, must always be secret, and in this area there are many successes and particularly ones for which this agency can be very proud.
The key priority here is to target on the traffickers wherever they are, to immobilize and destroy them through our law enforcement and intelligence efforts. And I commend all of you on the fine initial progress which has been made in these programs.
France, Paraguay, Laos, Thailand, Turkey are just a few examples of the many countries where the work of American officials, from the ambassadors down, throughout the embassies abroad, in partnership with local officials, has produced important breakthroughs huge heroin seizures, key arrests, and, in the case of Turkey, the courageous decision to eradicate the opium poppy itself. And that action, incidentally, is a great tribute not only to that Government but to our own Government and particularly to those in the State Department and in the Embassy in Turkey who worked on this problem.
The people of the United States, especially the young people, are profoundly indebted to you, all of you in this room, most of whom I will not have a chance to meet personally, to thank personally for what you have worked on and what you have done. And yet, we have to do a lot more, as you all know, to win this war, and we must do it with even more of a sense of urgency than in the past.
In working on narcotics control around the world, I want you to convey this personal message from me to the foreign officials with whom you may be meeting. Any government whose leaders participate in or protect the activities of those who contribute to our drug problem should know that the President of the United States is required by statute to suspend all American economic and military assistance to such a regime, and I shall not hesitate to comply with that law where there are any violations.
I consider keeping dangerous drugs out of the United States just as important as keeping armed enemy forces from landing in the United States. Dangerous drugs which come into the United States can endanger the lives of young Americans just as much as would an invading army landing in the United States. Every government which wants to move against narcotics should know that it can count on this country for our wholehearted support and assistance in doing so.
Three years ago, the global heroin plague was raging almost completely out of control all over the world; time was running out for an entire generation of our children, the potential drug victims of the next few years.
But then we launched our crusade to save our children and now we can see that crusade moving off the defensive on to the offensive, and beginning to roll up some victories in country after country around the world and in the United States as well.
And what is our goal now? We are living in an age, as we all know, in the era of diplomacy, when there are times that a great nation must engage in what is called a limited war. I have rejected that principle in declaring total war against dangerous drugs.
Our goal is the unconditional surrender of the merchants of death who traffic in heroin. Our goal is the total banishment of drug abuse from American life. Our children's lives are what we are fighting for. Our children's future is the reason we must succeed.
We are going to fight this evil with every weapon at our command, and, with your help and the support of millions of concerned Americans, we are going to win.
Note: The President spoke at 9: 58 a.m. in the West Auditorium at the Department of State.
The President spoke from a prepared text. An advance text of his remarks was released on the same day.
The 3-day Conference, convened by Secretary of State William P. Rogers, Chairman, Cabinet Committee on International Narcotics Control, was attended by some 60 senior U.S. narcotics control officials from U.S. embassies abroad, and Federal officials in Washington D.C., with responsibility for narcotics control.
Richard Nixon, Remarks to the Washington Conference on International Narcotics Control. Online by Gerhard Peters and John T. Woolley, The American Presidency Project https://www.presidency.ucsb.edu/node/254953