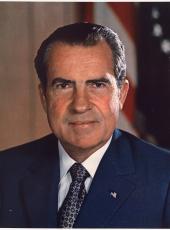 Remarks of the Vice President, Wactangee Park, Chillicothe, OH
As you know we are entering the home stretch of this campaign. It's hard to realize because Pat and I have been traveling a lot these past few months. It's hard to realize it is only 2 weeks from today when all of you of voting age will be voting.
In these past few weeks, Pat and I have traveled to 47 States in this Union. We have only three more to go to complete the 50 States that we want to reach before the campaign is over.
Incidentally, as all of you well know, this will be the first time a presidential candidate has ever traveled to 50 States because we've never had that many before. But we intend to do it if we possibly can and certainly, as we have traveled around the country, one of the greatest inspirations of all is to come to meetings like this. As I look over this crowd, I realize what a tremendous responsibility whoever is the President of this country is going to have in the next 4 years.
I know that in this audience are many people who are Republicans, members of my party. I know there are many who are Democrats. I know there are some who are independents. I see in this crowd some older people and some young ones. I see a number of children whose future we are concerned about and consequently you can't travel through America, you can't speak, as I have, all over the Nation, in Hawaii way out in the Pacific and Maine up in the north-east, down in Florida and Georgia, and then in other parts of the country - you can't possibly travel through America without realizing the responsibility we have. But also, my friends, you realize something else, something that ought to be stated again and again and again and something I particularly state with all of these young people here.
This is a great country, and anybody who runs it down, anybody who suggests, for example, that we have a second-rate education, that we're second in science that our economy is beginning to run down and that we run the risk in this country of having America end up as a second-rate nation just doesn't know the United States of America - and just mark that down.
I can tell you we have problems in this country, problems that we will solve. We're not a perfect country, but certainly as we look at those problems, we are not going to solve them with an attitude that we in America have anything to be ashamed of as far as our system of government is concerned because - let me tell you something else.
My wife and I have also had another great experience in these past 7½ years, because of the opportunity you have given me to serve as Vice President. We've traveled to 55 countries in the world. We've been all over Asia, in Latin America, in Africa and Europe, and we've seen literally millions of people on the streets of Djakarta, on the streets of Bogotá, and in the other great capitals of the world. We know something of the problems of the world and we also know what the world thinks of the United States.
Just to set the record straight on that: when people say that the prestige of the United States is low; when people say that people abroad don't like our system, they don't like us; just let me remind you of another thing - that is that every place we have gone in the world we found there are people who don't like this country. This was true, for example, when we were in South America. The Communists stirred up mobs against us. We found, as you saw, that the Communists also did that in Tokyo so the President was unable to visit there.
But also, make no mistake about it, America stands high in the feelings of the world. We stand high because we believe in the right things; just remember that people are not so dumb as you might guess. Mr. Khrushchev, for example, doesn't gain prestige for communism when he takes his shoes off and bangs on the table at the United Nations. He doesn't gain prestige for communism, and President Eisenhower does gain prestige and affection for the United States when he handles himself in a dignified, fine way as he has as President of this country for the last 7½ years.
So I say to all of those who are here: Don't lose your faith in America. Don't lose your faith in the American people, and don't lose it in the young people of this country either, because they are the future of America. And we, by our devotion, by our dedication, will build a greater country even than we have enjoyed ourselves.
I emphasize that particularly, as I have all along the route today, because I am traveling through what is my father's home State and also that part of the State from which he came.
He often spoke of this part of Ohio. He spoke of it and of all the people that he knew here. And I know, as a result of what he learned here, as a result of the associations that he had, that I inherited from him a lot of Ohio qualities. I hope the best ones, incidentally, and there are good ones here as I am sure most of you would agree. But in any event, as I thought of him today, as we were traveling here, I often reminded audiences as I remind you of what he used to tell us: That in the United States we never look back and we are never satisfied with the present but we are always trying to build a better future.
However good things are in America, we say there are ways to move into a better future. And I want you to know as I see the problems of this country and the opportunities, I know where America can move and how we can move and I'll tell you how we're going to do it.
We're going to do it by having faith in what has made this country great. You know what it is. It hasn't been government but it's been the people. What we have to do is to give the American people more opportunity, more chance for all Americans to develop to the full their creative abilities and then we will have progress and the greatest progress that this world has ever seen.
The Government, yes, has things to do. The Government must do those things that people cannot, but my friends, as distinguished from my opponent, I say whenever the people can spend a dollar better than the Government can, the people ought to spend it at home here in Ohio rather than sending it down to Washington, D.C.
I am proud that I have programs that will not have the effect of raising your prices, raising your taxes, as would my opponent's. I believe I know something about what a family budget is and how hard it is to meet it, and I know it is the responsibility of the President not to go around the country making promises and then paying off those promises, not with his own but with the people's money.
I realize as far as you are concerned it is his responsibility and it will be my responsibility to see to it that whatever we do in Washington we will do it as efficiently as possible so that the people back home, the housewives who are trying to keep the family budget will be able to have the best opportunity possible to make both ends meet, and we can't do it if we waste a cent there in Washington that we don't have to.
So, these things may I say I feel very deeply and I convey them to you today as we meet on this occasion.
There is one other point that I wish to discuss, which is basically more important than all the rest. I've been talking about jobs and the prices of things we buy, our schools and our health.
You know, my friends, all of these things aren't going to make a bit of difference if we aren't around to enjoy them. I have seen what war does.
I have been abroad in war and then I have been to Berlin and I have seen the terrible devastation there. I have seen the heart of Warsaw, still devastation left after 15 years, after World War II. I have been in Japan, in Tokyo, I have seen what war did there. This was another kind of war. When we think of what an atomic war would do, as John Bricker, who was such a distinguished member of the Joint Committee on Atomic Energy, can tell you, it is simply nothing at all compared to the kind of war we have had in the past, and therefore the major responsibility of the next President of the United States, believe me, is to keep the peace - as President Eisenhower has kept the peace - keep the peace without surrender for America and the world.
I want the opportunity to work in that cause. I'll tell you what I offer in working in it. I do not say that it's easy, because I know that it isn't. I do say that I know those who threaten the peace of the world. I know Mr. Khrushchev. I have sat opposite him at the conference table. I know how tough and ruthless and fanatical he is and I know, my friends, that with this man you have to be just as firm as he is; just as dedicated to the right as he is to the wrong.
I know that you must never make a concession to him without getting one in return.
I know that you must never agree to disarmament, for example, unless you have an ironclad agreement from him that he's going to do likewise.
I know that that kind of firmness is what leads to peace. It's what has meant peace under President Eisenhower. It is what will lead to peace in the future.
And what I ask today from the American people for me and my colleague, Cabot Lodge, is for you to give us the chance to lead this Nation, recognizing as we do that the responsibilities are tremendous.
If I could add a word with regard to my colleague and running mate, I intend to give him assignments on a full-time basis in this field, to the extent of the time that he can spare from his constitutional duties, of working constantly to extend freedom and of working for peace throughout the world; and I say there is no man who is better qualified, who has done a better job of fighting for peace and freedom than Cabot Lodge, our representative to the United Nations in these past 7½ years.
And so you have here two men, Cabot Lodge and myself, who know Mr. Khrushchev, who have been trained with and under President Eisenhower, who submit our qualifications to you. We pledge to you devotion to your best interests, but also we pledge that we will always keep before the world the true picture of America.
What is that picture? I say this particularly when all of these young people are here, because they carry on a legacy that we will leave. Don't get the impression that all America has to offer to the world is our great military strength. We are the strongest nation in the world. Don't get the impression that all we have to offer to the world is the fact that we're the richest country in the world, and we are. This means something to people abroad, as does our military strength. But, my friends, you know what really counts? You know what counts in Poland, and even in Siberia, where we have been? You know what counts in New Delhi or down in Caracas or in other parts of the world? It's the fact that America stands for great ideals which are bigger than this country, which are as big as the whole world, itself.
What are those ideals? You see them here in your city, in this State, in this Nation. The ideals that we stand for are developed in the churches, in the homes, in the schools of America. They are our faith in God, our belief in the rights of all men to be free; our belief that the rights men have are rights that come from God and cannot be taken away be any man; our belief that every nation has a right to be independent.
These are the things that America stands for. And also we are a nation that wants nothing from any other people in the world except what we have for ourselves - the right to be independent; the right to be free.
We are strong, why? Not because we want to use our strength to conquer the world, but because we want to use our strength to free the world so that everybody can be free, so that everybody can live in peace and freedom.
This is what I believe. This is what you believe. If we believe it, and if we work together in this cause, we can see in this period which we are entering the greatest progress that America and also that the world has ever seen. It is that which I am fighting for in this campaign. It is these principles to which my colleague and I are dedicated, and it is for this cause that we ask you to work in these next 2 weeks.
Thank you.
Richard Nixon, Remarks of the Vice President, Wactangee Park, Chillicothe, OH Online by Gerhard Peters and John T. Woolley, The American Presidency Project https://www.presidency.ucsb.edu/node/273816