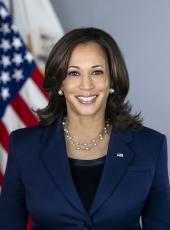 Remarks by the Vice President at a Virtual Fundraiser for the Democratic National Committee
Via Teleconference
THE VICE PRESIDENT: Thank you, Jaime. Thank you so very much for your kind words as always, and for your leadership. And it is so wonderful to see all of you. I'm looking at this screen here, but I'll talk into that screen for a moment. But it's so good to see all the friends.
So, I don't need to tell you November's election is exactly nine months from now. And I'm here, today, then to talk with you about many things but, in particular, about the progress we have made and the stakes of this moment and the work then that we have to do and do together.
When the President and I took office, we understood all of the challenges that our nation was facing. And we had a plan to get America back on track, and we had faith that the American people, if given the opportunity, would rise to meet the moment.
Today, businesses are back open, schools are back open, and America is back to work. We have created a historic 6.6 million jobs in just one year. We have passed an historic infrastructure law. And we have also made historic strides to strengthen the bench.
In fact, more than 70 percent of the judicial nominees we have appointed are women, and we have appointed more Black women to the court of appeals than any administration ever. And soon, as Jaime mentioned, the President will nominate a Black woman to sit on the United States Supreme Court -- first ever.
And, by the way, guys, in terms of making history on the Court, it'll also be the first time we've had four women on the United States Supreme Court -- the most ever.
So, nine months ahead of the midterm elections and so much is at stake: the progress we have made, the progress we must make, and the progress we must make on specific issues, including voting rights, workers' rights, and women's rights. The work we must do to support all our families, to strengthen our nation's alliances, and to safeguard our planet for generations to come.
So, it's not hyperbole to say: What we do between now and November will determine the future of our nation. And for our part, the President and I are traveling the nation, taking the case directly to the American people. The DNC is making substantial investments in organizing, in strengthening state party infrastructure, and protecting voters.
Last summer, I announced that the DNC is launching its largest voter protection program in history. We must work to make sure voters can cast their ballots and that they can have those ballots counted.
And because we know that protecting our majorities on the Hill is critical -- as the tie-breaking vote in the Senate, and I know this all too well -- President Biden and I have announced that the DNC will transfer $15 million to the DCCC and the DSCC.
So, I'll close my comments today by simply saying: Thank you all. Thank you for your steadfast support. Thank you for your unrelenting support. Thank you for the sacrifices that you make to be so generous in the way that you care about our country and you engage in such an active way.
Please know that the President and I are grateful for both the trust you instill in us and the work you do every day.
So, take care. Take care. I thank you all, and I look forward to staying in touch and talking very soon. Thank you.
Kamala Harris, Remarks by the Vice President at a Virtual Fundraiser for the Democratic National Committee Online by Gerhard Peters and John T. Woolley, The American Presidency Project https://www.presidency.ucsb.edu/node/354428