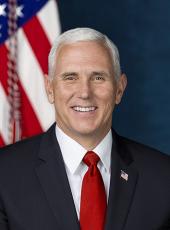 Remarks by the Vice President at the White House Initiative on Asian Americans and Pacific Islanders Lunar New Year Celebration
THE VICE PRESIDENT: Well, thank you all very much for that very warm welcome. And on behalf of the President of the United States and the First Family: Welcome to the White House. (Applause.)
And join me in thanking an extraordinary leader. I just — as soon as I heard her voice, I had to jump out from behind the curtain. (Laughter.) She is not only the 18th Secretary of Transportation, but frankly, she is one of the most distinguished public servants in the United States of America, with an inspiring personal story. And she makes the American people and this administration proud every day. Join me in thanking Secretary Elaine Chao, will you? (Applause.) Thank you. Thank you so much, Elaine.
I'm also joined today — I know they've already been introduced, but I just — I have to call them out. We're talking a lot about the economy and a lot about all the great things happening. And you all are such a big part of that in so many ways, so many places around the country. But President Trump and I are so grateful for the tremendous leadership of Secretary of Commerce Wilbur Ross. Wilbur, thank you so much and thank you for being here. (Applause.)
And he's a new kid on the block — or the new kid on the Cabinet — but he's already hit the ground running, and he's making an incredible difference to make sure that the American people are prepared for this growing economy, we're able to have safe and productive workplaces, and to do it all in an atmosphere of freedom. Secretary of Labor Eugene Scalia, thank you so much for being here. (Applause.)
And I want to thank Chairman Mike Duncan, of the Postal Service, for the big announcement today; the Postal Service Board of Governors; and, of course, this initiative's executive director. Give Tina Smith a round of applause, as well as Michael. (Applause.) Thank you. Great job.
It is a real privilege be here with all of you to just share for a few minutes during the Lunar New Year celebration, and to take this opportunity to swear in 13 extraordinary Americans as Commissioners of the White House Initiative on Asian Americans and Pacific Islanders.
I was looking through the list of men and women that will take the oath today, and they represent some of the most accomplished Asian Americans in this country, and they will continue to guide the development of policies that will expand opportunities.
And so we'll have them all up here in a minute, but give them a big round of applause right now, will you, please? Congratulations and thank you. (Applause.)
And while we gather here and we celebrate the immense contributions of Asian Americans, I know the hearts of many who are gathered here and those that you represent across the United States are with –- are with our –- are with the Chinese families that are being impacted. Twenty-six different provinces enduring now the impact of the coronavirus. And at present, there have been over 60 deaths. At this hour, more than 3,000 have contracted the disease globally, including five confirmed cases in the United States of America.
President Trump made it clear today that we are in close communication with China. And he has offered to President Xi the assistance of the United States of America. And we stand ready to help the people of China confront the coronavirus. (Applause.)
And to my fellow Americans, I want to assure you that our administration has taken strong action to deal with this virus. The CDC is following an aggressive plan that will enable us to identify potential cases. So I mentioned there's five confirmed cases in the United States so far. We've -– we're already conducting screening at 20 American airports, and they're the airports that receive 90 percent of all passengers from China. Any passengers who are ill will receive additional screening.
The State Department has issued a level 4 travel advisory for Wuhan, which makes it clear that no American should travel to Wuhan while this virus continues to have impact.
And so let me say once again, here in our country we're taking strong steps to see to the health and the wellbeing of the American people. But as President Trump made clear today, the United States of America stands ready — stands ready to assist the people of China and around the world as they deal with this virus.
And you might make a note for anyone in your sphere of influence who would have questions: You can go to CDC.gov/Coronavirus for the latest information on the action of the United States.
But the people of China are in the prayers of the American people. And we will stand with them, and we will take the actions necessary to protect the American people. (Applause.)
So thank you for allowing me to address that.
We gather here this afternoon and with — frankly, with people about the world in the midst of the Lunar New Year celebration. And it includes millions of Americans who will celebrate the Lunar New Year, and that's a great privilege for me to be able to join you in this particular moment.
And this year we've got a lot to celebrate. For one thing, how about the 2020 Lunar New Year stamp? (Applause.) I thanked him already, but Mike Duncan and Luke Grossmann of the Postal Service, thank you. I guess this is a tradition of issuing a Lunar New Year stamp. It's a small tribute to the indispensable contributions that Asian Americans have played throughout the history of this country. And this year's stamp is one more emblematic example of us celebrating that tradition.
And this year, I'm proud to report, under the leadership of President Donald Trump, as the Secretaries have no doubt already reflected, Asian Americans are prospering like never before, and the American economy is booming. (Applause.)
In fact, Americans of Asian and Pacific Island descent are the fastest-growing group in America — growing by nearly three-quarters in just 15 years, and expected to double over the next 40 years.
And, in fact, according to the Census Bureau, household income for Asian Americans is now 40 percent higher than the national average, and rising fast. (Applause.)
The American economy is soaring, and Asian Americans are driving capital investment and growth and job creation in cities and towns, large and small, all across the land.
Over the summer, I'm told that Asian American unemployment hit the lowest level ever recorded, and it's been under 3 percent for the better part of a year. It's an incredible record of success of the American Dream. And with the help of the commissioners that we will swear in today, I know the best is yet to come for Asian Americans and those of Pacific Island descent.
You know, it's a remarkable group. I could literally go through the bios of all of the people that we'll swear in today, but they — you really come from literally every walk of life: small businesses owners — owners like Jan-le Low of Nevada; entrepreneurs like Grace Lee of Michigan; and public servants like Governor Eddie Calvo of Guam and Michelle Steel of California, just to name a few.
You all represent extraordinary accomplishment in your own lives and your willingness to come together to participate in this important effort. And it's only going to make it more possible for more Asian Americans and those with Pacific Island backgrounds to be able to prosper and enjoy the American Dream.
And so, with that, I want to say thank you and congratulations. Congratulations to all of those that — who will become commissioners today. And I want to thank you for serving your country. I want to thank you for giving back. Each one of you, in your own stories, has lived the American Dream, and you're living it now.
And by your participation in the White House Initiative on Asian Americans and Pacific Islanders, you demonstrate that you want to see more; you want to see more Asian Americans and Pacific Islanders live that very same dream for their betterment and the betterment of the United States of America. And so I thank you for your service. And God bless you. (Applause.)
With that — with that, I'll ask all of the commissioners to join me on stage, and the secretaries will also stand. And they've got lots of tape up here, in case you don't know where you're supposed to stand. (Laughter.)
(The oath is administered.) (Applause.)
Mike Pence, Remarks by the Vice President at the White House Initiative on Asian Americans and Pacific Islanders Lunar New Year Celebration Online by Gerhard Peters and John T. Woolley, The American Presidency Project https://www.presidency.ucsb.edu/node/335355