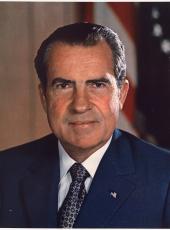 Remarks by the Vice President of the United States, Prepared for Delivery at Truax Field, Madison, WI
Mr. Kennedy a month ago unveiled his program for agriculture. We have heard virtually nothing about it since.
No wonder.
This program would cause a million jobs to be lost on the farms of America.
It would throw out of work another million people in towns who are in work associated with agriculture.
It would put marketing controls on every farm commodity, some 250 in all.
It would cut total agricultural marketings by 20 percent. Cattle marketings would be reduced 15 percent, hog marketings 25 percent.
It would put at least 50,000 new inspectors on the Federal payroll - inspectors to watch over every farmer, farm, barnyard, field, and crop.
Even former Secretary of Agriculture Henry A. Wallace - certainly no conservative - declares the controls imposed by this program would be more severe than those in many Communist countries.
Specifically, what would this program mean to the dairy farmer of Wisconsin and elsewhere?
It would cut his total sales of milk and cream. The Federal Government would give him a quota for the sale of these products - a percentage of his sales in a base period. Because of seasonal variations in the production and consumption of milk, it probably would be necessary to divide his annual quota into monthly or quarterly quotas. How would the Government determine the appropriate seasonal quotas for the individual producer? Let Mr. Kennedy tell you.
His program would cut milk production up to 10 percent. It would institute prohibitions against overquota sales and severe penalties for violators, meted out by some of his 50,000 Federal inspectors. In the end it would shrink the markets of the dairy farmers and drive them off the farms in record numbers. Moreover, it would mean that under the Kennedy plan, a dairyman's son could not take up dairying without inheriting or buying the right to do so.
All these hidden consequences of the Kennedy farm program are not something I have dreamed up. They have been traced out in a special report made public several weeks ago by career farm and food experts in the U.S. Department of Agriculture.
The dairy farmers, and the other farmers and ranchers, of Wisconsin and elsewhere deserve better than this. I believe that tomorrow the voters will reject Mr. Kennedy and has radical, destructive farm program.
Richard Nixon, Remarks by the Vice President of the United States, Prepared for Delivery at Truax Field, Madison, WI Online by Gerhard Peters and John T. Woolley, The American Presidency Project https://www.presidency.ucsb.edu/node/273804