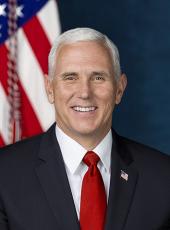 Remarks by the Vice President on the United States-Mexico-Canada Agreement in Goodlettsville, Tennessee
Well, hello, Tennessee! (Applause.) And I want to — I want to thank my friend, Secretary Sonny Perdue. He was a governor who transformed the state of Georgia. And I got to tell you, other than my friend who I work with every single day, there is no greater champion for agriculture in America than the 31st Secretary of Agriculture for the United States of America. Join me in thanking Secretary Sonny Perdue. He is an incredible champion. (Applause.) Stand up, Sonny. Take a bow. (Applause.)
To Mr. Secretary, to your governor, to the members of Congress, to distinguished guests, but most of all, it's a joy to be here at Tyson with Noel White and the men and women of this great company — a legendary American company that sets the pace, that packages the food that feeds America and feeds the world. Congratulations, Tyson. Give yourselves a big round of applause. (Applause.) Great. It's true.
It really is great to be back in the Volunteer State. And it's also a special honor and a joy for me to be here with an American that I've really come to admire — him and his family — as someone who built a successful career in business, who's a man of integrity, who came to be known for his values and his vision. He's a lifelong Tennessean. But he stepped forward not long ago to help lead this state as your governor, and he's already making an incredible difference in the lives of people across Tennessee. Would you join me in thanking Governor Bill Lee for doing a great job for the people of Tennessee? (Applause.) This state and this country are proud, Bill.
And thank you all for that. It really is great to be here with so many friends. I'm going to mention a few more of them along the way. But before we get started, allow me to bring greetings from another friend of mine. I was talking to him on Air Force Two, right when we were coming in for a landing. He's a man who loves the state of Tennessee and has been fighting to keep all the promises that he made to the people of Tennessee in 2016. I bring greetings from the 45th President of the United States of America, President Donald Trump. (Applause.)
And thank you all. Thanks for the wonderful, warm welcome. It's — it really is great to be here. Great to be here with so many with great Americans, and standing and having a chance to walk through a great American company.
It's amazing to think, now going on almost 100 years, Tyson Foods has been an inspiring story of the American Dream. It's remarkable to reflect on the fact this company, I'm told, started with one man from a small town in the depths of the Great Depression. He moved his family to Arkansas in a beat-up old truck with only a nickel in his pocket and half a load of hay. That's impressive. (Laughter.)
But John Tyson started hauling live chickens to cities like Kansas City, St. Louis, and Chicago. And in a few years, he opened his own chicken hatchery and feed business, and the rest is history.
Now, a little more than 90 years later, one out of every five pounds of chicken, beef, and pork sold in America is produced by Tyson. That is a story of the American Dream. (Applause.) Wow.
And as Noel and I were talking — because of the extraordinary success of this great company, Tyson supports more than 10,000 farmers and has created more than 100,000 American jobs.
And, of course, Tyson exports its — all of its goods around the world, feeding the world as well. And I was pleased to hear today that Tyson is growing. In fact, as we speak, Tyson is building another poultry facility in Western Tennessee that, I'm told, is going to support 70 farmers and create another 1,500 jobs right here in the Volunteer State. Thank you, Noel. (Applause.) Governor Lee is smiling about that news. (Laughter.)
But I'm here today because we've got work to do, men and women. I'm here today on the President's behalf because we've got an incredible opportunity in front of us. As I stand before you, we have before the Congress of the United States what, once it is approved, will be the largest trade deal in American history. So I came to Tennessee today to say it's time for Congress to pass the U.S.-Mexico-Canada Agreement, and pass it this year. (Applause.)
So we're going to talk about trade today, which Tyson knows just a little bit about — exporting, as it does, literally all over the world, supporting jobs across Tennessee and across America. We're going to talk about a great opportunity for Tennessee workers and Tennessee businesses. But before that, let me reflect on the progress we've made because of the confidence the people of Tennessee placed in this President and our administration back in 2016.
You know, when I think of the last two and a half years, there's only one way I can describe it. It's been two and a half years of action. (Applause.) Two and a half years of results. (Applause.) It's been two and a half years of promises made and promises kept. But we're just getting started, Tennessee! (Applause.)
I mean, when you think of what this President has accomplished with our strong allies in Congress, it's truly remarkable. At a time when too many in Congress have spent the last two and a half years on endless investigations, trying to overturn the will of the American people in the last election, I know the American people are encouraged to see that this President, this Vice President, and this administration will never stop fighting for the policies that Tennessee said yes to in 2016. (Applause.) A strong national defense, secure borders, our God-given liberties, and jobs, jobs, jobs. (Applause.) That's what we're fighting for.
But I'm here to say that Tennessee and America are now looking to this Democrat majority in the Congress to do their job — to do a job for the American people. It's time for Speaker Pelosi and the Democrats in Congress to set politics aside and pass the USMCA. It's a win for Tennessee and a win for America. (Applause.)
You know, I really believe the American people don't want more partisanship; we want more jobs. We don't want more resistance; we want more results, more trade and more exports. And that's what will come when we approve the U.S.-Mexico-Canada Agreement.
And when we pass the USMCA, I'm proud to report that we're going to be building on an incredible amount of progress that the American people have accomplished over the last two and a half years.
It's amazing to think, after eight years of the weakest post-recession economy since the Great Depression, the American economy is booming. The American economy has come roaring back because President Donald Trump has kept the promises he made to Tennessee to revive this economy. (Applause.)
Think about it. I mean, the President said we could revive the economy if we simply put commonsense, free-market principles into practice; if we said "yes" again to the timeless American principles and practices that have always revived our free enterprise system.
Right after we were elected, we went right to work. We cut taxes across the board for working families, small businesses, and family farms. This President has actually signed more bills, rolling back federal red tape already, than any President in American history. (Applause.) We unleashed American energy, and I'm proud to report there's an energy renaissance happening across this country. And this year, for the first time in 75 years, America will be a net-exporter of oil. (Applause.) We're on the road to energy independence.
And in the midst of all of that, this President also pledged to fight for free, fair, and, what he likes to call, reciprocal trading agreements with our trading partners. And we've been doing just that.
The results — I don't have to tell you, in a prospering company like Tyson — have truly been remarkable. Since Election Day 2016, businesses large and small across this country, in the city and on the farm, have literally created 6.5 million new jobs. That includes 130,000 jobs right here in the state of Tennessee. (Applause.)
In fact, we just confirmed on Friday that unemployment has now hit a 51-year low, and it's the lowest unemployment ever recorded for African Americans and Hispanic Americans. The American Dream is working again for every American. (Applause.)
And since President Trump was elected, the average American household has literally seen disposable income go up by more than $5,000 a year. And maybe most importantly to the President and me is that wages are rising at their fastest pace in a decade, and they're rising most rapidly for blue-collar, hardworking Americans. The forgotten men and women of America are forgotten no more. (Applause.)
Now, all that didn't just happen. It happened because of the policies that Tennessee supported, because of our allies in Congress who came alongside this President as we were busy cutting taxes, rolling back red tape, unleashing American energy, and fighting for fair trade deals. They helped us put in place these policies that really revived the American economy.
But what really brought the economy back was all of you. It was that men and women — hardworking Americans in businesses just like Tysons — seized on the opportunities. You expanded freedom in the free market across this country to create jobs and opportunity.
I mean, the truth of the matter is — the Governor will back me up on this — the people of Tennessee and America are the greatest workers in the world, and our businesses can compete with any business anywhere. (Applause.)
But it's all about the people. And Noel and I were talking about what a great team you have here. People like, I heard, someone who actually served alongside our armed forces overseas in Iraq. He's a man who grew up in Baghdad, and, after helping our troops in Operation Iraqi Freedom, he came to this country. He was actually an interpreter in Iraq.
And once he arrived here, he got a job with Tyson. Within a year, I'm told, he was promoted to management, and he's been promoted several more times in the 10 years that has followed. And now, he's an operations manager here at this facility, leading more than 1,600 employees every day. So would you would join me in a big round of applause for Falah Al-Sadawi. Where are you, Falah? (Applause.) Thank you. Thank you. What a good man. Thank you, Falah.
And there's another person I was told about when I got here — a woman who grew up in a small town in Cuba. She had dreams of someday coming to America, enjoying the fruits of freedom. Twenty years ago, she fled the Castro regime in Havana and lived her dream coming to the United States. A few years after that, she was hired by Tyson and given the opportunity she's had in this company. And now she's actually been promoted to production supervisor. So would you join me in another big round of applause for somebody out there living the dream here at Tyson: Lisette Martin. Where are you, Lisette? (Applause.) Proud of you.
We're so grateful to Falah, we're so grateful to Lisette, for their example, for their courage, and for their incredible professionalism here at this company. And — but I mentioned each one of them, frankly, because they're just emblematic of all of you.
I mean, the truth of the matter is that all the employees here at Tyson show every day that, as long as the playing field is level, American companies and workers can compete and win anywhere in the world. So give yourselves a round of applause, Team Tyson. (Applause.) You're the best.
But the President and I understand that opening up markets around the world is critical to the success of companies across this country — and most especially, it's true in agriculture. That's why, since the first day of this administration, President Trump has been working to open up markets around the world.
We negotiated a new trade agreement with South Korea. And earlier today, we announced that the Secretary of the Treasury and our Trade Representative are going to welcome a Chinese delegation, led by the Vice Premier, to continue negotiations this week.
But the President is going to continue to stand strong. We've put China on notice that the era of economic surrender is over. (Applause.)
And I promise you — I promise you, this President is going to continue to stand firm, not just to open up markets to our goods in china, but to have China once again — "finally," rather — agree to embrace the international rules that govern commerce and protect American property and assets.
Now, later this afternoon, there is also some good news. I think, before I leave Tyson today, the President is going to have signed two new agreements with Japan that will expand not only digital trade, but will expand agricultural exports by billions of dollars a year to Japan. (Applause.)
And we're in discussions with the European Union. Once the UK makes its way through Brexit, we'll be negotiating a free trade agreement with them. So we've been very busy opening up markets.
But the USMCA is what brought me here today. Because the truth is, in negotiating the USMCA, the President did negotiate the largest trade deal in American history. And it's a win for agriculture, it's a win for Tennessee, and it's a win for America. And I came here today to call on the people of Tennessee to join us in this cause and let your voice be heard.
The truth is, according to the International Trade Commission, the USMCA is projected to add $68 billion to our economy and create 176,000 new jobs. And that's just in the early going. It's also estimated the USMCA would increase annual American agricultural exports by $2.2 billion.
Now, I've got to tell you: The numbers are impressive, but I think all of you here at Tyson know that means — that means jobs, that means prosperity in this company, in this state, in this nation. That's why I'm traveling all over the country and the President is making the case that for the sake of the American farmer, for the sake of American business, we need Congress to pass the USMCA. (Applause.)
Now, the USMCA is also going to expand access to Canada's market for poultry, which is something Tyson knows more than a little bit about. Under the agreement, Canada would actually increase access to imports of American chicken by 10,000 metric tons within the first six years, and then increase it by one percent for the next 10 years.
In addition, it'll allow the United States to export up to 1,000 metric tons of turkey products every year for 10 years, and potentially a lot more than that.
According to one estimate, poultry meat exports to Canada would increase by more than $180 million, or nearly 50 percent, within the six years after USMCA becomes law. And this is an extraordinary statement about what this is going to mean to producers and to companies just like Tyson and to all of the tens of thousands of Americans that are employed in this industry and around it.
I mean, Tyson has a lot to gain in the USMCA. And, I mean, Mexico is actually, I'm told, Tyson's top export market overall. And so, I wanted to come here and make sure all the good people working at Tyson knew just how important and how good this agreement would be for your industry. It's good for Tennessee, too.
I mean, Tennessee already exports more than $7.8 billion in goods and services to Canada today. And under the USMCA, the Governor and I are confident that that number is only going to grow, which is going to create even more jobs, more opportunity, and more prosperity right here in Tennessee.
And so, for the thousands of men and women of Tyson, for millions of citizens across Tennessee, and for America, we need to get this done; we need to pass the USMCA. (Applause.)
And I'll tell you what: This President is — he's impatient for it. (Laughter.) Because for all of the progress our country has made, that's just what this businessman-turned-President calls a "good start." I mean, the truth is, we need Congress to approve the USMCA and approve it this year because we want to keep the momentum in this economy.
But to make that happen — the reason I came to Tennessee today is because you all are going to be the difference. I mean, Congress knows where the President stands. Congress knows where I stand. But I want to encourage each and every one of you, maybe even before the day is out, to let your voice be heard and talk about what this agreement would mean not just to this company and to your family, but to this state and this nation.
I mean, I want to encourage you to reach out to our elected officials who represent us in Washington, D.C. Tell them how this agreement is going to level the playing field. Those numbers that I just gave you are just the beginning. I mean, tell your elected officials how this agreement is going to lead to more jobs, more job security, more investment, right here in Tennessee.
You know, I served in Congress for 12 years. It seemed longer. (Laughter.) But the one thing I know is the most powerful force in Washington, D.C., is not your cable news networks, right? Not your social media. Not your special interests groups. The most powerful voice — force — in Washington, D.C., is the voice of the American people. So reach out to everyone who represents Tennessee in Washington, and tell them the Volunteer State needs the USMCA, and we need it this year. (Applause.) You can be the difference.
But let me say, with a grateful heart — I'll save you a nickel — you sure don't need to call Senator Lamar Alexander or Senator Marsha Blackburn because they are leading the charge for the USMCA in the United States Senate. (Applause.) They are. Two outstanding leaders; tremendously respected. And they're working the hallways, they're working the floor of the Senate, and they're working the airwaves of America, telling this story. You just call them and tell them you appreciate it.
And also, there's a number of members of Congress that you don't need to call, several of which are actually with us today. They're strong, principled conservatives who have been there every step of the way with this administration. I'm going to name them one at a time and ask them to stand.
Congressman Chuck Fleischmann, would you stand up? This is a great, great voice for jobs and conservative values in Washington. (Applause.) Thank you, Congressman.
Congressman David Kustoff. Congressman, stand up. Thank you for your strong stand. (Applause.) Thank you, David.
Congressman John Rose has been there fighting the good fight to expand jobs and opportunities. (Applause.)
And Congressman Tim Burchett. Stand up there, Tim, will you? Thank you so much. (Applause.)
These are four conservative champions in the House of Representatives. They've been fighting for the USMCA. And everyone in Tennessee can be proud of this group of congressmen. Give them one more round. This is a group of stars. (Applause.)
But there are a few members of your delegation that you could call. (Laughter.) You know, and I kind of always had the view, when I was in Congress, that, you know, if you're part of a delegation from a state, you kind of represent everybody in the state, right? You're elected to a district, but you're part of your state's delegation.
So, right after you get done thanking the people that are standing with us, why don't you call Congressman Jim Cooper and call Congressman Steve Cohen, and tell them Tennessee needs the USMCA, and we need it this year. (Applause.)
And while you reach out to them directly, make sure — you know, let your voice be heard. I mean, send a letter to the Nashville Tennessean. Call a local talk radio show. Because I just really do believe, when the American people let their voice be heard — I used to call it the "gale force wind of do something." When that hits Capitol Hill, Congress gets off the dime. And that's what we need to have happen. For the sake of our economy and for the sake of our future prosperity, we've got to get it done.
Make no mistake about it: Your voice — your voice will make a difference. So let your voice be heard.
Now, listen, I want to thank you for coming out today. I look forward to saying hello to as many of you as time permits. And I truly am grateful — I'm grateful for the warm hospitality today. I really am.
And while I'm at it, can I just say, on behalf of myself and my family, to the people of Tennessee: Thank you for the privilege of being your Vice President. Thank you for the confidence you've placed (inaudible). (Applause.) It's the greatest honor of my life.
And it's hard for me to describe the privilege that I feel in this role, and the confidence the people of Tennessee placed in this President and in his Vice President. And I never want to miss the opportunity to pay a debt of gratitude to each of you.
And I promise you: Not only am I grateful, but you also have my promise that the President and I are going to keep on fighting. We're going to keep on fighting for all the things that Tennessee voted for this President to do. Things that we've gotten done already that have revived this economy. We've stood by American agriculture. We've rebuilt our military. We've appointed more than 150 conservatives to our federal courts at every level. (Applause.) America is standing strong and America is standing tall again, and we're going to keep fighting. (Applause.)
And I have faith that our best days are ahead — not just for Tennessee, but for all of America. Even in these divided times, I'm absolutely convinced — I'm absolutely convinced that as we continue to deliver on the timeless ideals of the American people, that the American people are going to keep standing with us. But we got to stay in it. We've got to stay in the fight. We've got to keep building on the momentum. That really is what today is all about.
And we've got to have faith in each other. And I think, if I can say, it's something that Bill Lee and I connected on early on, that we've got to have that other kind of faith too. (Applause.)
You know, I — it seems like you turn on the television anymore and there's so much emphasis on what divides us in this country, but I'll always believe that there will always be more that unites us in these United States than could ever divide us. And chief among those things is faith.
I mean, everywhere I go — I heard it today when I got off the plane at the airport — people reaching out and grabbing a hand, people from every walk of life just telling you: "Tell the President and you, we're praying for you."
I mean, this is a believing nation. And on that foundation, I think we can be confident that whatever challenges we face today, we'll find our way through as Americans to an even brighter future for our children and our grandchildren.
And I can't help but think of how many times in that book I try and open every morning that they talk about the farmer. And I looked at a verse in James, Chapter Five, that said: Consider the farmer who patiently waits for the land to yield its valuable crop, patiently waiting for the rain in the fall and in the spring, and you too must be patient and have courage.
So in these challenging times, let's consider the farmer. Let's continue to advance policies that will create prosperity for the farmer. But let's also be inspired by the steady example of faith and perseverance that has always been and will always be emblematic of the farm.
So I want to thank you for the opportunity to be with you today. And I'm absolutely convinced that with your continued support, with your help and your voice, we'll get the USMCA passed into law. We'll continue to build on the momentum in this economy, making America more strong and more secure. And with President Donald Trump in the White House, and with God's help, we will keep America great. (Applause.)
Thanks, everybody. God bless you. God bless Tennessee. And God bless America.
Mike Pence, Remarks by the Vice President on the United States-Mexico-Canada Agreement in Goodlettsville, Tennessee Online by Gerhard Peters and John T. Woolley, The American Presidency Project https://www.presidency.ucsb.edu/node/334902