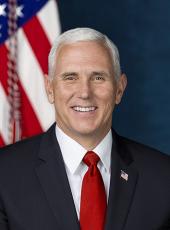 Remarks by the Vice President at the Southern Baptist Convention Annual Meeting in Dallas, Texas
THE VICE PRESIDENT: Thank you, Dr. Gaines. Thank you for that kind introduction. I too remember that night, and I appreciated your ministry that evening as well. Your kind words of introduction mean a great deal to me, but you know me well enough to know the one I -- the introduction I prefer is a little bit shorter: I'm a Christian, a conservative, and a Republican, in that order. (Applause.)
It is deeply humbling to be here today, to address the 161st session of the Southern Baptist Convention. And let me begin by bringing greetings from a good friend of mine who just got back to the White House this morning. A leader who I can tell you has been delivering every day on his promise to protect faith and restore freedom across this country. I bring greetings from the 45th President of the United States of America, President Donald Trump. (Applause.)
You know, it really is an honor to be here at the Southern Baptist Convention. It's remarkable to think that what began more than 170 years ago in First Baptist Church in Augusta, Georgia has now become one of the greatest forces for good anywhere in America.
You know, the President likes to say, in his words, that we're a nation of faith. And the leaders gathered here at this convention and the congregations that you represent make that true every single day.
Your more than 47,000 churches minister to more than 15 million people, and millions more beyond your walls. You can be found in all 50 states, in communities of every size, and at this very hour, you're planting churches and planting seeds of faith in countless hearts in America and to the very ends of the Earth.
The Southern Baptist Convention has always strived to "reach the world for Christ," and so you have throughout the decades. And I believe with all my heart that your faith has moved mountains, and your witness changes lives every day.
And I know what I'm talking about. You know, I was raised in a churched home; it was grace before dinner and church on Sunday morning. But 40 years ago this spring, I heard the very message that Southern Baptists speak so faithfully across this nation every day. I heard it fresh in my ears, as though it had been for the very first time, that "God so loved the world, that He gave his only begotten Son, that whosoever might believe in Him would not perish, but have everlasting life." And I walked the sawdust trail that night in 1978, and gave my life to Jesus Christ, and it's made all the difference. (Applause.)
So thank you for carrying that timeless message everyday with such faithfulness to the American people. The truth is, Southern Baptists have always worked to bring about renewal of America, and new beginnings. And as I stand before you today, I believe that our nation is in the midst of a time of renewal. And we are in the midst of a new beginning of greatness in America. (Applause.)
You know, it's the greatest privilege of my life to serve as Vice President to a President who's working every day to renew the greatness of this country.
When you look at the progress we've made over the last 500 days, at home and abroad -- the stronger America, a stronger economy, a stronger commitment to the God-given liberties enshrined in our Constitution -- I think there's only one way you can sum up this administration: It's been 500 days of action, 500 days of accomplishment. It's been 500 days of promises made and promises kept. (Applause.)
I mean, think about it. Think about it. From the very beginning of this administration, we've been rebuilding our military, restoring the arsenal of democracy. And as the proud father of a United States Marine, I couldn't tell you how grateful I am that, with the support of this Congress, we are once again giving our soldiers, sailors, airmen, Marines, and Coast Guard the resources and training they need to accomplish their mission and come home safe. (Applause.)
We've been standing with the courageous men and women of law enforcement. We've been securing our borders, enforcing our laws, and removing dangerous criminals, drug dealers, and gang members off our streets in record numbers. (Applause.)
And we once again, we have a President of the United States who stands without apology as leader of the free world. (Applause.)
We certainly saw that in high relief over the last several days, didn't we? Just this morning, the President returned from a historic summit with Kim Jong Un of North Korea. The President went to this meeting as, in his words, "on a mission of peace," but with eyes wide open. And I can report, the meeting that took place was direct and honest, provocative, and productive. It resulted in a bold first step where North Korea's leader committed to the complete denuclearization of the Korean Peninsula. (Applause.)
And among the agreements reached, very deeply meaningful to me as the son of a combat veteran from the Korean War, President Trump secured a commitment from North Korea to recover and repatriate the remains of more than 5,000 American MIAs who fell in the Korean War. We are finally going to bring our boys home. (Applause.)
Now comes "vigorous negotiations to implement the agreement," as the President said, "as soon as possible." But make no mistake about it: The success of this summit, and the progress we've made, is a direct result of President Trump's steadfast leadership and the courage of one American family.
From the outset of our administration, President Trump changed our policy toward North Korea, ending years of what was known as "strategic patience." The President brought unprecedented economic and diplomatic sanctions to bear on North Korea, and he used the kind of tough rhetoric, in South Korea and at the United Nations, that communicated America's resolve to protect our country and stand with our allies.
The President would also, today, though, want me to give credit to the family of Otto Warmbier. As the President said last week in the Rose Garden, Otto was a "brilliant, beautiful… young man." And in the words of his family's tradition, may his memory be a blessing.
Otto's loss was a tragedy that grieved the heart of this nation, but the courage of his parents in the wake of that loss helped bring us to this milestone. And as the President said, "Otto did not die in vain." (Applause.)
The truth is, their example and the President's stand on "peace through strength" brought us to this day, to this step. And as we move forward with further negotiations, we now will "trust but verify." And as the President said, our "sanctions will remain in place" until North Korea's nuclear weapons are "no longer a factor." We will not repeat the mistakes of the past. (Applause.)
As we reflect on this moment, it is important to remember that our President has already accomplished much when it comes to North Korea. North Korea hasn't fired a missile test in seven months, historic inter-Korean peace summits have occurred, and three American hostages came home. (Applause.)
I'll never forget that night. Karen and I joined the President and the First Lady on the tarmac at Andrews Air Force Base to welcome home these three extraordinary Americans who'd been held hostage in North Korea.
But what happened that night, I really didn't expect. It happened to the President too, and it happened to the Secretary of State. These three men -- one of whom had been in captivity for nearly two years -- as they came down off the stairs, one of them pulled out of his pocket a small index card, written on the front and on the back. They grabbed my hand vigorously, and they thanked me for my prayers.
On the front of the card, it read: "Dear Mr. Vice President, we praise the Lord who has done great things for America and for us. We deeply appreciate your prayers and the U.S. government bringing us home. God bless great America." (Applause.)
And then I flipped over the card, and looked on the back. And they had transcribed a portion of Psalm 126. "When the Lord brought back the captives to Zion, we were like men who dreamed. Our mouths were filled with laughter, and our tongues with songs of joy." (Applause.)
It's a moment I'll never forget. And the card they gave to the President read about the same.
Men and women of the Southern Baptist Convention, I can tell you, we have a lot of work ahead of us. It will be an arduous process requiring American resolve –- resolve and courage. As the President said before he left Singapore, in his words, "anyone can make war," it takes courage to make peace. (Applause.)
And the President and I both know it will take one more thing. While strong American leadership has accomplished much, he and I both know that the "effective and fervent prayers of a righteous people [can] availeth much" more. So let's all pray. Let's pray for peace for the Korean people and the world. (Applause.)
But it hasn't just been progress on the Korean Peninsula. President Trump has been putting America first and standing strong for America's interests all over the world.
This President promised to take the fight to radical Islamic terrorism on our terms, on their soil. And I'm pleased to report that, thanks to the courage of our armed forces and the leadership of this Commander-in-Chief, ISIS is on the run, their caliphate has crumbled, and we will soon drive the evil of ISIS from the face of the earth. (Applause.)
This President has also stood up to the leading state sponsor of terrorism around the world when he withdrew the United States from the disastrous Iran nuclear deal. (Applause.)
And unlike his predecessors, this President kept his word to the American people and to our most cherished ally, when, just a little more than a month ago, we opened the United States Embassy in Jerusalem, the capital of the State of Israel. (Applause.)
And from the first day of this administration, President Trump has also taken dramatic action to revive the great engine of the American economy.
We've cut red tape, unleashed American energy, and President Donald Trump kept his word to the American people one more time when, right before Christmas, he signed the largest tax cuts and tax reform in American history. (Applause.)
And you know, I don't know if you've noticed, but the results have been remarkable. Since the President and I were elected, businesses large and small have already created more than 3.4 million new jobs. (Applause.)
The unemployment rate hasn't been lower in nearly 50 years. And we've seen the lowest unemployment rates ever for Hispanic-Americans and African-Americans. And unemployment for women in America hasn't been this low in 65 years. (Applause.)
As I stand before you today, I say with confidence, jobs are back, confidence is back, and, under President Donald Trump, America is back. And we're just getting started. (Applause.)
So we're restoring American strength, at home and abroad. But in this White House, I want to assure you, we know that America's strength ultimately comes from the foundation of our most cherished values in this country. And from early in this administration, I'm proud to report that President Donald Trump has stood with people of faith and for our most precious freedoms every single day. (Applause.)
Last year, the President chose the National Day of Prayer to announce new policies to protect religious liberty of every American, regardless of their creed.
And because the President and I believe that the freedom of speech should not end at the threshold of our churches and places of worship, this President has taken action to end enforcement of the Johnson Amendment. And we will not rest until it is repealed off the laws of this country once and for all. (Applause.)
To protect the God-given rights enshrined in our Constitution, this President has been busy appointing strong conservatives to our federal courts at every level. In fact, last year we set a record -- with the strong support of the leadership of the Senate, we set a record for confirming the most judges to the federal courts of appeals than any President in American history. And that doesn't even count Justice Neil Gorsuch on the Supreme Court of the United States. (Applause.)
And like all of you, the President and I have been deeply moved by the suffering of Christians and persecuted religious minorities across the wider world -- especially in the Middle East, where we've literally seen the largest exodus of believers since the days of Moses.
Last year, at the President's direction, I announced that the United States would stop funding ineffective relief efforts at the UN. And for the first time, America is providing support directly to nongovernmental organizations working with Christian and persecuted communities in the Middle East. (Applause.)
Now we've made progress in recent months. Across our administration, we've already devoted more than $110 million to this effort. But there's still more work to do, and USAID is working the issue as we speak. And Mark Green of USAID will be traveling -- will be traveling to Iraq in just a few days to see to it himself.
But I want to make a promise to each and every one of you: We will not rest until we give our fellow Christians and persecuted communities across the Middle East the resources and support they need to recover, rebuild, and flourish in their ancient homeland once again. (Applause.)
And finally, I couldn't be more proud to stand with a President who stands without apology for the sanctity of human life. (Applause.) President Donald Trump is the most pro-life President in American history. (Applause.)
I mean, think about it. One of his very first acts in office, our President reinstated the Mexico City policy, denying any federal aid dollars to organizations that promote or perform abortions around the world.
We withdrew the United States from the U.N. Population Fund in order to prevent our tax dollars from supporting forced sterilization or abortion overseas.
In fact, we empowered the states to defund abortion providers. And it was my honor, as Vice President, to cast the tie-breaking vote to allow states across America to defund Planned Parenthood. (Applause.)
And just a few days ago, the President took action to ensure that Title X funding will not go to any programs that provide abortions.
This progress, men and women, on security and prosperity, on our most cherished values, is the result of the support of men and women like so many of you who supported our President not just in 2016, but every day since. It comes from conservative majorities in the Congress of the United States, who've supported this President's agenda every step of the way. And it comes from the President himself and our administration, who cherish people of faith.
You know, I've witnessed the deep respect that our President has for this nation of faith, as he calls it. This is a President who knows that what you do, and the ministries of your churches make an extraordinary difference in the life of our nation.
We know that what you confess with your lips is the conviction of your hearts. We never doubt it because we see it. We respect how you care for the most vulnerable, how you come alongside those in need each and every day with compassion and encouragement.
As the President and I have traveled around the country, we've seen it. We've seen that when disaster strikes, it's faith communities just like yours that are often there almost immediately with the first responders; with an outstretched hand to bind up the brokenhearted, to heal the sick. And this President and I know that you're the cornerstone, not just of your communities, but, in so many ways, of our country.
The Bible tells us, if the foundations crumble, how can the righteous stand? Well, you and your ministries strengthen the foundation of character in our nation every day.
And so today, on behalf of the President, I want to say thank you. Thank you to the Southern Baptist Convention for the essential and irreplaceable role you play in America. And I'll make you a promise: This President, this Vice President, and our administration will always stand with you. (Applause.) We will.
Today, we only ask the men and women of this convention to continue in your calling with renewed energy. Stand and go and speak. Stand in the gap. Because in these too-divided times, I believe that your voice, your compassion, your values, and your ministries are more needed than ever before.
This is a pivotal year in the life of our nation. What happens in the days ahead will have a profound impact on the future of this country.
But be assured of this: President Trump and I are going to continue to fight for what we know is right. But you should also know that we recognize that the most important work in America doesn't happen in the White House or anywhere in Washington, D.C. for that matter. We know the most meaningful work, the most transformative work happens where you live, where your ministries impact: in the hearts and minds of the American people.
The truth is no podium that President Trump and I will ever stand behind will be of greater consequence than the pulpits you stand behind every Sunday morning. (Applause.) No policy we enact will ever be more meaningful than the ministries you lead. And no action we take will ever be more powerful than your prayers.
As I close, let me just say that it is deeply humbling for this small-town boy to have the privilege to serve all of you as your Vice President of these United States. And I thank you for the privilege. (Applause.) I do.
I'm more grateful for that privilege the more I'm in this job because over the past year-and-a-half, just like the President, I've done a lot traveling around this country and my admiration for the American people has only grown. I've seen the compassion, and the character, and the generosity of the American people. And I've seen the faith of this country writ large and put into practice.
I've seen that faith in the wake of hurricanes, and tornadoes, and wildfires -- where men and women of faith are right there on the scene working their hearts out to help people put their lives back together.
I've seen it in the good Samaritans who come alongside the least fortunate in our cities and are involved every day in helping give people a second chance at life.
And I've seen it not far from here, in a small town called Sutherland Springs. Like all of you, our hearts were broken last year when we learned of the horrific attack on First Baptist Church -- a church that's part of this convention family. It was the site of the worst attack on a house of worship in American history, and we mourn with those who mourn, and grieve with those who grieve. We still grieve the loss of lives of promise.
Just a few days after the attack though, Karen and I traveled to Texas where we joined Dr. Gaines. We were just reflecting on it backstage before I came out.
We were there to participate in a memorial service at a nearby high school, but before we went out, we had time with the families. As Karen and I walked through the library, we met the injured. We met families of the fallen, still shattered by the evil of that morning. And what we saw beyond the pain was extraordinary.
Through all the tears, in the midst of such loss, the light of the faith and the hope of the people of that church shone through. Theirs was a small church, but their faith was not small. And today, I'm especially honored to be here today with a great man of faith who leads that church and led them through that dark valley: the pastor of First Baptist Church, Pastor Frank Pomeroy. (Applause.)
Pastor Pomeroy and I were just talking backstage about that day. And here was a pastor in the midst of unspeakable loss who was there for his church. But the work he had done, sowing in the truths of the faith, shone forth that day.
The fact is, Mr. Pomeroy and I were just talking -- I saw one of the survivors just about a month ago at the White House on the National Day of Prayer. Dave had been shot eight times that day at the church. But when we visited him at the hospital in the week afterwards, Dave had his whole family around him. And he was so proud to tell me that that Tuesday night, he hadn't missed his men's Bible study because they all came to his hospital room to have it. (Laughter and applause.)
Dave's doing well. He was standing in the Rose Garden when I saw him; I barely recognized him. And he's on our hearts today, as all the members of that church are. But Pastor Pomeroy just told me -- he said, "Dave's doing just fine." I said, "Does he still got that Bible study going?" He said, "Actually, he's leading three now, including several of the nurses at the hospital, who asked him to lead a Bible study after he was discharged." (Applause.)
You know, the faith Karen and I saw on that day will always inspire us, as does the faith that I know lives in all of you, and in all of the churches and congregations represented here. Seeing you all here today just gives me renewed confidence -- renewed confidence about our nation's future.
And as I close, let me just urge each one of you to continue to do what each one of you do every day -- preach the word, "in season and out of season." Always be prepared to give a reason for the hope that you have. (Applause.) Keep changing lives, keep ministering to the spiritual and the practical needs of the American people, especially the most vulnerable.
And let me respectfully encourage you to do one more thing. As the late and great Reverend Billy Graham reminded us years ago, in his words, "To get nations back on their feet, we must first get on our knees." So I urge you, in these challenging times of threats abroad and too much division at home, let's pray for America, for all the people of America, and all who serve her at home and abroad. (Applause.)
And on this one, I want to be clear, I'm not talking about praying for an agenda or for a cause. I rather like what President Lincoln said in his time when he was asked if he thought God was on the side of the Union Army. Our 16th President simply replied, "My concern is not whether God is on our side; my greatest concern is to be on God's side." (Applause.)
So let's pray for America -- for America matters, far beyond our shores. And when you pray, pray with confidence. I'll always believe those ancient words recorded millennia ago, that Americans have clung to in much more challenging times than we face today, are still every bit as true today: That if His people, who are called by His name, will humble themselves and pray, He will do like He's always done through the long and storied history of this country. He'll hear from heaven. He'll heal this land -- this one nation, under God, indivisible, with liberty and justice for all. (Applause.)
So thank you again for the honor to speak today. It's a joy to be with you all. I know that with your support and prayers, with the strong support of leaders at every level of government, with President Donald Trump in the White House, and with God's help, we will make America safe again. We will make America prosperous again. And to borrow a phrase -- (laughter) -- we will make America great again. (Applause.)
Thank you very much. Thank you for the honor of being with you today. God bless you, and God bless the United States of America. (Applause.)
Mike Pence, Remarks by the Vice President at the Southern Baptist Convention Annual Meeting in Dallas, Texas Online by Gerhard Peters and John T. Woolley, The American Presidency Project https://www.presidency.ucsb.edu/node/335711