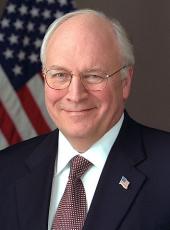 Remarks by the Vice President at the Michigan State University Undergraduate Convocation Ceremony in East Lansing
Thank you very much. Governor Engler, President McPherson, Trustees, distinguished guests, Michigan State faculty, parents, and members of the class of 2002:
It's a privilege to receive this honorary degree from one of America's finest universities. I'm delighted to join you on this special day, and I appreciate the warm welcome. I should tell you that I was also invited to speak at another university commencement today. There being no way of doing both, I figured out a solution: You're getting me – and the other college is getting the guy who plays me on "Saturday Night Live."
I've had the experience of seeing my own children collect college and graduate degrees and begin a new journey. There's nothing quite like it. And so, as a tribute to all the proud moms and dads here today, I think a round of applause is in order.
This is a family event, and I know that many of the seniors have been showing the folks around these last few days, pointing out the landmarks of your college years. I haven't had time myself for a tour, but in my briefing I learned about some of the hallowed sites of MSU – Beaumont Tower, the statue of Sparty, the library, Wells Hall … the Peanut Barrel, the Land Shark.
After years of tests and term papers … after hundreds of hours in the classroom, something tells me you're not all that excited to hear another lecture before you leave. So we'll keep this short. As commencement speeches go, my wife Lynne holds the record for brevity. She's been clocked at under five minutes. I don't know if I can match it, but in the spirit of compassionate conservatism, I'm going to try.
It is the custom for graduation speakers to draw from their long experience, and share some of the lessons they've learned along the way. One very practical lesson comes straight to mind. I learned it not long ago, when Governor George W. Bush called to ask if I would help him find a running mate for vice president. The lesson is: If you're ever asked to head up an important search committee, say yes.
That decision two years ago set me on a path I was not expecting to take. I was certain that my time in public office had passed. I was even thinking about growing a beard. And looking back, this seems to be the pattern in my life – the unexpected turns, the opportunities that come suddenly and change one's plans overnight.
On the day of my own graduation from the University of Wyoming, I had no ambitions for public office. If you'd asked me then what I planned on doing, I could have described the next ten years in fairly precise detail. First there would be graduate school … then, a Ph.D. … and then, with luck, a faculty position at a university. In the short version, it all worked out differently, and within a few years Lynne and I were living in Washington. Later, a great opportunity came my way to work for a man from Grand Rapids who became a friend and mentor, President Gerald R. Ford.
Many of you will leave Michigan State today with definite plans of your own. And a clear plan for your life can be a very good thing – it keeps you focused on the future, and gives you a standard to measure your progress. Yet I'll wager that ten years from now, many of you will find yourselves following a quite different course, all because of an opportunity that came out of the blue.
Be on watch for those certain moments, and certain people, that come along and point you in a new direction. Sometimes others know better than we do just what our gifts are, and how we can use them. For all the plans we make in life, sometimes life has other plans for us.
Those of us who've been around a while can also recall a few times when life took an unexpected turn, but in a disappointing way. The citation read a moment ago touched on some of the higher points in my resume. It left out the part when I dropped out of school after a few semesters at Yale. Well, actually, dropped out isn't quite accurate. Asked to leave would be more like it – twice. To this day, Yale has not invited me to join in their commencement exercises. I think they're afraid I'll leave early.
You may face some disappointing turns of your own – times when you fall short, knowing you could have done better. And when that happens, don't let your doubts get the best of you. I have met some very successful people in my day – men and women of talent and character who have risen to the top of their fields. And it's the rare one who hasn't had a taste of failure, or a false start along the way. Setbacks in life can stop you dead in your tracks, or they can inspire you forward. Either way, you will look back on them as turning points. They are crucial days in your life, when you see the starkest kind of choice, and know it belongs to you alone.
One of the things I love most about our country is that we have such opportunities. There are places in the world where failure is final, and one early misstep will decide your fate forever. But America is still the country of the second chance. Most of us end up needing one. And when we've gone on to accomplish something, we can be that much more grateful.
Gratitude in general is a good habit. More than a virtue, it is usually a correct appraisal of our situation. Most of us are able to succeed and rise in the world because someone helped out along the way – whether it was a memorable teacher, or a boss who handed us a great opportunity, or the person who took a chance and gave us that first big break in our career. A grateful heart is an honest understanding of all that we have been given, and all that is expected of us in return.
There is always the temptation to forget this – to carry ourselves with an air of entitlement, as if good things come to us by right. They rarely do. And life has a way of working out better when we don't take things for granted – when we have a long memory for what others have given us … when we look for the blessings, great and small, that come every day we are alive on this earth.
This day will stand out – as a marker of gifts well used, aspirations fulfilled, and hard work rewarded. I congratulate each of you, and hope your future is filled with the kind of happiness you feel today. I thank you again for this honorary degree. I leave here as a proud member of the Michigan State University Class of 2002.
Thank you very much.
Richard B. Cheney, Remarks by the Vice President at the Michigan State University Undergraduate Convocation Ceremony in East Lansing Online by Gerhard Peters and John T. Woolley, The American Presidency Project https://www.presidency.ucsb.edu/node/286079