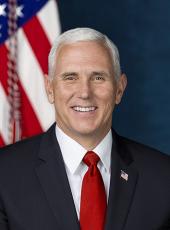 Remarks by the Vice President at the Magna Seating Groundbreaking in Lancaster, Ohio
Thank you. Thank you very much. Well, hello, Ohio. (Applause.) Let me thank Acting Secretary of Labor Pizzella. Thank you for those great words. Thank you for stepping forward to provide leadership in the Labor Department. And Congressman Steve Stivers, who is a champion for Lancaster, a champion for jobs, and will leave this event today to put the uniform of the United States back on. Congressman Steve Stivers, thanks for your — all of your service to America. (Applause.) Thank you.
And to Mayor David Scheffler, it is a good day. How about a round of applause for the Mayor? This is a great, great day for this community. Mayor? (Applause.)
And it's so good to be with all of you, neighbors and friends, and especially with my friend, Don Walker, and all the men and women of Magna to be here to break ground for a new auto parts manufacturing plant. Magna Seating Columbus is coming to Lancaster and to Fairfield County, Ohio. (Applause.) Congratulations.
It's great to be with you today, really, to celebrate a great day — a great day in the life of Fairfield County. Congressman Stivers has actually told me, Mayor, that this is the largest economic development announcement in Fairfield County in more than two decades. I think that's worth a round of applause. That means this is a growing county in a growing state in a growing America. (Applause.)
And it's part of a growing story all across the Buckeye State and all across this country. You know, I'm proud to report that since Election Day 2016, businesses large and small across this nation have created 6 million new jobs, including 87,000 good-paying jobs right here in the state of Ohio. (Applause.)
And there's a lot of credit to go around but before I get started, allow me to bring greetings from a friend of mine, who I know is with you in spirit today. We were talking late yesterday afternoon. I told him I was heading to the Buckeye State and I thought he sounded just a little bit jealous. (Laughter.) He's celebrating a 400th anniversary in Jamestown today, but he's someone who loves the state of Ohio, loves American cars, and he's been fighting every day to bring American manufacturing back. I bring greetings from the 45th of the United States of America, President Donald Trump. (Applause.)
You know, two years ago, the President spoke for our entire administration and for millions of Americans when he said, and I quote, "There is no more beautiful sight than an American-made car." Since the beginning of our administration, President Trump has been fighting for American jobs and fighting to keep making cars right here in the Heartland of America. (Applause.) He's been doing it.
And two and a half years later, I'm proud to report — thanks to our strong partners like Congressman Steve Stivers, like Senator Rob Portman, and others — President Donald Trump has delivered.
Today's groundbreaking is yet another sign that, under President Donald Trump, this economy is roaring, our nation is prospering, and American manufacturing is back. (Applause.)
You know, it's amazing to think, under the last administration, you actually saw this country lose 200,000 manufacturing jobs. And President Trump's predecessor actually said you would need a magic wand to bring those jobs back. Well, since President Trump's election, we've rolled back red tape. We've unleashed American energy. We cut taxes for businesses large and small. We fought for free and fair trade. And two and a half years later, 513,000 manufacturing jobs created, including 19,000 right here in the Buckeye State. (Applause.) That's something.
You know, I always used to say — when I was governor next door, in the state of Indiana, I used to say, "Back in this — in this part of the country we do two things well: We make things and we grow things." And I got to tell you, it's incredibly inspiring for the President and I to see the way the American people and American enterprise has stepped forward, you know, to create jobs and opportunity.
You know, the American auto industry, as I stand here today, alone has created 47,000 new jobs in the last two and half years alone. And it's not just about the jobs. It's about the wages as well. As we stand here today, I'm proud to report wages are rising at the fastest pace that they've risen in more than 10 years. And they're rising the fastest for blue-collar, hardworking Americans. (Applause.)
The unemployment rate has hit a 50-year low, and we've seen the lowest level ever recorded for unemployment for African Americans and Hispanic Americans. The American Dream is working again for every American family. (Applause.)
And I don't think I have to tell friends here in Ohio that this President likes to sum up our agenda with three words: jobs, jobs, jobs. And I am celebrating more jobs coming to the Heartland today, here in Fairfield County. (Applause.)
And, you know — and, you know, Steve, it really is exciting to see these jobs come, because 2018 was actually the best year for manufacturing job creation in more than 20 years. And as I said, it didn't just happen. It's because of the policies that the people of Ohio supported two and a half years ago, and the policies that Congressman Stivers and Senator Portman and others have been supporting in our nation's capital.
You know, there's a lot of reasons why a Canadian company like Magna would want to continue to expand here in Ohio, under this administration. But it's happening. I mean, it's those tax cuts. We've made American corporate taxes competitive now, with corporate taxes around the world.
We've rolled back, in this administration — we've cut more federal red tape already than any administration in American history. We've freed up American free enterprise. (Applause.)
But I mean, the truth be told, it's not just the policies that have been freeing up the American economy. Really and truly, Magna's investment today, here in Fairfield County, is a vote of confidence in all of you. They know that, here in Ohio and here in America, we have the best workers in the world. (Applause.)
People like a fella who's risen through the ranks in Ohio auto manufacturing over the last quarter of a century and who's been with Magna, literally, for 21 years. I'm told he started off as a test engineer and now he's an assistant general manager, and he actually played a key role in making today's groundbreaking possible.
So would you all join me in giving a well-deserved round of applause to Scott LaVoie? (Applause.) Well done, Scott. (Applause.) Congratulations. Where are you? Great job, man. Great job.
Or people like another proud son of an auto worker in Defiance, Ohio. Over the past three generations, 11 of his family members served in the uniform of the United States. He himself served our country in the Air Force. And now he's spending his life and his career building up American manufacturing right here in the Buckeye State. So would you join me in showing our gratitude for his service to America and his commitment to this company and this community? Airman First Class Raul Alvarado. Where are you, Raul? (Applause.) Great job, man. Thank you, Raul. Great job, man. Thank you for your service.
You know, Scott and Raul — I mention them today because of the role that they play in the life of this company. But I mention them also because they're emblematic of all of you who are here celebrating this today — the thousands of auto workers all across this state and all across this country. So give yourselves a round of applause. This really is your day. (Applause.)
So today's groundbreaking really is a tribute to all of you, and it's a tribute to the policies that we've been able to advance over the last two and a half years. I mean, rolling back taxes and regulation, unleashing American energy. But it's also because President Donald Trump has been standing strong for free and fair trade that puts American jobs and American workers first. (Applause.) It's true.
After years of seeing America taken advantage of by too many of our trading partners, since the first day of this administration, this President and our entire team have been working to open up markets around the world. We're renegotiating our trade agreement with South Korea, countries in South America — opened up our markets …opened up our markets to agricultural products.
As we speak, we're in discussions for a free trade agreement with Japan, a free trade with the EU. And after they get done with Brexit, one way or the other, we're going to have a free trade agreement with Boris Johnson and the folks in the United Kingdom.
And, of course, today, our team returned to China to continue negotiations with a nation that represents half of our international trade deficit.
As you all have witnessed, so far, President Trump has taken a strong stand. We've imposed as much as $250 billion in tariffs on China. And I'll make you a promise: This President and this administration is going to continue to stand strong until China opens its markets and starts treating American workers and American companies the way they deserve to be treated. (Applause.) We're going to do it.
So it's been about negotiating free and fair — and what the President likes to call "reciprocal" — trade with nations around the world. But we have a real success under our belt. It's one you've already heard about from this podium today. Because today's announcement is happening against the backdrop of what — when it is confirmed by the Congress — will be the largest trade deal in American history. We've negotiated with Mexico, we've negotiated with Canada, and the United States-Mexico-Canada Agreement is done. (Applause.)
Canada and Mexico have already taken steps to approve it. And the Congress of the United States has been in negotiations with our administration to move their approval forward. And I wanted to mention that to you before I leave today.
In fact, part of the reason I am here today — you know, I've been travelling all across the country talking about the USMCA, the difference it's going to make in our economy and make in our automotive industry and in agriculture and in all kinds of manufacturing.
You know, I don't think I have to tell people here across the Midwest what we learned together since NAFTA was signed into law. I mean, the truth is — the truth is NAFTA had an impact on our communities that, in many cases, could be described as just having hollowed out historic jobs.
In my state of Indiana, we literally saw almost entire communities shuttered as, following NAFTA, jobs moved south of the border.
I mean, NAFTA, truthfully, was written more than a quarter of a century ago. And in the campaign in 2016 and every day since, President Trump made it clear that he knew we could do better. We could modernize this agreement and we could level the playing field between our trading partners to the north and to the south. But, also, we could modernize this in ways that were never thought about back in 1995 when this agreement was reached.
It's amazing to think NAFTA was approved before Bluetooth, before Sirius radio, before advanced batteries, computerized navigation systems, and many of the other innovations that we simply take for granted today.
It didn't require that any of these auto parts be made in North America because they were never mentioned and didn't exist at the time that NAFTA was created. That means that even though American cars would face high tariffs and trade barriers around the world, companies, under NAFTA, were able to buy auto parts from China, assemble them in Mexico, and then sell them in the United States duty free.
Well, that's just not fair. It put American companies and suppliers at a disadvantage. It took North American companies at disadvantage and those days are over. The USMCA levels the playing field and modernizes this agreement in a way that puts American workers first. (Applause.)
The USMCA treats the automotive industry fairly. It's going to be a win for American workers and American jobs, and now we need Congress to get it done. And under the USMCA, 75 percent of auto parts have to be made here in North America. And, you know, when I think of Magna, which is a Canadian company that does business all over the world, I have no doubt — I have no doubt that the investments that they've made here in the Buckeye State and the ground that we will break today is reflective of the anticipation of this agreement.
The other part of it is that 40 percent of all auto parts under the USMCA must be made by workers making, essentially, what is the average hourly wage here in the United States. It will eliminate the incentive to manufacture outside the United States and it will eliminate the incentive to move jobs south of the border. The USMCA is an idea whose time has come. (Applause.) It is.
And when it becomes law, I guarantee you — I guarantee you we're going to see a lot more groundbreakings just like this one, Steve. We really are. We know it.
According to the International Trade Commission, the USMCA will add more than $68 billion to our economy and create another 176,000 American jobs. But we need Congress to pass the USMCA and we need them to act on it this year.
Our Trade Representative estimates that, under the USMCA, automakers will invest an additional $34 billion in the United States, and sell an additional $23 billion in auto parts, creating 76,000 new jobs in this industry alone. It's incredibly exciting news, men and women.
And if you want to know if the USMCA will increase investment here in the United States, as I said, you could just ask Magna. The USMCA modernizes trade across our continent. It's going to encourage innovation and investment like what we're celebrating today.
I mean, Ohio really does have a lot at stake. The Buckeye State is America's number four exporter of industrial machinery and you're our ninth-biggest exporting state overall. You know, about half of Ohio's exports go to Canada and Mexico. Let me say that again: We've negotiated the largest, most advanced, most modernized trade agreement in history between the United States and Mexico and Canada. And as I stand before you today, half of Ohio's exports go to Canada and Mexico.
I mean, this state has so much to gain from the USMCA. And so, for Ohio, for the automotive industry, and for America, we've got to get the USMC[A] done. And we got to get it done this year. (Applause.)
So I'm here to celebrate and break some ground. I had — I hadn't turned a lot of shovels since I was governor so I was really excited about being here. (Laughter.) But I'm also here to ask for your help. I really am. I hope you all are getting the message here in Fairfield County because the clock is ticking.
You know, we got an election year just around the corner. It's going to be a very busy time in the life of our nation. And so we need to send a message to Congress: Look, President Trump has done his job. It's time for Congress to do their job and pass the USMCA, okay? (Applause.)
So, Fairfield County, we want to hear from you. The truth is, our elected officials need to hear form Ohio on this issue. So I want to encourage each and every one of you to go out and talk about today. I mean, the largest investment in economic development in Fairfield County in 20 years by a Canadian company. Give Don and the team here at Magna another round of applause, will you? Thank you for so much for believing in the people of Ohio. Thank you, Don. (Applause.)
I mean, just tell them — say, "I ran into Mike in a tent the other day we really didn't need because it wasn't raining when he got there." (Laughter.) But tell them — just go out and tell them, say, "Look, I didn't quite realize it: The trading relationships that we have with Mexico and Canada — we got this new agreement. It's going to create jobs — hundreds of thousands of jobs all across this country, tens of thousands of jobs here in Ohio." And tell them how this agreement is going to lead to even more jobs and more investment in the USA. Tell them why we need a USMCA so "Made in the USA" is seen on more cars all around the world. Okay? Go tell them. (Applause.)
We've done it. The negotiation is over. We've negotiated a trade deal that puts American jobs and American workers first. But it is time for Congress to do their jobs.
So I want to encourage you. I want to encourage you to reach out. Reach out to your congressmen and your senators, and send them an e-mail, pick up the phone, make a phone call at their local office.
But listen, I'll save you — I'll save you the toll on one call. You don't need to call Senator Rob Portman because Senator Rob Portman has been a champion of the USMCA from day one and he's leading the charge in the United States Senate. (Applause.) We couldn't be more grateful.
And I want to thank Senator Rob Portman for his strong stand. He's got that background — he was the United States Trade Representative in a prior Republican administration. And he's brought that expertise and he's telling the story of the USMCA to his colleagues in the United States Senate.
And you also don't need to call Congressman Steve Stivers. He is a leader in the Congress and he is fighting every day for the USMCA. And, Congressman, thank you for that. (Applause.)
In fact, the entire Republican delegation is there. All the Republicans representing the Buckeye State in the House of Representatives are with us, and they're leading the charge. So you could still call them, but just call them to say thanks.
But I would encourage you to make a call to Senator Sherrod Brown. Call the Democrats in the Ohio delegation and tell them, "Next year, we got plenty of time for politics. This year, we need results. This year, we need the USMCA." You go tell them that, Ohio. Okay? They need to hear it. (Applause.)
And I got to tell you, before I was in this job that you all hired me to do two and a half years ago, before I was governor of Indiana, I served in the Congress for 12 years — a few of those years with Congressman Stivers. And I can tell you, when the American people send a clear message to Capitol Hill, things happen. So we need to tell the Congress to get the USMCA done and get it done this year, okay?
So thanks for coming out today. And congratulations to Lancaster and Fairfield County. This is a great day and it represents a tremendous investment.
I also want to thank Don and the whole Magna team. Thank you for believing in the fantastic community and continuing an investment in Ohio that has truly been historic. You've been firm in your commitment — not just to Ohio, but to the United States of America — and we're grateful for that. We look forward to many prosperous days to come.
And I want to thank you all for coming out and for being the kind of people that invite the investment that we're celebrating here today. It really is a testament to who you are, to your work ethic, your professionalism, your character. I mean, Ohio is no stranger to Magna. They know this state, they know the people of this state, and they know what you can produce. They know what you can do. And so I just want to congratulate and thank all of you.
And in the days and weeks that lie ahead, I want to promise you: We're going to continue to work every day to ensure that our nation's auto industry and manufacturing across the state and across this country continue to thrive because we believe in (inaudible) hardworking, patriotic Americans. And today's — today's investment is a testament to all of you.
I can't come to this community though without thinking of one of your own: Sergeant Joey Collette from Lancaster. Those of you who know the story know that Sergeant Collette deployed to Afghanistan last December. He was part of the 242nd Ordnance Battalion, based in Fort Carson. And he deployed just a few months after getting married.
He was a great American and a patriot who loved this country. A devoted husband, loved his family. But in March, during a combat mission, he fell — 22 March, 2019. He left behind his wife, Caela, two daughters, and two step-daughters.
Karen and I had the privilege to be at Dover Air Force Base when he came home. We were there with his family, including his mother, Theresa. And I was incredibly humbled by his selfness and his service.
He was from the rest of us but he was the best of us. And so I want to say to his hometown, here in Lancaster: The American people will never forget and we will never fail to honor the life, the service, and sacrifice of Sergeant Joey Collette. (Applause.)
Joey was the kind of man that makes a community like Lancaster special, who believes in this country — believes it's worth defending, believes in values that have always made Ohio and American strong. A man of the Heartland, just like the men and women gathered here today.
And I'll leave you here today with a promise — one more promise. We stay on the path that we're on — keep letting the American people keep more of what they earn; and keep getting red tape out of the way, so businesses will have confidence to invest and create jobs; and keep fighting for those free and fair trade deals; we get that Congress moving to pass that USMCA — I promise we're going to — we're going to keep growing in this state and this nation. We're going to keep making America and Ohio more prosperous than ever before. And to borrow a phrase, we're going to keep making America great again. Thanks everybody. (Applause.)
God bless you, Lancaster. Congratulations, Fairfield County. It's an honor to be with you all. (Applause.)
Mike Pence, Remarks by the Vice President at the Magna Seating Groundbreaking in Lancaster, Ohio Online by Gerhard Peters and John T. Woolley, The American Presidency Project https://www.presidency.ucsb.edu/node/334280