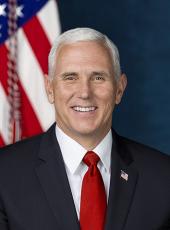 Remarks by the Vice President at the Association of Equipment Manufacturers "I Make America" Event in Shady Grove, Pennsylvania
Well, hello, Pennsylvania! (Applause.)
AUDIENCE: USA! USA! USA!
THE VICE PRESIDENT: It is great to be with all of you. To Secretary Pizzella, Congressman Joyce, all the great local leaders who are here, but especially the red-shirt-wearing men and women of this incredible company, it is great to be here at the country's only American-owned and American-produced crane company. Let's hear it for the whole team here at Manitowoc. (Applause.)
And I'm here to get some business done; I don't know about the rest of you. (Laughter.) Because we are here to make sure that American manufacturing keeps growing right here in Pennsylvania and all across America! (Applause.) And I thank you for that warm welcome. I really do.
And, by the way, it's a particular joy for me to be traveling today with my shift foreman. (Laughter.) Would you all join me in welcoming my wonderful wife of 34 years? The Second Lady of the United States, Karen Pence, is with us today. (Applause.) And she just said, "You should tell them all to sit down." (Laughter.)
So, thank you all. Thanks for the warm welcome.
I also want to thank this remarkable organization that's helped bring us all together today from all across the state of Pennsylvania. You've stood strong with this administration, helping us bring momentum in manufacturing. You're putting American jobs and American workers first. So join me in thanking the leadership of the team at the Association of Equipment Manufacturers that proves every day that you make America. (Applause.)
And before I get started, let me — let me mention one other person who I know loves the Keystone State, who loves American manufacturing, and is the best friend American manufacturers have ever had in the Oval Office. I bring greetings from the 45th President of the United States of America, President Donald Trump. (Applause.)
You know, from our very first day in office, President Trump promised the American people that we were going to get back to hiring and growing America; we were going to be growing wages for American workers. As the President said, "When we grow American manufacturing, we don't [just] grow…jobs and wages…we grow [the] America[n] spirit." And that's exactly what we've done. And President Donald Trump has been delivering on that promise every single day.
In just two and a half years, this President has put American jobs and American workers first. He's actually signed more laws cutting federal red tape, already, than any President in American history, unleashing American manufacturing. (Applause.)
He signed the largest tax cut and tax reform in American history. And under this President, the war on coal is over! (Applause.)
You know, all of you here know, at this great company, that low-cost energy is the lifeblood — it's the lifeblood of American manufacturing. Pennsylvania coal plays a vital role in keeping electricity affordable for our businesses and our families.
So I'll make you a promise: While all these Democrats running for President continue to embrace a radical environmental agenda and a Green New Deal, and make promises even to eliminate coal and fossil fuels, this President and this administration will always put American jobs, American workers, and American energy first. (Applause.)
So we've been making great progress, keeping the promises that we made to the people of Pennsylvania. And I'll tell you what: You look at the results of what we've done. All of us, together, have been able to accomplish with this President in the lead, and it's just been amazing.
Since Election Day 2016, businesses large and small across this country have created 6 million new jobs, including 140,000 good-paying jobs right here in Pennsylvania. (Applause.)
The unemployment rate has hit a near 50-year low. And the unemployment rate for African Americans and Hispanic Americans has hit the lowest level ever recorded. The American Dream is working again for every American. (Applause.)
And I know all of you here at Manitowoc don't have to have me tell you, but wages are rising again. They're rising all across this country. In fact, they're rising at the fastest pace that they have in more than 10 years. And the good news is they're rising most rapidly for hardworking blue-collar Americans. The forgotten men and women of America are forgotten no more. (Applause.)
You know, what a difference two and half years makes. You know, it was the summer of 2016 — some of you may remember — the last President in the Oval Office actually saw this country lose 200,000 manufacturing jobs. And he actually said that we were never going to get those jobs back. Remember that talk? I mean, the last President actually said, "What magic wand do you have?" Right? Well, we didn't need a magic wand to bring American manufacturing back, we just needed President Donald Trump in the White House. (Applause.) That's right. You know.
I mean, the truth is, since 2016 Election Day, businesses across this country have created more than 500,000 manufacturing jobs across this country, including 5,000 good-paying manufacturing jobs right here in Pennsylvania. (Applause.)
American manufacturing is making an incredible comeback. In fact, 2018 was not only the best year for manufacturing job creation in more than 20 years, but it also marked the highest level of optimism among manufacturers ever recorded.
I mean, manufacturing is back. And the truth is, I'm proud of the progress we've made. I'm proud of the promises that this President and our allies in Congress have kept in rolling back taxes and red tape, unleashing American energy, and also fighting for free and fair trade deals.
But the truth is, the real credit goes to all of you. And the comeback in American manufacturing is happening because of the men and women of this country who work in this great industry. And it's thanks to great companies like Manitowoc in this economy that American manufacturing is rallying all across the country.
I mean, we're here today at Manitowoc's largest manufacturing facility, where this company has invested nearly $50 million in the last three years alone, and hired more than 350 new workers right at this site. That's real progress for Pennsylvania and America. (Applause.)
Manitowoc has worked hard to bring design and manufacturing jobs back to the United States. In fact, just last year, this company unveiled one of its newest product lines: the MLC100, which is the only 100-ton crawler crane that's proudly made in the USA. (Applause.) And this great company — you can applaud that. That's incredible. Wow. (Applause.)
And this company has brought millions of dollars in economic growth to Pennsylvania and the Shady Grove community. You've shown that American innovation is alive and well. And launching more than 20 new products in the last three years, you've stepped up. And also, I'm proud to say, this company has also stepped forward to help us provide for the common defense, designing and manufacturing cranes for the Armed Forces of the United States. (Applause.) Thank you for what you do to make America safe and secure. (Applause.)
But I know the management team here knows that you wouldn't have the success here at Manitowoc except because of the people that are gathered here today: all of you wearing the red t-shirts. And I'm hoping somebody gives me one before I leave today. (Laughter.)
Like one of Manitowoc's manufacturing quality specialists, I'm told, from here in Shady Grove, who started with this company 23 years ago — I'm told in all that time, he's been a model employee somebody that people say is positive, thoughtful, quick study, always willing to chip in when the job needs to get done.
He's an integral part of the team here at Manitowoc, but he is somebody who also will tell you that he understands that no title he'll ever have here at this company is going to be higher than the one holds at home, spelled: D-A-D. And along with his wife, Pamela, and their children Brittany and Payton, he donates his time and his treasure, and is a devoted and active member of Lifehouse Church. So would you join me in recognizing a long-time member of the Manitowoc family, Steve Yost? Where are you, Steve? (Applause.) Great job.
We're also joined today by a manufacturing engineer who has worked at Manitowoc for 24 years. She's done just about every job a person can do here: deburrer — whatever that is. I've got something I can look up on the plane now. Drill press operator, material handler, scheduler, supervisor. You name it, she's done it.
And today, she's one of this company's most experienced engineers, but she's somebody who's always willing to give advice, always willing to offer a helping hand to coworkers. And when she isn't literally making America grow, or spending time with her partner Randy, another vital part of Manitowoc's team, she's giving back to this community. Including, I'm told, just over a month ago, she again volunteered at the nine-day-long Mont Alto Volunteer Firemen's Carnival. And I'm sure a lot of you checked that out. I'm really into firemen's carnivals myself.
So would you all help me in showing all of our appreciation for Mel Barnes for what she does here? She's an incredible person. (Applause). Where are you, Mel? Great job.
You know, I mentioned Steve and Mel mostly because of — I don't have time to mention all of you. They're really emblematic, though, of each and every one of you. You're renewing American manufacturing, you're making Pennsylvania stronger, you're making America stronger. So give yourselves a round of applause — this whole Manitowoc team. You're a story of American success. (Applause.)
The truth is, everything we've been able to accomplish over the last two and a half years is because of your hard work, your integrity, your work ethic, and your professionalism. So I wanted to come here and just say congratulations, but also to say thank you. Thank you for supporting the President. Thank you for supporting our allies in Congress who have stood with us to move an agenda that is reviving American manufacturing.
But I also came out here today because we need your help, and we need Pennsylvania to stand strong. Because for all of the progress we've made, that's just what this businessman-who's-turned-President calls a "good start."
And to keep the American economy rolling, President Trump and I believe we've got to level the playing field for American workers by having trade deals that put American jobs and American workers first. And that's just what we're here to do. (Applause.) It's a big deal.
I mean, from Europe to the Indo-Pacific, we've been negotiating deals that are free, fair, and, as the President likes to say, "reciprocal" trade. We're working as we speak with Japan on a free trade agreement. We're talking to the European Union. Once the UK goes through Brexit, we've told them we're ready to go to work with them. And, of course, we all know we finally have a President who is standing strong and demanding that China open its markets to U.S. goods, and treat American workers and American companies fairly. (Applause.) And he'll keep standing strong, I promise you.
But we've got an opportunity before us. You've already heard about it from this podium. And the people who serve you in Washington, D.C. need to hear from you about it. Truthfully, the time has come, the opportunity is before us, to pass the largest trade deal in American history. The time has come for Congress to pass the U.S.-Mexico-Canada Agreement. (Applause.)
This agreement is a good deal for Pennsylvania. And it's a
good deal for American workers and American agriculture. And we've got to get it done. We've got to get it done this year.
In fact, I've been traveling all across the country telling the story of the USMCA and the difference that it's going to make not only in manufacturing, but literally in industries all across this country. And I probably don't have to tell you all working in this industry — and I met a guy today who's actually worked at this company for 45 years. There's a lot of people who have done a lot of living here and been with this company.
A lot of you have been here long enough to remember when NAFTA was adopted back in the 1990s. So I probably don't have to tell you about the impact that NAFTA had on many of our communities across this country.
I talked to a fella who said that when he started here, when this company had a different name, there was some 3,000 employees here. And yet, we saw NAFTA come along; I saw it over in the Hoosier State. And despite all the promises of what it would mean, we literally saw almost entire communities hollowed out, factories that were shuttered and closed. Jobs were moved south of the border under that NAFTA agreement.
And this President, when we were out there campaigning three years ago, he said we could do better. He said we could renegotiate that deal in a way that put American jobs and America first. And that's what we've done with the USMCA. (Applause.)
And when Congress passes the USMCA, I promise you that the days of that giant sucking sound south of the border are over. The USMCA, we believe, is going to benefit 2 million manufacturing jobs, including 42,000 jobs right here in the Keystone State.
According to the International Trade Commission, the USMCA is going to add about $70 billion in investments and create as much as 175,000 new American jobs. And that's just at the beginning. You know, in total, American exports to Canada, we think, are going to increase by about $20 billion. Exports to Mexico are going to increase by $14 billion. And Pennsylvania has got a big stake in all of it.
And the Keystone State, as all of you know, is America's 10th largest exporting state. A hundred and seventy-seven thousand jobs here in Pennsylvania depend on exports. And Pennsylvania exports $15 billion in goods to Canada and Mexico — more than a third of the total. Think about that. More than a third of what you make here and you grow here in Pennsylvania is exported to Canada or Mexico. And now we have a new deal that's going to make it more possible to create more here and sell more there.
We believe, under the USMCA, those numbers, as big as they are, are just going to continue to grow. It's going to create more jobs, more opportunity, and more prosperity right here in Pennsylvania. The USMCA is a big win for the Keystone State.
And it's essential that we get it passed by the Congress. The truth is, under the USMCA, as the President says, the American worker is going to win like never before. But we got to get it done. The clock is ticking. It's why we're all out here today in the sunshine — because I need your help. I mean, the President has done his job.
We negotiated a deal that's put American jobs and American workers first. Mexico has already started to make the changes in their labor laws that they agreed to under this deal. And they've started to move approval. Canada has done the same thing. Now it's time for Congress to do their job and approve the USMCA, and approve it this year. (Applause.)
And make no mistake about it — make no mistake about it: You all are going to be the difference-makers. And American manufacturers and people working in manufacturing need to be heard from. The voice of Pennsylvania needs to be heard from. This is a great state, with a great history, that plays and enormously important role not just in American manufacturing and agriculture, but in the American economy.
So I want to encourage each and every one of you: Talk about what you've heard from this podium, today. And talk about this growing economy that we're in today and how it's going to continue to grow and continue to prosper if we can get the USMCA done.
I want you to reach out to all of the elected representatives that you have in Washington, D.C., from Pennsylvania, and tell them we need the USMCA this year to keep Pennsylvania and America growing.
Now, let me save you a phone call and tell you you're not going to have to call the 13th District Congressman. (Laughter.) He hasn't been there long, but he's already emerged as a leader, and he is on the point leading the fight for free and fair trade. Join me in thanking Congressman John Joyce. He is doing a phenomenal job for Pennsylvania. (Applause.) John, thank you.
We've got John's support and we've got his strong leadership and voice, but we need the support of every member of the House of Representatives from Pennsylvania. So leave here today and call every Republican, call every Democrat.
I served in Congress for 12 years. I always viewed the fact that I represented the whole state of Indiana when I was in Congress from one district. So, folks, just call up congressmen in both political parties and tell them, "I ran into Mike the other day." (Laughter.) "He showed up at Manitowoc, and this guy is incredibly excited. He told me for all the good things that are happen, even more can happen. Pennsylvania can grow even more." And just tell them I told you because they know it to be true.
And while you're at it, why don't you call both of your senators. Senator Pat Toomey and Senator Bob Casey need to support the USMCA for Pennsylvania and America. (Applause.)
But you'll be the difference. Make no mistake about it. So let your voice be heard.
Well, listen, I want to let you get in, out of the sun, but I am going to take some time. Karen and I want to say hello to as many of you as time permits.
And in the days and weeks ahead, I'll just make you promise: President Trump and I are going to keep fighting every single day for all the policies that Pennsylvania voted for in that election two and a half years ago. Policies that are reviving this economy. Three hundred and fifty new jobs at this company alone over the last two and a half years. Amazing to think about it. But, really, we're just getting started.
So I just — I want to thank you for the warm welcome today. You know, I truly do believe — I truly do believe that with your continued support; with your energetic work and creativity at a great company like Manitowoc; with the great leadership that this company has, it's investing in those three most beautiful words, "Made in the USA" — (applause) — with strong support from partners in Congress; with President Donald Trump in the White House; and with God's help, we're going to make Pennsylvania and America more prosperous than ever before. We're going to make Pennsylvania and America safer than ever before. And to borrow a phrase, we're going to keep making America great again.
Thanks everybody. God bless you. Let's go get the USMCA done, Pennsylvania! (Applause.)
Mike Pence, Remarks by the Vice President at the Association of Equipment Manufacturers "I Make America" Event in Shady Grove, Pennsylvania Online by Gerhard Peters and John T. Woolley, The American Presidency Project https://www.presidency.ucsb.edu/node/334142