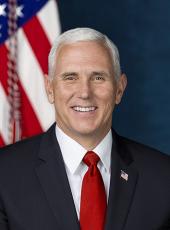 Remarks by the Vice President at the American Legion Women's Auxiliary Event in Indianapolis, Indiana
THE VICE PRESIDENT: Well, thank you all. I just — I just couldn't resist coming by, first and foremost, to say thank you to the American Legion Women's Auxiliary for all you do for America. (Applause.) Ninety-nine years and counting. This is an extraordinary organization. And as I helped welcome Girls Nation to the White House just a few short weeks ago, I was reminded about the extraordinary multi-generational impact.
But thank you to the Auxiliary for all that you do. I know you are military families, but thank you for all you do for our military families. And especially today, I want to thank you for extending this year's American Legion Women's Auxiliary Spirit Award to the Second Lady of the United States of America, Karen Pence. (Applause.) She is so deserving. She is so deserving. And she told me I could pop out here, but she said to me, "Be brief." (Laughter.) Because I know she's anxious to speak with you.
But let me brag on her for just a moment a couple of things you may not know. Karen was actually born on an Air Force base — McConnell Air Force Base. (Applause.) Born into a military family. And we are the proud parents of a United States Marine. (Applause.)
But what I want to tell you about Karen Pence is that, throughout our life together, from when we first met here in Indianapolis so many years ago, and I told her I was interested in serving in public office, she was someone that brought a public spirit to everything that she did.
During our time in the Congress of the United States, I watched her as she came alongside the families during difficult times in our district in eastern Indiana. I saw the way she came alongside spouses of members of Congress. She became — she became a mentor to men and women who were serving and supporting those that served not just in public life, but in uniform then.
She was First Lady of the State of Indiana, and I'm proud that over those four years she led an effort to support charitable causes for some of our most — our greatest needs and challenges here in Indiana, in all 92 counties.
But as you recognize today in this Public Spirit Award, among her efforts as Second Lady of the United States, Karen Pence has come alongside in support of the spouses of the men and women who serve in our armed forces. (Applause.) Thank you.
And I have to tell you, it's been humbling for me to watch her work. More than 60 meetings around the country, literally from coast to coast. While I'll be speaking to troops, she's speaking to families, making sure that our families of our servicemen and women know that they serve too, and their President and their Vice President, and the First and Second Family, and the American people, know it. (Applause.)
So I'll step out of the way and let you hear from the Spirit Award winner. But I just — I want to thank you. Thank you for not just honoring my wonderful wife, our wonderful Second Lady, but thank you — thank you for recognizing today someone who has a heart for military families and lives that out every single day to strengthen the lives of those families, their opportunities, and thereby strengthen the security of our nation.
Thank you for honoring our Second Lady, Karen Pence. (Applause.) God bless you all.
Mike Pence, Remarks by the Vice President at the American Legion Women's Auxiliary Event in Indianapolis, Indiana Online by Gerhard Peters and John T. Woolley, The American Presidency Project https://www.presidency.ucsb.edu/node/334150