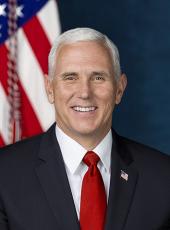 Remarks by the Vice President at a Thanksgiving Gathering for Military Families at Andersen Air Force Base in Yigo, Guam
Thank you, dear. (Applause.) Let's hear it for Karen Pence everybody. Isn't she something? (Applause.) Thank you all very much. Thanks for coming out.
We just finished an eight-day journey representing the United States of America across the Indo-Pacific but we couldn't miss the opportunity to stop here at Andersen Air Force Base, where America's day starts every day — (applause) — among the men and women who are prepared to prevail every single day.
We are proud. We are proud of the Army, Air Force, Coast Guard, Marines that are all located — and of course, Navy — give yourselves a round of applause. We're just proud of each and every one of you. (Applause.) Thank you. Thanks for your service.
I bring greetings from a great champion of the Armed Forces of the United States of America. I just saw some folks waving some flags out on his behalf. And so let me bring greetings from someone who I know would want me to let you know how proud he is of all of you. I bring greetings from the 45th President of the United States of America, President Donald Trump. (Applause.)
This (inaudible). You know, I couldn't be — Karen already told you that, you know, my father served in combat in Korea. Her father was Air Force. We're the proud parents of a United States Marine. I couldn't be more proud to serve alongside a President who cares so deeply about our armed forces, our national defense, and the families that serve alongside our armed forces.
I mean, I hope you have taken note of that fact, in the first two years of this administration, we've made the largest investment in our national defense since the days of Ronald Reagan. We're rebuilding our military. We're restoring the arsenal of democracy. And we also included the largest pay raise for military personnel in nearly 10 years. And you all deserve every single penny. (Applause.) I mean it.
And we're going to keep the support coming because of the sacrifices that each one of you make. You stepped forward in this all-volunteer military and you're serving each and every day here as a vanguard of freedom in Guam. And we're grateful to you.
And, frankly, traveling cross the region as we just did, we heard from leaders around the world about their gratitude for America's armed forces and the strength of our presence in this region and our commitment to our shared security. So it is appreciated by the people of the United States of America, but I want to assure you that our allies and our partners in the region appreciate your service as well.
As Karen said, and she's become a real national champion, we know that those of you who wear the uniform almost always do not serve alone. And so let's hear it again for all the military spouses in the room and for the kids, and people that are making that sacrifice. (Applause.) We're incredibly proud — incredibly proud of each and every one of you.
And we want to thank you for the sacrifices that you make to be so far from home. And we, this week, realized how far you are from home. (Laughs.) It's a long way here. And — but thank you for that. And thank you for following your families here. Thank you for the sacrifices that you've made.
And I hope you can hear the heart of my wife Karen and just know that what she expresses is how the American people feel about those of you that wear the uniform and the families that serve alongside you each and every day. I got to tell you, the American people admire the men and women of our military and admire the families that serve alongside them. And our little family feels just the same way. And your First Family does as well.
So with that, I'm going to — (inaudible). The mic went off. (Laughter.) That's a hint. (Laughter.) I'm going to stop talking because I really would like to get around. Karen has got stuff she wants to pass out to spouses who are here. I'm like all about the selfie. (Laughter.) I'd love to get around and say a hello to as many of you as we can before we wing our way to Hawaii and back to our nation's capital.
But I know you just were served a meal. I was told there was turkey involved. How about a round of applause for the kitchen? (Applause.) Great job.
And, you know, we like to spend a little bit of time in devotions together every day as a family. And we open the Good Book and there's a great verse in there, it says, with every form of "prayer and petition with thanksgiving, present your requests to God." And our nation will gather to do the (inaudible) this coming Thursday. Our little family will gather. We'll have a couple of the kids home.
And — but I want you to know that this coming Thanksgiving we — we're thankful for you. We're thankful for what each and every one of you do to stand for freedom every day; to count the others as more important than yourselves; to put on the uniform and defend the greatest nation on Earth.
And so from a grateful nation, a grateful Commander-in-Chief, and a grateful Second Family, we say from our hearts, from our family to yours, happy Thanksgiving. And God bless you all. (Applause.)
Mike Pence, Remarks by the Vice President at a Thanksgiving Gathering for Military Families at Andersen Air Force Base in Yigo, Guam Online by Gerhard Peters and John T. Woolley, The American Presidency Project https://www.presidency.ucsb.edu/node/336326