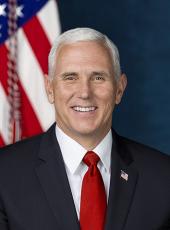 Remarks by the Vice President on Tax Reform in Phoenix, Arizona
THE VICE PRESIDENT: Well, thank you. Thank you, Governor Ducey. Thank you for your great leadership in Arizona and thank you for your friendship and for those very gracious words.
I want to thank you all for being here, and especially thank Ajo Al's for hosting this long-planned community conversation about President Trump's plan to get our economy moving again.
Now, the President asked me to be here today to discuss his plan for what we believe could well be the largest tax cut in American history.
But like all of you, I come here today with a heavy heart. For while we're here in Arizona, I know our hearts are with all of those who've suffered so much loss in recent days. Earlier today the President and the First Lady wrapped up their visit to Puerto Rico, where they met with hurting families. And they reviewed the recovery efforts that are underway with more than 10,000 Navy, Coast Guard, Marines, National Guard who have been rescuing families, delivering food and water, restoring basic services in the aftermath of Hurricane Maria.
We have a long way to go, but the President and I could not be more proud of the incredible job that FEMA, our first responders, Governor Rosselló and officials all across Puerto Rico have done.
My wife, Karen, and I will be there this coming Friday. We hope that the President's visit today and our visit this Friday will be a clear sign to all the Americans across Puerto Rico of our nation's unwavering commitment that this nation will be with Puerto Rico, with all the Americans in that territory until we restore, recover, and rebuild better than ever before.
And while the President and the First Lady are in Puerto Rico today, first thing tomorrow, they'll travel to Las Vegas to meet with law enforcement, with first responders, and most importantly with the families of the fallen and injured. They'll mourn with those who mourn and grieve with those who grieve in the wake of the worst mass shooting in the history of our country.
As of this hour, 59 people have lost their lives and more than 500 have been injured. It is a tragedy of unimaginable proportions. As the President said yesterday in his address to the nation, we are joined together in sadness, shock, and grief for these families.
The Good Book reminds us that the Lord is close to the broken-hearted, so let us make that our prayer for all of the families impacted by the horrific attack in Las Vegas this week.
As we speak, I can assure all of you that the Justice Department, the FBI, the Department of Homeland Security are all working closely with local officials to assist in the investigation. And haven't we all been inspired by the selfless acts of courage reported by so many in the crowd? And we're especially grateful to the police and first responders whose heroic efforts on Sunday night undoubtedly saved lives.
In the wake of this tragedy we find comfort in the knowledge that we are one nation and one people united in our grief, united in our support for those who have suffered, united in our resolve to end such evil in our time. We grieve with those who grieve, but we do not grieve like the rest who have no hope because the people of this country give us hope.
No natural disaster, no act of violence will ever diminish the strength and goodness of the American people. We will press on and persevere with faith -- faith in the American people and faith in God who has ever watched over this great land.
We will overcome and emerge stronger in Las Vegas, in Puerto Rico, and the U.S. Virgin Islands, and we will embrace the future with hope because that's what Americans do.
And it's about the future that the President send me to Arizona today. And it's why in the midst of this challenging week, I still chose to come because the President wanted me to be here to listen to the families that are gathered here today, to listen to the job creators, and to listen to the great leadership in Arizona about the best way to go forward to reduce the burden of excessive taxation on the American people and get Arizona and get America growing again.
Our plan is based on four simple principles: reducing taxes for working families, simplifying the tax code, cutting taxes for businesses large and small, and making it possible for American companies to bring profits home to America to create jobs and opportunities here.
I look forward to hearing from each one of you about this plan and getting your perspective and being able to carry that perspective back to Washington, D.C. as this debate begins. So let the conversation begin. And let me say from the bottom of my heart on behalf of the President of the United States to our hosts here today, to this great governor, and to all of you, thank you for stepping forward today. This conversation and this cause of cutting taxes for working families, small businesses, family farms and ranches begins in Arizona today.
Thank you very much. (Applause.)
Mike Pence, Remarks by the Vice President on Tax Reform in Phoenix, Arizona Online by Gerhard Peters and John T. Woolley, The American Presidency Project https://www.presidency.ucsb.edu/node/331596