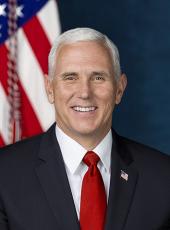 Remarks by the Vice President at a Swearing-in Ceremony for the Ambassador to Japan
THE VICE PRESIDENT: Well, good afternoon. And on behalf of the First Family, welcome to the White House. It's going to be my great honor today and, in fact, a privilege to administer the oath of office to the 42nd United States Ambassador to Japan, Bill Hagerty. (Applause.)
We're joined today by some very distinguished guests. Senator Alexander and Senator Corker are both from Bill Hagerty's home state of Tennessee. Would you join me in welcoming both of them? (Applause.)
I see distinguished members of the military and other honored guests. I know the family is very grateful you're here, as is the President and myself.
We're joined today also by the most distinguished guests who are here, and that is our incoming ambassador's wonderful family -- his mother, Ruth -- (applause) -- and most especially, his wonderful wife Chrissy and their four beautiful children. (Applause.) Could you guys stand up? The Hagerty family heads to Japan, and it's a big crew.
We also have many other honored guests with us today, including the Commander of the United States Armed Forces Japan, General Jerry Martinez, and many distinguished members of Congress from his home state, as well as the senators I mentioned before. In fact, it's important to note that Senator Corker is, in fact, the chairman of the Senate Foreign Affairs Committee, and we're truly honored to have you and Senator Alexander here.
We're also joined by members of Congress from the House of Representatives in Tennessee -- Congressman John Duncan, Congresswoman Diane Black, Congresswoman Marsha Blackburn, Congressman Scott DesJarlais, David Kustoff, and Congressman Phil Roe. Would you give them all a round of applause. (Applause.)
And I know it's a particular honor to have with us Bill's counterpart, Japan's ambassador to the United States of America, Ambassador Kenichiro Sasae and his wife, Mrs. Nobuko Sasae -- (applause) -- as well as the Special Advisor to the Prime Minister and member of the Diet, Katsuyuki Kawai.
As I had the privilege of expressing during my trip to Japan on the President's behalf earlier this year, under President Donald Trump, the United States is firmly committed -- firmly committed to our treasured friend and ally, Japan. One of the clearest signs of that commitment, I believe, today, is the President's choice of Bill Hagerty as America's Ambassador to Japan. (Applause.)
Bill, throughout your life, you have helped to strengthen the ties between America and Japan. It started early in your career, when you actually lived in Japan on a three-year assignment as a consultant.
You then served as an economic advisor under President George Herbert Walker Bush, and in your time as Commissioner of the Tennessee Department of Economic and Community Development, you worked with Japanese firms to make investments in your home state that have created good-paying jobs for the people of Tennessee.
But your commitment to Japan reaches far beyond a professional level. Your service on the Board of the Far East Council of the Boy Scouts of America has brought the people of our nations closer together and has deepened our friendship of our nations for generations to come.
President Trump has now called on you to represent the United States as our ambassador to Japan. This is a momentous time in the life of our alliance.
In this time of challenge and widening threats in the region, the U.S.-Japan alliance remains the cornerstone of peace, prosperity, and freedom in the Asia-Pacific. The United States and Japan stand together resolutely to confront whatever threats are posed to us, especially those posed by the regime in North Korea -- and we always will. (Applause.)
And the President is also committed to expanding our bonds of commerce. As President Trump said when he met with Prime Minister Abe earlier this year, in his words, the "vibrant exchange between us is truly a blessing" -- and so it is.
And through the U.S.-Japan Economic Dialogue, which the President had me launch during my visit in April, our nations have been working tirelessly to deepen our bilateral economic ties even further, and we look forward to working with you to advance that effort.
Bill, given your integrity, your record of leadership, and your distinguished history, the President and I are confident that you will excel in this new role. You will help make the extraordinary friendship and alliance between the United States and Japan even stronger.
And now it is my privilege to administer to you the oath of office.
(The oath of office is administered.)
Ladies and gentlemen, it is my honor to introduce to you the United States Ambassador to Japan, William Frances Hagerty IV. (Applause.)
Mike Pence, Remarks by the Vice President at a Swearing-in Ceremony for the Ambassador to Japan Online by Gerhard Peters and John T. Woolley, The American Presidency Project https://www.presidency.ucsb.edu/node/329597