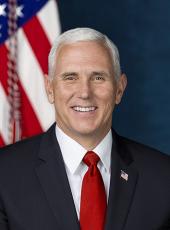 Remarks by the Vice President at a Swearing-In Ceremony for Richard Grenell as U.S. Ambassador To Germany
THE VICE PRESIDENT: Thank you. Well, good afternoon. And on behalf of President Trump and the First Family, it is my privilege to say, welcome to the White House for the swearing-in of the 29th United States Ambassador to Germany, Richard Grenell. (Applause.)
Ric, I know you've got a lot of friends from many years here, but most importantly, you've got people that you cherish, and your family. I want to acknowledge your mother Judi, who's with us today; your brothers, Jeff and Brad; your partner, Matt Lashey; and his parents, Dave and Nancy; and many others. Let's thank all the family for being here today. (Applause.)
I also want to welcome all your many friends and supporters who have made time to be here -- noteworthy Americans, including vital members of this administration. We're proud to be joined today by Ivanka Trump, a member of the first family. (Applause.) Kellyanne Conway who is a great admirer. (Applause.) Other noteworthy Americans who are with us include Hugh Hewitt, who is with us today. Hugh, thank you. (Applause.) And Suzanne Somers is with us. A great, great friend for many years. Good to see you. (Applause.) Thank you all for joining us.
Ric, you were confirmed to this post exactly one week ago, and you already hit the ground running. Those of you may have noticed that on his first day in the job, he joined President Trump and myself to welcome German Chancellor Angela Merkel to the White House for discussions on strengthening the historic partnership between our two nations.
On that day, President Trump called you an "outstanding man," who will do a great job as our Ambassador to Germany. And everyone gathered here, and people across this country, share that confidence and conviction.
It's absolutely clear that your career as a policy and communications advisor in the private sector and at every level of government makes you uniquely qualified to represent our nation in Berlin and on the world stage.
Since 2010, you've been a partner at an international public affairs firm, and before that, you served as a Senior Vice President of Communications at one of the nation's leading healthcare companies.
But from 2000 to 2008, you were the longest serving spokesman for America's Ambassador to the United Nations and you did a great job for all those years. (Applause.) Ric actually served under four different ambassadors, including President Trump's National Security Advisor, John Bolton, during his stint at the U.N.
Across them all, you earned your colleagues' respect and admiration for your ability to promote America's interests on the world stage, while building international cooperation around our shared goals of security and prosperity.
And now you'll advance those very same causes by representing the United States of America to the people of Germany.
You know, Germany is one of the United States' most important allies. German families have come to our shores in search of liberty since long before our nation's founding. In fact, as you know, Ric, today, there are over 44 million Americans who proudly trace their heritage to Germany. And every year, that heritage is celebrated in communities large and small across America.
But since day one, President Trump has worked to further deepen the ties that join our two nations and our two people. We all saw that in high relief when the President raised issues with Chancellor Merkel last week about balancing our trade relationship, strengthening our military cooperation, and working together to ensure that all NATO-member allies pay their fair share to maintain this historic alliance.
As the President said then, in his words, "For decades, the alliance and friendship between Germany and the United States has advanced the cause of peace, prosperity, and freedom." And we know that will even grow stronger with you as the American Ambassador to Germany.
With Ambassador Grenell leading our diplomatic mission to Germany, we're going to confront shared challenges, seize our shared opportunities, and work together to build a shared future with our allies and friends in Germany.
Ric, President Trump and I are confident that with your experience and your integrity, you will help make this historic and enduring friendship between the United States and Germany stronger than ever before
So now, it will be my great honor, on behalf of President Trump, to administer to you the oath of office. If you place your left hand on that big bible -- (laughter) -- raise your right hand and repeat after me.
(The oath is administered.) (Applause.)
THE VICE PRESIDENT: Ladies and gentlemen, it's my high honor to introduce to you the 29th United States Ambassador to Germany, Ambassador Richard Grenell. (Applause.)
AMBASSADOR GRENELL: Thank you all. Nothing about this process has been short -- (laughter) -- so I'm going to keep this very short.
It's taken a long time to get here, and so many people in this room were instrumental. So thank you just for your support through the entire process.
Obviously, I have to thank my mom, who has been a great support through this whole time, and of course, Matt, who is -- as everybody knows, if you know him -- the world's greatest person. So thank you for all of your support.
Thank you, Mr. Vice President, and thank you, President Trump, for the faith that you both have put in me. I will not let you down. And I'm ready to work hard.
This administration is totally focused on the American people. I saw the President in action last Friday in debating and talking and negotiating with Chancellor Merkel. And if every American could see President Trump negotiate, they would be wildly supportive of having him as their representative in the White House. This is a man who's totally focused on the American people.
And I promise, as a part of this administration, to keep my focus on the American people and to make sure that I represent you well. So thank you very much. (Applause.)
THE VICE PRESIDENT: Well, thank you all for being here. We'll mix and mingle, and grab a few pictures with friends. But it's an honor to have you all here for such a special occasion. Thank you.
Mike Pence, Remarks by the Vice President at a Swearing-In Ceremony for Richard Grenell as U.S. Ambassador To Germany Online by Gerhard Peters and John T. Woolley, The American Presidency Project https://www.presidency.ucsb.edu/node/335691