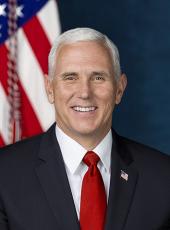 Remarks by the Vice President at a Reception for Members of the National Space Council and Users' Advisory Group
THE VICE PRESIDENT: Well, thank you very much, Secretary Wilson. Thank you that very personal introduction. And let me also thank you for stepping up to serve your country one more time. I had the chance to travel around the country with the Secretary of the Air Force, who is herself a veteran of the Air Force. And I can tell you, you make the Air Force, this administration, and the American people proud. Secretary Heather Wilson, everybody. (Applause.) Thank you so much.
And I am just delighted to be able to welcome you all to the official residence of the Vice President of the United States, and invite you, if you're enjoying the food and enjoying the hospitality -- invite you to thank the person responsible for it, the Second Lady of the United States of America. Karen Pence is with us tonight. (Applause.)
We wanted to make sure that you got some high-quality finger food in you before all of tomorrow's work. (Laughter.) But we are very, very honored to have such a distinguished group of Americans with us all.
For how many of you is this your first time at the Vice President's Residence? Ours too. (Laughter.) It's not on the public tour. So we're honored to have you here. We really are.
Those of you with a Navy background will probably appreciate the fact that you're actually on a naval base. This is the Naval Observatory. And this, actually, from 1880 -- until the family of Vice President Walter Mondale moved into this residence -- this was the home of the commandant of the base. So it's a very, very special place. And if you have a chance before you leave the grounds, I hope you maybe walk over to the Family Garden that one of our predecessors set up to commemorate all of the Second Families that had the privilege to live here.
But it's our great honor, Karen and mine, to be able to welcome you here and really just extend the hospitality, not only of this home, but also just tonight. To all the members of our User Advisory Group, thank you for stepping up to serve the country at a time that America is leading in space once again. Let's hear it for our User Advisory Group members. (Applause.)
I have to tell you, I went upstairs -- I went up to the third floor this morning, the President and I were going over the events of the morning, and he was very excited -- very excited as we went over the list that he had approved back when we extended the invitations to each one of you. But he was excited to see so many men and women of stature from around the country gathered together around this to give advice to the National Space Council. And so I extend to you his greetings and his thanks, as well, tonight.
A couple people that I want to acknowledge who are here. We've got a few members of our Cabinet. Secretary Wilbur Ross, who I thought stole the show today. (Laughter and applause.) Awesome job. Great Job. Secretary Ross has been working closely with Secretary Chao, as you heard today, with, really, a reorganization of the regulatory structure around private space operation at Transportation and Commerce. And, Wilbur, we thank you for your great leadership today.
Also, the Deputy Secretary of State, John Sullivan, is with us. John, thank you so much for your commitment. And Secretary Pompeo -- you could applaud him if you want, that's quite all right. He's a tremendous American. (Applause.) Been working closely with State on the National Space Council. And, John, we appreciate your presence here tonight as evidence of that.
We also are joined by the new Administrator of NASA who got two rounds of applause today, but I think he's worth a third. (Laughter.) Jim Bridenstine, thank you for hitting the ground running -- (applause) -- at NASA. A fantastic job. He's doing a fantastic job. I'll never forget the day that Jim was sworn in and he stopped by for a photograph with the President. Had his beautiful young family with him and his wife. And we walked in the Oval Office, and I think Jim thought it was going to be -- is your family here?
ADMINISTRATOR BRIDENSTINE: My wife is here.
MRS. BRIDENSTINE: Just us. (Laughter.)
THE VICE PRESIDENT: Well, give Mrs. Bridenstine a round of applause, will you? (Applause.) She's going to make a lot of sacrifices.
But brought the family in, didn't you? And I think they all thought it was going to be stand behind the desk, take a picture, and leave. And the President sat you down for about 45 minutes. (Laughter.)
ADMINISTRATOR BRIDENSTINE: Rapid fire.
THE VICE PRESIDENT: I think you could tell today, as the President said, there's no place like space. And his enthusiasm, I expect, was in high relief for all of you, and it sure was that day.
But, Jim, thank you for stepping up to serve the country. You're just doing a phenomenal job.
Also, I want to -- being a former governor myself, she's a member of the User Advisory Group -- but I want to thank Governor Kay Ivey for stepping up. Alabama plays such a critical role in the life of our space program -- past, present, and future. Governor Ivey, thank you so much for being here today. (Applause.)
And lastly, he didn't get to take a bow today, so I introduced him. But I got to tell you, as a lifelong fan of America's space enterprise, I can honestly say now I've had Buzz Aldrin under my own roof. And, Buzz, it's great to have you here. Thank you so very much. You're a hero to us all. (Applause.) Thank you.
AUDIENCE MEMBER: He's been here before. (Laughter.)
THE VICE PRESIDENT: (Laughs.) Why am I not surprised?
Well, the User Advisor Group is going to be meeting tomorrow for the first time, and I want you all to be sure and get a good night's sleep tonight and bring your very best -- bring your very best counsel to this effort. Because I want you to know -- and I know as you've already begun to conspire together -- and where is Jim Ellis at? Is he -- Jim? Thank you, Jim, for stepping up to chair this incredible group. We appreciate it very much.
But I just want you to know the President and I, and our entire National Space Council, are really counting on you to bring the very best of your practical experience. Many of you have backgrounds in the space program. Many of you are leaders in industry. But we really want you to bring your candor and your counsel to the efforts of this User Advisory Group.
And just know that the Secretaries who are here, the agencies that are responsible, we're going to be internalizing those proposals, because I appreciate the encouragement of many of you about today's meeting. I think we have made progress at each meeting, including this last third one of the National Space Council. But we want your advice about how we continue to advance both the public enterprise of space at NASA, private enterprise and development, and also continue to collaborate in ways that will contribute to the prosperity and the security of the United States of America.
In a very real sense, I will just charge you as Chairman of the National Space Council to be the think-tank for our council. Be the eyes and ears in the industry. Bring us your best ideas. And, in so doing, make it possible for us to stay on the very leading edge of the space enterprise, not only in our history, but all around the world.
I know that with the efforts of our team on the National Space Council, with the great staff that we have -- and they got a round of applause today -- but if you like Dr. Pace and Jared as much as I do, give them a round of applause. They worked awfully hard on tonight. (Applause.) With the leadership of President Trump, and with the tremendous background and energy of all of you gathered here, I'm absolutely confident that today, and going forward, America will lead back to the stars once again, the moon, Mars, and beyond.
So thank you very much. God bless you. Have a great, great evening. And thanks for your service to the country. (Applause.)
Mike Pence, Remarks by the Vice President at a Reception for Members of the National Space Council and Users' Advisory Group Online by Gerhard Peters and John T. Woolley, The American Presidency Project https://www.presidency.ucsb.edu/node/335716