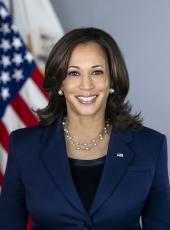 Remarks by the Vice President Prior to a Meeting with Prime Minister Justin Trudeau of Canada
VICE PRESIDENT HARRIS: Mr. Prime Minister, welcome. Welcome. And to the delegation, welcome. It is very good to see you all.
We've had many conversations, at this point, over the telephone, by Zoom. It is now a great honor and joy to see you in person and to welcome you.
As you know and we have discussed, the relationship between the United States and Canada is a very personal one to us as Americans and to me as an individual.
As you know, I spent time in Canada as a young person. And what I know from that experience and what I'm certain of as Vice President is that the relationship and the bond between our two nations is a long and enduring one, based on many principles and ideals that we cherish and hold dear; that our relationship is as family, as you and I have discussed; and in the context of being fellow members of North America and as being partners to many of our allies and friends in this region, the work that we do together is vitally important not only to the people of our nations, but the people in the region.
And so, I welcome you. I look forward to the work we will do together -- to continuing not only on the bond, but on strengthening the region as a whole.
So, welcome and thank you.
PRIME MINISTER TRUDEAU: Thank you so much, Madam Vice President. It is a real pleasure, as you say, to be able to sit down with you in person for the first time, even though we've had lots of phone calls and even Zoom calls, and been at the same events virtually a number of times.
It's an opportunity for us to continue to deepen our friendship, our relationship, the close ties that bond Canada and the U.S. together -- not just economic ties and people-to-people ties, but the deep value-based perspective that we have on promoting democracy, on being there for inclusion and diversity and empowering -- empowering marginalized people.
These are the kinds of things we need to continue to work on together. This is how we build back better from the pandemic. And I'm really excited about the opportunity to dig into some of those things with you here today.
(Speaks in French.)
VICE PRESIDENT HARRIS: Thank you. Thank you.
Kamala Harris, Remarks by the Vice President Prior to a Meeting with Prime Minister Justin Trudeau of Canada Online by Gerhard Peters and John T. Woolley, The American Presidency Project https://www.presidency.ucsb.edu/node/353475