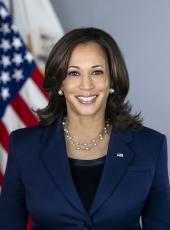 Remarks by the Vice President in a Press Gaggle Following a Meeting on the Build Back Better Agenda
THE VICE PRESIDENT: Okay. Well, thanks, guys, for being here. I mean, you know, the reason I wanted to meet with Jamie and her family is it really is an American story. There are so many -- we calculate about 8 million that are documented, but so many more families -- mostly women, but women and men -- who are in this situation.
And, you know, I cared for my mom when she was -- when she had cancer, in addition to obviously caring for our kids over the years. And the skills and the -- and the work that is required to care for kids and care for your aging parents, it's very different.
And for those who are in that sandwich generation, who are doing both at the same time, people like Jamie, it's extraordinary. And it is the work of, for her, four children, and all that requires -- school-aged children, from elementary school through middle school -- and all that any parent who has children of that age know is a full-time job. And she's taking care of her parents who have health concerns and needs that need to be addressed. And she's doing it all. And she is a professional woman who wanted to continue with her profession and went to school to do her work and had to leave.
And women shouldn't have to make -- no parent should have to make those choices. And I believe that we as a society are presenting a false choice if we say to individuals that you either can be a parent -- and then the daughter of aging parents -- or you can pursue your profession and continue with the work that you care about and love.
So that's why I was here today, to just hopefully put a face and a story on these issues that we're fighting for with the Build Back Better agenda. And it really is about understanding these parents exist throughout our country, everywhere. And they need the support that we, I think as a society, would want to give them if we met people like Jamie.
So, that's it.
Q: Do you have any reaction to the Border Patrol agents using horse reins to rein in Haitian migrants down at the southern border?
THE VICE PRESIDENT: What I saw depicted about those individuals on horseback treating human beings the way they were is horrible. And I fully support what is happening right now, which is a thorough investigation into exactly what is going on there. But human beings should never be treated that way, and I'm deeply troubled about it. And I'll also be talking with Secretary Mayorkas today about it.
Q: And as your role of, you know, stemming migration from the -- from Central America, are you also going to be looking into -- you know, looking at migration issues in Haiti as well?
THE VICE PRESIDENT: Well, listen, the whole point is that we have to understand Haiti. I mean, talk about a country that has just experienced so much tragedy that has been about natural disasters, the head of state assassinated.
And we really have to do a lot more to recognize that, as a member of the Western Hemisphere, we've got to support some very basic needs that the people of Haiti have to get back up and to do what folks naturally want to do, be them from Haiti or in the countries in Central America: People want to stay home. They don't want to leave home. But they leave when they cannot satisfy their basic needs.
So, yes, this is a concern for all of us.
Kamala Harris, Remarks by the Vice President in a Press Gaggle Following a Meeting on the Build Back Better Agenda Online by Gerhard Peters and John T. Woolley, The American Presidency Project https://www.presidency.ucsb.edu/node/352647