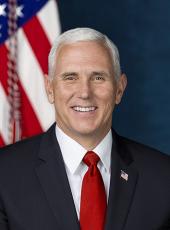 Remarks by the Vice President in Office Call with Commander of the U.S. Indo-Pacific Command in Honolulu, Hawaii
THE VICE PRESIDENT: Thank you, Admiral Davidson. And I bring greetings from your Commander-in-Chief who wanted me to come by and not only receive a briefing from here at INDOPACOM but also to extend our gratitude and congratulations to you on your new assignment.
ADMIRAL DAVIDSON: Thank you.
THE VICE PRESIDENT: Indo-Pacific Command oversees 50 percent of the world's population -- U.S. military operations -- across 14 time zones. And the leadership that you've provided and that your entire team provides contributes to the safety and security of the American people.
I hope you will convey our gratitude and appreciation to the some 380,000 soldiers, sailors, airmen, Marines, and Coast Guard that operate under this combatant command. America is more secure every day because of the service of the men and women beneath your command.
And so, Admiral, I'm truly grateful to you and, obviously, my wife and I come to this assignment with great humility. President Trump gave me the great privilege to represent him at a ceremony today where we will receive the remains of American servicemen who fell in the Korean War.
My father served in the United States Army and saw combat in Korea. And I come to this moment deeply humbled and grateful to have the opportunity to express not only the President's gratitude to the families of our fallen, but also to honor those who gave the last full measure.
And so thank you for making that special occasion take place today. We're honored to be a part of it. And on this day and every day, we're truly grateful for your leadership and your service, Admiral.
ADMIRAL DAVIDSON: Thank you, Mr. Vice President. I appreciate it.
THE VICE PRESIDENT: Thank you.
ADMIRAL DAVIDSON: Thank you very much.
Mike Pence, Remarks by the Vice President in Office Call with Commander of the U.S. Indo-Pacific Command in Honolulu, Hawaii Online by Gerhard Peters and John T. Woolley, The American Presidency Project https://www.presidency.ucsb.edu/node/335995