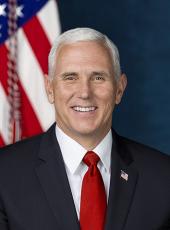 Remarks by the Vice President at Miller Electric Company in Jacksonville, Florida
THE VICE PRESIDENT: Well, hello, Jacksonville! (Applause.) To Governor DeSantis; to David Long, and leaders in business and industry; to my friend, Ivanka Trump; especially to the men and women of this remarkable company: It is great to be here among so many hardworking Americans at a growing company, in a growing state, in a growing America. Let's hear it for Miller Electric and the great state of Florida. (Applause.)
It's great to be here among so many friends that are making such a difference in the life of this economy, in Jacksonville, in this state, in this nation.
And speaking of friends, allow me to get started today by bringing greetings from a friend of mine and a man who I know loves the state of Florida and who's fighting every day for hardworking Americans. I bring you greetings from the 45th President of the United States of America, President Donald Trump. (Applause.)
And I mentioned her before, and you've heard from her, but I have to tell you, it's a special joy for me to be on the road today with really a great champion for working families. She's a successful entrepreneur, she's represented our country around the world, and she's been working tirelessly to promote job training for people all across this country. Would you join me in showing one more round of applause for the Senior Advisor to the President of the United States, Ivanka Trump? (Applause.) Thanks, everybody.
You know, from the very first day of this administration, President Trump promised the American people that we were going to hire and grow America; that we were going to work to raise wages for American workers, and help rebuild this nation's economy. And President Donald Trump has been delivering on that promise every single day.
In just two and a half years, this President has actually signed more laws rolling back federal red tape than any President in American history.
We've unleashed American energy and now we're a net exporter of oil and natural gas to the world. We've had free and fair trade deals being negotiated, including the USMCA that goes before Congress soon. And this President signed the largest tax cuts and tax reform in American history. That's what we call promises made and promises kept, Florida. (Applause.) It's true.
And the results — I don't have to tell you in this growing state, but the results have been nothing less than amazing. Since Election Day 2016, businesses large and small have literally created 6 million new jobs, including nearly 510,000 new jobs right here in Florida.
And you all know the economy of the Sunshine State is booming, and it's thanks in no small part to the leadership of your new governor. You may not realize it, but the people of Florida are actually creating jobs at a faster rate than the national average. And in the past year alone, the labor force in Florida has grown by 124,000 people, and businesses have created 200,000 jobs in Florida alone.
Prosperity and opportunity are spreading all across this state. So it's no wonder why your new governor is already one of the most popular governors in the United States of America. Would you join me in thanking Governor Ron DeSantis on a great start and a job well done? (Applause.) Great job.
Well, it's amazing, this economy is roaring. Not only 6 million new jobs, but the unemployment rate across America has hit a nearly 50-year low. And the unemployment rates for African Americans and Hispanic Americans has hit the lowest level ever recorded.
Wages are rising at their fastest pace in nearly a decade. And I know it means most — the most to the President and me. And when you look at those wages rising, they're actually rising at the fastest rate for hardworking, blue-collar Americans. The forgotten men and women of America are forgotten no more, Florida. It's the truth. (Applause.)
And President Donald Trump and I are committed to ensuring that this historic prosperity reaches into every American home. And that's why we're here today. And that's why we wanted to see firsthand this extraordinary apprenticeship program that Miller has put into effect.
You know, President Trump and I believe that all honest work is honorable and that Americans students and workers of every age, income, and background should have the chance to pursue their dreams and succeed and thrive according to their abilities and their ambitions.
So I'm here today to talk about our administration's efforts to give more Americans access to the education and training they need to fill the good-paying jobs, like right here at Miller.
You know, it's important to note, as we gather here today, that thanks to this President's leadership and our strong supporters around the country and here in Florida, there are actually more job openings in America today than there are people looking for work.
Recent studies actually have shown that nearly 3.5 million manufacturing jobs will be created in America in the next decade, and some two-thirds of those jobs could go unfilled if we don't have the job training and the vocational education that we need.
Workers in the skilled trades in particular are hard to come by in today's economy. It's a reality. Electricians, welders, and machinists, you all should know, you're are in high demand. But too few Americans these days are pursuing these valuable career paths.
And I'm sure all of you here at Miller Electric know, because this company is a pretty rare company. I saw firsthand, when I was serving as governor to the state of Indiana, when companies like this one work with the government at every level to expand vocational education, everybody wins. And we can expand opportunities for working Americans as never before. And that's just what we're doing.
In this administration, I want to assure you we're absolutely committed to making sure that every American has access to the kind of education that will make your dreams come true. That's why this President has taken decisive action to make job training and vocational education easier and more accessible than ever before.
In our first year in office, for instance, the President expanded apprenticeships and vocational training to help all Americans adapt to the ever-changing 21st century economy.
Last July, the President established what we call the National Council for the American Worker to continue to develop policies that will expand opportunities for every American, particularly in the various trades and skilled trades.
And last year, President Trump launched what we call the Pledge to America's Workers to encourage businesses in every field to expand opportunities for training American workers for American jobs. And he tasked his own — our own Ivanka Trump to lead that effort.
By signing the Pledge to American Workers, companies are committing to create new opportunities over the next five years for students and workers through apprenticeships, continuing education, and on-the-job training just like you have here at Miller Electric.
When the Pledge to America's Workers was launched, the first-year goal was 500,000 job opportunities. And in the past year, with Ivanka Trump in the lead, and members of our Cabinet have traveled relentlessly around the country meeting with businesses large and small to promote career education.
Yesterday, was the one-year anniversary of the Pledge to American Workers. And I'm proud to announce to you that we didn't hit 500,000 job opportunities; we actually hit 12 million job training opportunities for more than 300 companies. (Applause.) Incredible. Twelve million.
And Governor DeSantis, I'm proud to say, that includes 70 companies all across the state of Florida that have stepped up and pledged to create nearly 75,000 job training opportunities for people across this great state. You know, that, again, is what we call promises made and promises kept.
And I'm proud to report that hundreds of those opportunities will be created by our host today. So on behalf of the people of Florida, the people of Jacksonville, and people all across this country, let me just say thank you to Miller Electric for committing to the future and to jobs and opportunities for people here in Jacksonville. Great job, Henry. (Applause.)
You know, looking out at all of you and meeting a lot of the folks going through the training program here, I couldn't be more impressed with Miller Electric, with this storied company and its storied history here in Jacksonville. This is a great company that believes in investing in hardworking Floridians. And Henry and the team here are doing just that by participating in this program.
Today, Miller Electric, I'm told, employs more than 500 apprentices across the country, combining technical training with on-the-job experiences for new employees in this company.
In fact, in just the first few months of this year, I'm told that Miller Electric has already enrolled 85 new members in your apprenticeship program here in Northeast Florida, nearly 15 percent more than the year before. That's a real commitment to making it possible for people in this community to get the skills that you need to get those good-paying jobs that exist right here today.
And the truth is, this is a growing company. When I was talking to Henry and the team, they me that since our historic tax cuts took effect, Miller Electric has already added more than 300 good-paying jobs right here in Jacksonville. (Applause.)
But from when I walked in, you know, Henry and the team here made it clear they understand their success is because of all of you wearing those blue Miller shirts — all of you that are in this program.
Like a project manager who has worked here since 1986. I'm told she was hired on as a helper. In the last three decades, she's worked hard and worked smart. She's risen through the ranks while making this company better and more profitable.
I'm also told she recently earned an associate's degree with help from Miller Electric's tuition reimbursement program. And today, her expertise, determination, and thoughtfulness make her a model employee and someone everybody says is invaluable as a member of the Miller team. So would you all join me in showing your appreciation for one of your great colleagues here at Miller Electric: Donna Ward. Donna, where are you? (Applause.)
Another example is a project manager who got his start here at Miller Electric back in 1990. And I'm actually old enough to remember 1990. (Laughter.) Some of you aren't. He actually, most importantly — before he was here — he served our country in the uniform of the United States Navy.
He joined the apprenticeship program, eventually earning recognition as "Apprentice of the Year." Since then, he's received numerous awards for his exceptional work. And today, because of his experience and professionalism, he handles some of Miller Electric's largest and most valuable accounts.
But I understand that despite his record of excellence, he actually will tell you that his greatest accomplishment is working alongside his wife, Lori Ann, and their two daughters, Lynsey and Taylor. So would you join me in giving a warm round of applause to Ken Mortensen for his service to America and his service to Miller Electric? Ken. (Applause.)
You know, Donna and Ken, I know, are just emblematic of all of you in this room. So thanks for what all of you represent.
You know, as I travel around this country and the President travels around this country, when we see growing companies, we know it's because there's a lot of hardworking people bringing their integrity and professionalism to work every day. So to the whole Miller team, give yourselves a round of applause. You all are setting the pace here in Jacksonville and all over the country. You're doing a great job. (Applause.)
So as we're working to expand vocational education, I want to assure you this administration is fighting to give all Americans the tools to succeed, including Americans that made wrong choices earlier in their lives.
Earlier today, I had a very moving experience. We toured the headquarters of an extraordinary program — it was started right here in Jacksonville — called Operation New Hope. It started 20 years ago and it was a way of organizing community leaders, law enforcement communities, and faith leaders to break the cycle of recidivism that exists today.
People go into prison and the statistics tell us that within five years, 50 percent of people that have been incarcerated for a crime often end up back in prison. But Jacksonville said, 20 years ago, that you could do better. And you've been empowering former prisoners through job training and placement and through a full engagement by leaders and volunteers in the faith community. It's been truly inspiring.
I also understand that Miller Electric has participated in this program and Operation New Hope. And I just want to say to Henry and the whole team, thank you for believing in second chances and giving these people in our community an opportunity to start again. (Applause.)
And in that vein, last year, President Trump signed what we call the FIRST STEP Act. And we were just talking about it over at Operation New Hope. It helps to match prisoners with vocational education, with educational coursework, and with those important faith and character-based programs that give them the tools of mind and the tools of heart to make better choices in their life.
And as I said before, it's remarkable to think that 50 percent of those who leave prison are re-incarcerated within the next five years.
But listen to this: While the recidivism rate in Florida is 24 percent — that means people that have been in jail go back to jail 24 percent of the time — convicted felons who go through Operation New Hope here in Jacksonville, the recidivism rate is only 8 percent. Jacksonville is the city of second chances. And you all ought to be proud. (Applause.)
It was an inspiring meeting and I expect you might read about it in the paper in the morning. But as I told everyone there, I want to assure you this administration will always be tough on crime. And this President and I want America to be the worst place in the world to commit a serious crime. But we also want to be the best place in the world once you've done your time to get a second chance for people that are willing to choose a better path, to choose an honest life. We're going to continue to work for opportunities.
And I want to thank the Governor for the work he's done in this space already. And I want to thank him for his leadership on this issue. Thank you, Governor. (Applause.)
It really is — what brought me to town today was to see that incredible program. But with the tremendous success that we've made in the Pledge for American Workers, and with the success here at Miller Electric, I had to come by and see all of you as well.
And I just want to promise all of you that the President and I are going to continue to work hard to expand opportunities for pathways for people all across this country that want to get the education and training to be able to pursue new careers.
You know, I believe each one of us have certain God-given abilities. It's — to the very bottom of my heart, I believe this: An education ought to be, and training ought to be, about discovering what those abilities are, discovering what your passion is, and having the ability to pursue that, just like everyone in this room has been able to do.
And the truth of the matter is that every one of you at Miller Electric are emblematic of people that know that if you find your passion, you pursue your passion, and if you get the background and the training and the experience, the American Dream can happen. It's happening right here at Miller Electric. It's happening right here in Jacksonville. And we're going to keep fighting to make it happen for people all across America. That's my pledge to each and every one of you. (Applause.)
So, I'm looking forward to meeting as many of you as time permits, but I just want to say thanks. Thanks again to the great Miller team — Henry and his whole family here. We're honored by your hospitality. Thank you all for the warm welcome.
To Governor DeSantis, to Ivanka, thank you for what you all have done to expand opportunities for people all across Florida and all across this country.
But for all the progress we've made, I want to leave you all with a challenge. I challenge all of you here to — if you like what you're seeing in a growing American economy; if you like policies that got Florida growing with strong state leadership; if you like the policies this President is advancing at the national level, I want you to — encourage you to keep standing with us and keep demanding the kind of policies and the kind of leaderships that will ensure that Americans have the opportunity to live their dreams.
You know, it is kind of interesting: When the President and I first met about three years ago and he started talking to me about maybe joining this ticket, some people thought we were kind of different. (Laughter.)
You know, I mean, I'm a small-town guy, he's a big-city New Yorker, right? He's bigger than life, always memorable; I'm not, right? (Laughter.) And — but the truth is, as he and I got to know one another I found out we had a lot in common. And it was a belief in the American Dream. I mean, if you want to understand what animates this President every single day, it's a boundless confidence in the American people and the ability of any American with the right opportunities and the right education making the right choices to live the American Dream.
His passion comes from the same place mine does: His grandfather immigrated to this country; my grandfather immigrated to this country. His dad built a building businesses in New York, in Queens; my dad built a little gas station business in a small town. He went across the river and built the big buildings on Manhattan Island; I felt a calling into public service. I always tell people, you know, other than a whole lot of zeroes, we really got a lot in common. (Laughter.) And I mean a lot of zeroes. (Laughter.) And it's that belief in the American Dream, and that's really what we're fighting for every day.
And I want to remind you all again, as you leave here today, just — if you like what you're seeing, if you like the policies this President is advancing, if you like the policies this governor is advancing, just stand with us. Tell the story of the difference that it's making in Florida and all across this country. And go tell your neighbors and friends about the opportunities that this economy is creating.
I mean, here's a number for you: Did you know there's 7 million job openings in America today? And there's only about 6 million people looking for work. That's almost unprecedented in the history of this country. That's why we're investing in all new ways to get Americans off the sidelines and into the workforce with the skills and education they need.
So I want to challenge every one of you, as you stand with us, as you're enthusiastic about these policies, you're enthusiastic about a renewed focus on skills education, vocational education, go tell the story of what you're doing here at Miller and what we're doing all across Florida and all across America.
Tell your neighbors and friends who are unemployed or underemployed that there's great opportunities in this industry. There's an opportunity for them to develop their skills to be able to pursue their dreams at even a greater level. Tell them that Florida is growing every day, that America is growing every day. And more and more Americans are able to live out their dreams.
And I'm absolutely convinced that if all of us continue to share the story of the success that this state and nation are experiencing, if we continue to tell our neighbors and friends about the opportunities to improve their lives and live out their dreams, we're not only going to meet the needs of this growing economy, but with your continued support; with Governor Ron DeSantis and his allies at the statehouse; with President Donald Trump in the White House; and with God's help, we're going to make Florida and America more prosperous than ever before. And to borrow a phrase, we're going to make America great again. (Applause.)
Thanks, everybody. God bless you. (Applause.)
Mike Pence, Remarks by the Vice President at Miller Electric Company in Jacksonville, Florida Online by Gerhard Peters and John T. Woolley, The American Presidency Project https://www.presidency.ucsb.edu/node/334190