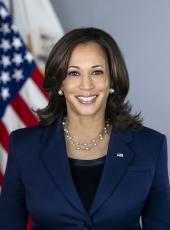 Remarks by the Vice President in a Meeting with Labor Leaders in Mexico City, Mexico
THE VICE PRESIDENT: Good afternoon, everyone. Good afternoon.
Well, I want to welcome everyone this afternoon. And thank you for taking the time from your busy schedules to have this conversation. As you may know, our administration -- President Biden, myself, our administration consider ourselves to be one of the most pro-worker, pro-union administrations in the United States.
We believe that unions help build the middle class. We believe that -- and I certainly do -- that anybody, regardless of whether they've been a member of a union of not, has organized labor to thank for the eight-hour workday, for weekends, for sick leave, for holidays, for paid leave.
And I met with the president this morning. I know that he shares the sentiment about the importance of supporting organized labor. And in that way, Mexico and the United States, I think, are of common mind about what we can do to support workers' rights, understanding it is in the best interest of all of society, it is in the best interest of economic prosperity that we do this work.
So I am looking forward to our conversation. I also have been asked by the President in the United States to lead our labor council. And I send you greetings from organized labor and the unions in the U.S. who feel a great sense of connection with the work that you are doing here.
And with that, I look forward to our conversation, including this -- it being on an auspicious day, which is: Today we announced, through our Department of Labor, that we will invest an additional $130 million in Mexico for technical assistance and cooperation over the next four years. That assistance will be directed in particular to help implement labor reform; to strengthen labor standards; to protect workers; to promote acceptable conditions of work; and then, as it relates to the focus of a number of you here, to address the risks of child labor and to do the work that we must do to collectively stop it.
So thank you for all that you do. Again, the underlying principles of our perspective include the right of all workers to be able to organize, to be able to collectively bargain, to be able to work together in the interest of supporting wages and benefits for workers. We understand that the importance of collective bargaining is actually evident in the phrase.
If we all agree that any bargain is to have a just outcome, if it is to be fair, then we must agree that the way to produce a fair result in any bargain is if people are on equal footing, and then the bargain -- the outcome of that will be fair. There's a negotiation, based on some equities. But to require one worker to bargain against an employer is to ensure that that outcome is not necessarily going to be fair.
And that is the essence behind the point of collective bargaining. Let the workers come together and advocate then, as a group, based on their common experience with the employer, and in that way have a greater chance of having an equitable outcome based on, again, the equities and the principles of fairness.
So with that, I thank you all for your time and for your consideration of this -- of this meeting. And why don't we get started, and I'll pass the mic to John Creamer, who is our chargé here in Mexico.
Kamala Harris, Remarks by the Vice President in a Meeting with Labor Leaders in Mexico City, Mexico Online by Gerhard Peters and John T. Woolley, The American Presidency Project https://www.presidency.ucsb.edu/node/350294