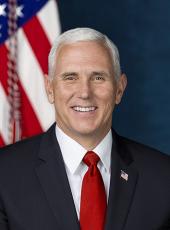 Remarks by the Vice President Introducing the President at Ceremony Recognizing First Responders to the June 14 Shooting Involving Congressman Scalise
THE VICE PRESIDENT: To members of Congress, our distinguished guests, members of the law enforcement community from all across the United States, on behalf of the First Family, welcome to the White House. And welcome to American Heroes Week here in our nation's capital.
One month ago today, America awoke to shocking news that a gunman had opened fire on a baseball diamond just south of our nation's capital. But in the wake of that horrific attack, our nation was deeply inspired by the heroism of America's first responders, and we celebrate that today.
Today, President Trump will pay a debt of gratitude to the men and women who inspired the nation that day and all they represent.
This week, America good news. The nation rejoiced with word that Congressman Steve Scalise was released from the hospital. (Applause.)
And, Steve, I know you're watching, so let me say we're inspired and relieved by your recovery. It's an answer to prayer. And we're especially honored to be joined today by your remarkable and courageous wife, Jennifer. (Applause.)
Jennifer, I know I speak for the President when I say that you and the kids will remain in our prayers until Steve is back to work.
Jennifer also wanted me to recognize two medical professionals who cared for Congressman Scalise from the very moment he arrived at the hospital and tended to the others who were wounded that day. Trauma Surgeon Jack Sava and Dr. Robert Golden of Medstar Washington Hospital Center saved lives, and we're honored by your presence today. (Applause.)
But finally, here on American Heroes Week, we gather in particular to honor five truly remarkable Americans who, without regard to their personal safety, rushed into harm's way and prevented an even greater national tragedy.
Join me in welcoming these five American heroes here to the East Room at the White House: Officer Kevin Jobe, of the Alexandria Police. (Applause.) Officer Alexander Jensen, of the Alexandria Police. (Applause.) Officer Nicole Battaglia, of the Alexandria Police. (Applause.) Officer David Bailey, of the United States the Capitol Police. (Applause.) And Officer Crystal Griner, of the United States Capitol Police. (Applause.)
As you will hear more in a moment, these five officers exemplify the best of law enforcement in this country, and they honor us by their presence today.
Before we welcome the President, would you just join me in showing one more round of applause to five remarkable Americans and all the men and women in law enforcement that they represent here at the White House today? (Applause.)
Mike Pence, Remarks by the Vice President Introducing the President at Ceremony Recognizing First Responders to the June 14 Shooting Involving Congressman Scalise Online by Gerhard Peters and John T. Woolley, The American Presidency Project https://www.presidency.ucsb.edu/node/329598