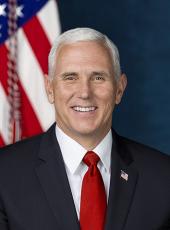 Remarks by the Vice President to Homeland Security Investigation and ICE Agents in Houston, Texas
Well, thank you, Special Agent Dawson. It is an honor to be here with you, with so many extraordinary, courageous Americans. To Senator Ted Cruz, thank you for your great leadership and support. Congressman Brady, Congressman Crenshaw, Lieutenant Governor Patrick — but most especially, to all of the courageous men and women of U.S. Immigrations and Customs Enforcement: Thank you for your service. We are proud of you and we are with you. (Applause.)
And as I begin, allow me to bring greetings from a friend of mine who is a great admirer of the extraordinary men and women of Immigrations and Customs Enforcement, who has been a champion of the rule of law and supporter of all of those who enforce our immigration laws — I bring greetings from the 45th President of the United States of America, President Donald Trump. (Applause.)
The President asked me to be here today among all of you — who he likes to call "incredible people" — just to, first and foremost, say thank you. Thank you for your service. Thank you for the difference that you make in the life of our nation and the way you advance the safety and security of this community here in Houston, the state of Texas, and the nation as whole.
Your leadership, your courageous service makes a difference every single day. It is remarkable to think: Sixteen years in the making, this agency has served the United States with great distinction and great courage. Twenty thousand American patriots like those of you gathered here comprise this organization.
And in 2018 alone, Immigrations and Customs Enforcement agents and officers made more than 34,000 criminal arrests — the most in any single year. And America is safer because of ICE. (Applause.)
Together, ICE agents removed 3,600 gang members from our streets, including 900 criminals affiliated with MS-13. You seized nearly 10,000 pounds of opioids before they could make their way to our communities large and small and tear at the very fabric of families and deliver hardship and heartache to families all across this nation. You know, the heartbreak that never happens, the crimes that never happen, never make it in the paper.
But I want to assure you that this President, his Vice President, these extraordinary public officials who are here with us today know that, every day, ICE makes Houston and Texas and America safer. And you have our gratitude and our thanks. (Applause.)
Now, unfortunately the field offices in Texas are some of the busiest in the country and we understand that. And I want to let you all know that we couldn't be more proud of the efforts that all of you make in a challenging environment. Some 1,200 miles of the southern border here in Texas — and, in the midst of a crisis on our southern border, the challenges are greater than ever. And — but you all have stepped up and done extraordinary work.
I want to say we're particularly proud of your colleagues, just this week, in the Dallas office of ICE Homeland Security Investigations — arrested more than 280 people in the largest worksite operation at a single site in the last 10 years, upholding the laws of our land. So our thanks to the Dallas office. (Applause.)
But here in Houston, the record is equally remarkable. In 2018, you arrested more than 14,000 illegal aliens, including more than 13,000 with criminal records. Your fugitive operations team focused on cases involving gangmembers, sex offenders, violent criminals; and, in 2018, arrested more than a thousand illegal aliens who posed a serious threat to national security and the safety of our nation.
In fact, I'm told, just last week, ERO Houston arrested an illegal alien who's wanted for homicide in the Honduras. And the people of Houston and Texas are safer as a result of even that single apprehension.
And not to be outdone, Homeland Security Investigations has already distinguished itself as well here in Houston. I'm told HSI Houston initiated more than 1,200 criminal investigations last year, resulting in the arrest of more than 1,300 human traffickers, drug smugglers, and gang members. So thank you to HIS Houston as well for the extraordinary work that you've done. (Applause.)
The stories are too many to tell, but I like to tell a few of them. (Laughter.) We're joined today by a Special Agent, an online undercover agent for HSI. I'm told that he's one of the best. He's working on investigating child exploitation and human trafficking. And we just heard from one of your distinguished members of Congress that Texas, tragically — Texas, tragically, has become — and this city has become a hub of the vile trade of human trafficking and sex trafficking.
This Special Agent is routinely called on for expert support by law enforcement agencies all across Texas and all across America. So would you join me in thank Special Agent Heath Hardwick? Where are you, Heath? (Applause.) Thank you for your work. Great job.
Heath does more to help lock up criminals who exploit children and vulnerable families each and every day. And we couldn't be more proud, also, of your efforts to educate — to educate students and parents and teachers about how to protect our kids in the digital age. Well done.
We're also joined by a deportation officer and program officer. I'm told the person first aspired to become a doctor. Went to medical school in Mexico 40 years ago, but then discovered a passion for wearing the uniform of law enforcement. As one former supervisor said, for more than three decades, he's treated every assignment like it's the most important work. And that's a work ethic that I know drives this office every single day. Join me in thanking Rogelio Gutierrez for an outstanding job protecting our community. Where are you, Rogelio? (Applause.) Great job.
We could go on, and, frankly, I know we could name everybody in this room. And it'd be my honor to do it. But just know that, in recognizing these two extraordinary agents, that we're recognizing each and every one of you for the work that you do and the risks that you take each and every day.
And the American people and the people of Texas deserve to know that, as you serve selflessly, as you consider our lives more important than your own, the truth of the matter is, this is a very challenging time for people in ICE.
Across the country and even here in Texas, the heroes of ICE have been targeted not only by protests but by online harassment. ICE officers and leadership have had their personal information shared and social media. That's led to threats against you and your families. It's truly extraordinary.
Now let me be clear: The American people have every right to engage in peaceful protests. But the threats and attempts to intimidate ICE officers and their families must stop, and they must stop right now. (Applause.)
The sad fact is that your job is more challenging than ever. That's the reason I'm here in Texas today; it's the reason President Trump is in California today, because we want you to know that we're with you.
You saw this President take strong measures, working with these members of Congress, to secure funding to end the crisis of illegal immigration on our southern border. But you all see the headlines as much as any other American does. You all live it here in these offices and in your assignments every day. You don't need me to tell you we've got a crisis of illegal immigration on our southern border and it's different than anything that we've ever seen before.
For the first time in the history of this country, the majority of people — some 4,000 in a single day last week — the majority of people coming across our southern border are families and unaccompanied minors who are being enticed to make the long and dangerous journey north by drug cartels and human traffickers who would exploit them and exploit the loopholes in our laws.
And now, here, the Houston office and Immigrations and Customs Enforcement is dealing with a wave not only of the people that are coming across the border that we apprehend that make a claim for asylum to try and gain entry into our country to exploit programs in our laws like catch and release that allow people to apply for asylum and then disappear into America that you all know better than me — it's not just the people that we stop at our border. It's the people that we're not stopping as we deal with an avalanche of families and vulnerable children coming across our southern border.
You saw the President of the United States take action. We stood strong in the Congress of the United States and President Trump declared a national emergency. And we have secured the funding and have already started to build new wall on the southern border of the United States. (Applause.)
The President will be reviewing some of that — those new structures in Calexico today. But you all know — in Immigrations and Customs Enforcement and at HSI, you know it's not just about infrastructure on our border. We also secured resources to support your work — additional personnel and additional bed space.
But I must tell you: The President's declaration of a national emergency has made resources available and we're putting them to good use. And I want to take this opportunity specifically to thank Senator Ted Cruz, Senator Cornyn, Congressmen Brady and Crenshaw. Thank you for standing for border security. Thank you for standing with President Donald Trump to end the crisis of illegal immigration. (Applause.)
But I am here today to tell you that we've only — we've only begun this fight. We're going to build the wall. We're going to secure our border in new and in renewed ways. We're going to provide you with the resources we need.
But you all know that Congress also has to act. The loopholes in our law that are known as catch and release; the loopholes in our law that do not allow us to return unaccompanied minors to their home countries in Central America the way that we can in Mexico; the very nature of the structure of our legal system is being exploited by human traffickers and it's creating suffering on both sides of our border.
I mean, make no mistake about it: These vulnerable families in El Salvador and Honduras and Guatemala are being exploited by human traffickers. They take hard cash — American currency — and then take them on the long and dangerous journey north, exploiting them physically along the way.
You all know the statistics better than me about the condition that, particularly, young women arrive in when they arrive at our border. And so, we stand here today to say: We're with you. We're grateful for you every single day. But we also stand here today, with these members of Congress at our side, to say: It is time for Congress to act. It is time for Congress to come together and close the loopholes and end this crisis of illegal immigration on our southern border. (Applause.)
You're doing your job. It's time they did theirs. (Applause.) So thank you all for being here today. I look forward to meeting as many of you as time permits, but I wanted you know that you not only have the respect of the President of the United States and his Vice President, but, as reflected here in these other officials, I just want to assure you: You have the respect of the American people. The American people are grateful for the work that that ICE does every day. We're grateful for the service of our teams at Homeland Security. We know the work you every day makes our families safer, our communities safer.
And so I want to urge you on with confidence of that support and confidence of a grateful nation standing with you and standing beside you. And I also want to urge you on just with a prayer.
You know, Congressman Crenshaw made a point in our last meeting. He said, "You know, it's…" — he's someone who has worn the uniform, been in harm's way — like many of you have as well. And frankly, many of you are every day in your current positions. It's important to remember the risks that you take. You don't dwell on them, your families don't think of them any more than they have to, but we know you take risks.
The congressman just said that, "For people that have ever gone through the door not knowing what's on the other side, I can't fully understand the challenges that you face."
And so while I want you to know that we're going to continue to work to give you the resources and support and the respect that you deserve, we're going to call on the Congress to close the loopholes that are making your job even more challenging every day, I want you to know that you also go with the prayers of the American people and with our prayer.
As the Old Book says, that "His faithfulness will be your shield and your rampart" as you serve. May it be so that you do not fear the terror of the night, or the arrow that flies by day; that no harm will ever overtake you, as you make him your refuge. So we pray.
So to the men and women of ICE, the men and women of Homeland Security: On behalf of the President of the United States, these great Texas officials, and your Vice President, thank you for your service. We are with you every step of the way, and we will stay with you until we end this crisis of illegal immigration and fix this broken immigration system once and for all.
Thank you all very much, and God bless you. (Applause.)
Mike Pence, Remarks by the Vice President to Homeland Security Investigation and ICE Agents in Houston, Texas Online by Gerhard Peters and John T. Woolley, The American Presidency Project https://www.presidency.ucsb.edu/node/334786