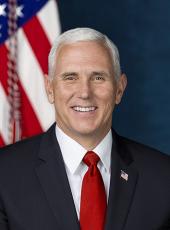 Remarks by the Vice President on Healthcare
THE VICE PRESIDENT: Thank you, Secretary Price. Thank you for those gracious words and insights, and especially just thank you for your service to this administration and your lifelong dedication to patient-centered healthcare. As a physician, as a public official, you've literally dedicated your life to the health and well-being of the American people. And Secretary Tom Price, we are grateful for your service. (Applause.)
You mentioned my Indiana roots, so you'll not be terribly surprised to know that I'm also grateful to be joined today by a fellow Hoosier, who literally has brought a lifetime of experience in healthcare policy to her new role as Administrator of the Centers for Medicare and Medicaid Services. Would you join me in thanking Seema Verma for her character and her vision and her professionalism? Thank you, Seema. (Applause.)
Now I'm really honored to be here today at the United States Department of Health and Human Services. I bring greetings from the 45th President of the United States of America, President Donald Trump.
I really came here today to do two things -- to express the President's appreciation for the work that each one of you do here at Health and Human Services, and, of course, to address one of the most pressing issues facing the American people today, the ongoing collapse of the Affordable Care Act.
But first, a word of gratitude for all the dedicated men and women of the Department of Health and Human Services. Day-in and day-out, the public servants in this room and all across the country, improve the health, safety, and well-being of America. It's not an overstatement in the least. And the President and I are truly grateful for your service and your dedication.
Under this roof, and in these halls, the men and women of HHS have spent more than 60 years working on behalf of the well-being of the American people.
Today, the Department of Health and Human Services employs 80,000 people and runs more than 100 programs and projects that impact American communities and American lives every single day.
Through the Food and Drug Administration, you make sure that the food we eat and the medicine we take is safe and effective.
Through the Centers for Disease Control, you protect the American people from the threat of epidemic.
You help families get on their feet through the Temporary Assistance for Needy Families Program.
And of course, you help tens of millions of seniors and vulnerable Americans get the healthcare they need through Medicare and Medicaid.
The truth is that your work changes lives and improves lives every day. There's an old saying, that when everybody in your family is healthy, you have lots of problems. But when one person in your family isn't healthy, you've got one problem.
Reality is you focus on that which is most important to the American people, the health and well-being of their loved ones.
You are, in a very real sense, the hands and feet of a caring nation, committed to the health and well-being of our people. And make no mistake about it and never doubt it: The Department of Health and Human Services and all you dedicated employees make a difference in the lives of Americans every single day. Would you just give yourselves a round of applause because you deserve it -- and all those that are looking on?
So I'm here to say thanks, but also to address the ongoing collapse of the Affordable Care Act, or as the President says more clearly, literally the "death spiral" of Obamacare.
I can promise you this President is fighting every single day to rescue the American people from this policy, to repeal and replace Obamacare, and give the American people access to the world-class healthcare that every American deserves.
Now I know this room is filled with men and women who care deeply about bringing high-quality healthcare to every American, and rest assured, President Donald Trump wants exactly the same thing.
The President's vision for healthcare is really pretty straightforward. We want a dynamic national, health insurance marketplace that lowers costs, increases quality, and gives more choices to working families. We want American businesses to have the freedom to give their employees the affordable coverage that they need and deserve. We want to give states the freedom and flexibility to create the healthcare system that works best for them, for their most vulnerable. And most of all, we want to empower the American people to make healthcare choices that are best for them in a free and open process.
In short, under President Donald Trump, we seek a brighter healthcare future for every American. This will be the North Star for our administration, and for everyone who works on healthcare here at HHS.
But make no mistake about it: To make this vision a reality, President Donald Trump is going to keep his promise to the American people, and working with this Congress, we're going to repeal and replace Obamacare. (Applause.)
We all remember all the broken promises of Obamacare. I was actually in the Congress when I heard them ushered forth on the floor of the House of Representatives. They told us if you like your doctor, you could keep him. They told us if you like your health plan, you could keep it. They said if Obamacare passed, that health insurance premiums would go down.
President Abraham Lincoln once said, "Give the people the facts and the Republic will be saved," and thanks to the exceptional work here at HHS, the American people now have new, hard facts. And they know for a fact that Obamacare has failed.
Last month, the professionals here at Health and Human Services issued a study showing how Obamacare has actually led to skyrocketing premiums across this country. This report found that premiums have more than doubled since Obamacare went into effect.
Whether it's Nevada, North Dakota, or Ohio -- every state has seen premiums spike under this failed law. In Louisiana they're up 123 percent. In Tennessee they're up by more than 175 percent. In Alaska, Alabama, Oklahoma, tens of thousands of people are paying three times more for their plan under Obamacare.
Remember the last administration promised that Obamacare would lower premiums on the individual market by up to $2,500 for American families? The reality: Premiums have actually increased by nearly $3,000 on working families across this country.
At this moment, millions of Americans are facing double-digit premium hikes heading into 2018.
And while costs are soaring, even worse still, choices are plummeting. Insurance companies are pulling out of Obamacare left and right.
Right now a third of American counties, including five whole states, only have one choice of Obamacare insurance coverage -- meaning they essentially have no choice at all.
And as the map on the stage shows, using information HHS released just yesterday, tens of thousands of Americans, or more, won't have any insurance options at all next year.
In the past few weeks, the last health insurers have announced exits from at least 23 Obamacare markets.
Take a look at Ohio where the last statewide insurer announced two weeks ago that they're likely to leave Obamacare. The red squares on the map are counties without any coverage. More than 13,000 citizens in Ohio will be affected with this no-choice option.
Now look at Missouri. Some 25 counties in the Show Me State won't have any insurance available under Obamacare.
And if you look just north in Iowa, you'll see that nearly the entire state only has one insurer. And if that company pulls out, which it has said it might well do, then 94 out of 99 counties in Iowa will be completely without coverage under Obamacare.
And remember, many insurers are still deciding whether to pull out under Obamacare exchanges. If and when they do, hundreds of thousands or even millions more Americans could have no health insurance options this time next year. With premiums more than doubling for the average American, with deductibles so high that most Americans can't afford to use their Obamacare coverage, it's no surprise that Obamacare itself has woefully fallen short of its goal to cover the American people, as the other chart on the stage shows.
Back when Obamacare was first passed, just over seven years ago, the Congressional Budget Office estimated that 23 million Americans would be covered by now. That's the blue line on the far left. It quickly became apparent that this was farfetched -- to put it mildly.
Last October, the Obama administration estimated that 14 million Americans would be covered by now. That's the next line. Yet as HHS released just yesterday, and as the red bar shows, in reality, it's even lower. As of March of this year, while 12.2 million selected a plan, only 10.3 million Americans actually paid for their premiums. That's less than half the number that was predicted under Obamacare. And nearly two million Americans dropped out in the same year, not paying the premiums that they had signed up to pay for.
As the President said just moments ago, 2 million more people just dropped out of Obamacare. It is a death spiral. And as CMS explained in the same report yesterday, in their words, "high costs and a lack of affordability were the most common factors individuals cited when asked why they didn't keep their coverage."
The Affordable Care Act is failing, and American families and businesses are paying the price. You see, it's not just about the statistics, although policymakers in Washington, D.C. always have to look at the big picture. But you here at HHS know, this is about real people. This is about American families. This is about a burden that's being placed on the American people, one American at a time.
I've seen it firsthand as I've traveled around this country. I've heard it from small business owners in roundtables where we've gathered and heard about the weight of Obamacare's taxes and mandates on their business that have caused some of them to speak with tears in their eyes about their decision to discontinue health insurance coverage for their cherished employees of many years.
And I've heard it from individuals like Julie Champine just this past Saturday in Wisconsin. You know, I met Julie on a trip to Milwaukee and she's a great lady. Has a great family -- she and her husband have been working their hearts out in their small business for many years. But Julie confided in me that she's got some pretty serious health issues. And health insurance is just vitally important to her.
Now, Julie has been buying her insurance on the individual market since 2004. She told me she wanted to believe it when President Obama said that she would be able to keep her plan and keep her doctor. But it turned out it just wasn't true. Julie lost her health plan. Then she lost her doctor. And ever since, she's been forced to buy unaffordable and unusable health insurance on the Obamacare exchange.
In 2016 alone, Julie told me that the Obamacare plan for her family cost more than $9,000 in premiums with a deductible of $13,000. And late last year, she found out her premiums were going to go up by another $2,600 this year. At this very moment, Julie told me that her Obamacare health insurance plan costs more than her mortgage, and she can't even afford to use it because of the high deductible.
In fact, she told me with genuine emotion in her voice that a few months back, she actually made the decision to go without health insurance for several months just so she could afford Christmas presents for her kids and her grandkids. That's the real cost of Obamacare on the American people. It's just wrong.
But that's the choice too many Americans are forced to make under this unaffordable Affordable Care Act. Julie basically said to me for the longest time, she just felt like we had no hope. But I looked her in the eye, and I told her, Julie, help is on the way. (Applause.) And I promise you it is.
The simple truth is, President Trump is right. Obamacare is collapsing. And frankly, you'd have to be blinded by partisanship to believe otherwise. And unfortunately, a lot of people in this town are, like most of the Democrats in Congress, for instance.
The American people deserve to know that the ones who gave us Obamacare now won't even lift a finger to help us clean up the mess that they created.
And their willing allies in the media continue to try to lay the blame for Obamacare's failures on this President, this administration as we try to rescue the American people from its failings.
But fortunately, thanks to the efforts of Speaker Paul Ryan, on May 4th the House of Representatives passed the American Health Care Act -- legislation that will repeal the taxes and penalties of Obamacare, expand health savings accounts, and give states historic flexibility to reform Medicaid in ways that will best serve the most vulnerable in their communities.
And as we speak, the American people should be encouraged to know that under the leadership of Senate Majority Leader Mitch McConnell and hardworking members of U.S. Senate majority, the Senate is, as we speak, working tirelessly to improve this legislation and create an orderly framework to transition our healthcare economy away from the regulations and mandates and taxes of Obamacare to a patient-centered healthcare system built on personal responsibility, free-market competition, and state-based reform.
In fact, the President and I will be welcoming key members of the United States Senate to the White House at lunch today to continue discussions on how we can move forward to repeal and replace Obamacare and rescue the American people from the ongoing collapse of this failed policy.
For the past seven years, under Obamacare, we've had a healthcare system based on the misguided premise that the federal government should order every American to buy health insurance, whether they want it, or need it, or not; that politicians know better than patients and doctors; and that --worst of all, that the American people cannot be trusted to run their own lives or make their own healthcare choices.
President Trump is fighting every day to restore basic freedom to America's health insurance system. And the men and women of Health and Human Services are essential to this effort.
Each of you in this room, and the some-80,000 employees of Health and Human Services, I know are men and women who've answered the call to public service because you care deeply about the health and well-being of the American people. Well, I'm here to say thank you for answering that call.
And just know -- as we move forward, as we give the American people more choices for more affordable healthcare, we give states freedom and flexibility to meet the needs of our most vulnerable, know that you, the dedicated men and women of the Department of Health and [Human] Services, will continue to play a leading role in making the best healthcare system in the world even better.
Thank you for your service to the American people. God bless each of you, God bless all our healthcare providers, and God bless the United States of America.
Mike Pence, Remarks by the Vice President on Healthcare Online by Gerhard Peters and John T. Woolley, The American Presidency Project https://www.presidency.ucsb.edu/node/329184