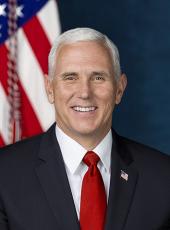 Remarks by the Vice President at Frank Rewold and Son Incorporated in Rochester, Michigan
THE VICE PRESIDENT: Well, how about a big round of applause for Frank and the whole team here at Frank Rewold and Son. One hundred years. (Applause.)
Frank, thank you to your family. Thank you for the warm welcome. And thank you to the whole team here for taking a break from building this spectacular new headquarters. Evidence that Rochester is rolling, Michigan is back, and America is coming back. And we're just getting started. (Applause.)
I want to thank you, Frank, for -- I want to thank you for your leadership. I do want to congratulate you and the whole team. Four generations of a great family business here in Michigan.
And as I just reminded Frank and several of the fellas on the job site -- you know, the American people did elect a builder to be President of the United States of America. (Applause.) So let me begin today by bringing greetings from that builder-turned-President, the 45th President of the United States of America, President Donald Trump. (Applause.)
We wanted to be here today just to have a chance to congratulate this great family and this great company on their success, but also really to celebrate. To celebrate that because of your support we've been able to enact polices in Washington, D.C. that are bringing this economy roaring back and making days like this happen more and more, not just across Michigan but really all across this country.
Since very early in this administration, President Trump has gone straight to work to revive the American economy. This President has actually rolled back more federal red tape in a year and a half than any President in American history. (Applause.)
With the strong support of the Republican members of Congress from this great state of Michigan, this President has been fighting for American jobs and American workers. We've been unleashing American energy. And just before Christmas, President Trump signed the largest tax cuts and tax reform in American history. (Applause.) And this economy, here in Rochester and all across Michigan, is responding. It really is remarkable.
And I want to thank Congressman Mike Bishop, who is busy working in Washington, D.C. today, for his tremendous support. Let's hear it for Congressman Bishop for the job that he's done -- (applause) -- fighting for the policies that are bringing Michigan back.
It really is amazing when you look at the results -- you look at the results of those tax cuts, less regulation, more American energy, and having a President who is fighting for the kind of trade deals that put American jobs and America first. (Applause.) We're seeing incredible results.
I just grabbed a few numbers as I was coming over today. Since Election Day in 2016, this economy has already created, with businesses large and small, 3.4 million new good-paying jobs; nearly 80,000 jobs right here in the state of Michigan; and 25,000 new jobs in manufacturing and construction alone. That's real growth and that's real results. (Applause.)
Unemployment hasn't been this low in America in nearly 50 years. And we have recorded, in recent days, the lowest unemployment rate for African Americans and Hispanic Americans than has ever been recorded in American history. (Applause.) We're expanding opportunity for every American.
Those tax cuts and the policies that you've supported on Capitol Hill, and that we've celebrated and made great moments, like this new headquarters behind me happen. But it's not just about buildings, and bricks, and mortar. Most importantly, it's about people.
I mean, the truth is, I'm here to say congratulations to a company on 100 years of growth and a reputation for integrity. But I also want to say thank you. I want to say thank you to Frank and the whole Rewold team, because in the wake of the President's tax cuts, they announced that FRS was doubling their profit sharing with all 70 members of the FRS team. It's going to mean between $2,000 and $8,000 a year more in the income and the paychecks of employees of this great company. (Applause.)
It really is incredible. In fact, we believe that when the President's tax cuts take full effect, that the average family here in Michigan -- the average family of four will see an extra $2,300 in their paychecks. (Applause.)
But you know, it's not just happening here in Michigan. The truth is that since the tax cuts were signed into law, hundreds of companies of all sizes have announced more than $500 billion of new investments in America, and 5.5 million workers have also gotten a bigger raise, a better bonus, or a tax cut benefit as a result.
I mean, the truth of the matter is, this economy is reviving because of the tax cuts and the economic changes that are encouraging American businesses large and small to invest in American workers once again. And I came here today because this great company is just a great example of companies just like it all over Michigan and all over America that are responding to the policies that we've advanced.
So before I close, let me just again say thank you. The policies that I just described, from tax cuts to rolling back federal red tape to unleashing American energy, have been supported not only by Congressman Mike Bishop, but I'm pleased to report that they've been supported by every Republican member of Congress from the state of Michigan, and we couldn't be more grateful. (Applause.) Couldn't be more grateful.
Now, that actually can't be said for all the representatives of Michigan in Washington, D.C. When it came to cutting your taxes, both of your senators actually voted no.
AUDIENCE: Booo --
THE VICE PRESIDENT: In fact, Senator Debbie Stabenow said that the tax cuts would be "a bad deal for the people of Michigan." And she said "the proof is in your paycheck."
Well, I say with great respect to Senator Stabenow, the proof is in our paychecks. They are bigger. And I believe Michigan deserves better. (Applause.)
But you know, for all we've done with your strong support, with the support of those members of Congress in the Republican Party in Michigan, the truth is, that's just what President Trump calls a good start. Every one of these contractors I talked to a minute ago said they're busy. But I want you all to get ready to be a whole lot busier. Because the truth of the matter is that, for all that we've done so far, President Trump believes and knows that the best is yet to come for Michigan and for America.
We're going to keep fighting for American jobs. We're going to be fighting for American workers, and keep fighting and standing strong with those that are standing strong for a more prosperous American economy.
And so I just thought -- I wanted to come here and say thank you. Thank you to all of you for your support. Thank you for the warm welcome in Michigan today. And thank you so much from the bottom of my heart for this great, great company.
It is amazing to think Frank Rewold and Son for 100 years has been prospering in this community, and now is growing like never before. (Applause.) And it makes me leave here today with renewed confidence that with your continued support, that with the continued support of partners in the Congress and in the state house, with President Donald Trump in the White House, and with God's help --
AUDIENCE: Amen!
THE VICE PRESIDENT: -- we will make America safe again. (Applause.) We will make America prosperous again. (Applause.) And to borrow a phrase, we will make America great again. (Applause.)
Thank you very much, Michigan. It's an honor to be with you all. And God bless you. And God bless the United States of America. (Applause.)
Mike Pence, Remarks by the Vice President at Frank Rewold and Son Incorporated in Rochester, Michigan Online by Gerhard Peters and John T. Woolley, The American Presidency Project https://www.presidency.ucsb.edu/node/335713