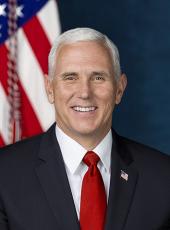 Remarks by the Vice President at Dynalab Incorporated in Reynoldsburg, Ohio
THE VICE PRESIDENT: Hello, Ohio!
AUDIENCE MEMBERS: Hello!
THE VICE PRESIDENT: It is great to be back. Last fall, thanks to all of you -- thanks to your hard work, your support, and your prayers -- Ohio voted to make Donald Trump the 45th President of the United States of America. (Applause.)
I spoke to the President this morning, and he asked me just simply to say thank you -- and to tell you, to promise you, we will never forget the support of the great people of the Buckeye State. (Applause.)
And let me say thank you to Senator Rob Portman for that kind introduction and for joining us today. The people of Ohio appreciate your principled leadership, and Karen and I truly cherish our friendship with you and Jane. Would you give Senator Rob Portman another vigorous round of applause for his great leadership? (Applause.)
Speaking of my wife, Karen, she's really sorry she couldn't be with us today. She already had dinner plans. (Laughter.) All kidding aside, my wife of 31 years is an amazing woman.
This week alone, she traveled across the country to support military families and also went out and stood by children recovering from serious illness. I'm just so proud of her, and my wife and I are so grateful for your support and your prayers for our little family. Thank you all. (Applause.)
Let me also thank to my friend of so many years Congressman Pat Tiberi. He's a member of the ways and means committee. He is chairman of the health subcommittee. He's chairman of the joint economic committee. He's one of the most respected voices on tax reform in the United States Congress, Pat Tiberi, the hometown congressman. Thank you so much, Pat. (Applause.)
And thank you to Mayor Brad McCloud for being here today and for your great leadership of this great community. It's a privilege to have all of you with us today, and the President and I are grateful for your support.
And finally, thank you to Gary James and the whole Dynalab team here for hosting us here today. Dynalab is a true American success story. Since 1981, you all have been doing here what our country does best -- taking big ideas and bringing them to life on the factory floor.
It's amazing to see what you've accomplished. Over 300 employees in a state-of-the-art facility, a great reputation -- congratulations to the whole Dynalab team. You are American Dream, and we congratulate you on your success. (Applause.)
Just so great to be with all the job creators that we met with for conversation earlier today, many of whom are still with us. People like the Flag Lady are here -- Mary Leavitt, from The Flag Lady Store; and Raine Neenan, from Tommy's Pizza. I can personally testify that that is a great business. And all these great business leaders, thank you for coming out today and sharing your perspective on the challenges and opportunities we have to turn this economy loose.
So let me say from my heart, it is the greatest privilege of my life to be Vice President to President Donald Trump. (Applause.) It's humbling for me to say it. The President of the United States is my friend. He loves his family. He loves this country with boundless energy, optimism, courage, and determination. And President Trump has a three-part agenda. I hear about it every day: Jobs, Jobs, and Jobs! And it's happening right here in Ohio already. (Applause.)
It's just amazing. The first two jobs reports under President Donald Trump are already out showing that nearly 500,000 jobs have been created this year -- including more than 135,000 new jobs in construction and manufacturing. (Applause.)
Thanks to our new President, it's been a great week for American jobs. On Monday, Ford Motor Company announced it would invest $1.2 billion right here in America to protect and create nearly 4,000 jobs. On Tuesday, the President signed a historic executive order to put America on the path to energy independence -- and give American job creators the kind of low-cost power that they need to grow. And yesterday, the President took decisive action to level the playing field on international trade. Under President Donald Trump, trade will mean jobs, but it's going to mean American jobs and put American workers first. (Applause.)
And American businesses are already getting the message. The President and I just yesterday were joined by the leadership of the National Association of Manufacturers, and they announced that manufacturing companies haven't been this optimistic in more 20 years. (Applause.) Get this -- 93 percent of manufacturers are excited about what they have in store in President Trump's leadership.
And so are the American people. People in this country haven't been this confident about our economy since the year 2000.
And they should be excited because President Trump knows what all of you know -- that when manufacturing is strong, America is strong. And he's fighting every day to bring American manufacturing back.
President Trump meant it when he said on Tuesday "we believe in those really magnificent words: Made in the USA." (Applause.)
? Manufacturers are the engine of our economy, and thanks to President Trump, that engine is about to roar. It's not just this past week, but literally since day one, President Trump has been fighting to get our economy moving again. He's been signing bill after bill to roll back excessive regulations enacted in the closing days of the Obama administration.
He ordered every agency in Washington, D.C. to find two regulations to get rid of before issuing any new red tape on American business and American job creators. (Applause.)
And just last week, President Trump authorized the Keystone pipeline, creating tens of thousands of American jobs and strengthening America's energy future.
He's taken decisive action to protect American jobs and American workers, as well, by enforcing the laws of this country for the citizens of this country, and illegal immigration is already down by 60 percent since President Trump was elected. (Applause.)
? And we're just getting started. Since the day the President was elected, he's worked tirelessly to keep his promise to repeal and replace Obamacare. (Applause.)
The President and I know what all of you know -- that every day Obamacare survives is another day that the American people struggle. We all know the truth about this failed law. Higher prices, lost plans, fewer choices -- Obamacare is a burden on the people of Ohio and it's a burden on Ohio's job creators.
That's why the President has worked so hard to keep his promise to the American people to repeal and replace Obamacare with something that actually works.
I've been incredibly inspired by the President's hands-on leadership on this issue. And the President and I are so grateful -- we're so grateful to Speaker Paul Ryan and all the House Republicans, like Congressman Pat Tiberi, who stood with us over the past month to begin the end of Obamacare. Thank you, Congressman. (Applause.)
? But as we saw about a week ago, Congress wasn't quite ready. With 100 percent of House Democrats -- every single one -- and a handful of Republicans, Congress basically said that they weren't ready yet to begin the end of Obamacare. It really is a shame. But as Congressman Tiberi just said to me a few minutes ago, it ain't over yet. (Applause.)
Obamacare is going to continue to explode, putting a great weight on millions of Americans. But the President and I have faith. We have faith that Congress is going to step and do the right thing. Even as we speak, I'm told the members of Congress are forging ahead -- working to craft legislation that will usher in the end of Obamacare. So be assured of this, folks here in the Buckeye State, when Congress finally decides to repeal and replace Obamacare, President Trump and I will be ready to work with them hand in glove. (Applause.)
You can take it to the bank: President Trump is never going to stop fighting to keep the promises he made to the American people -- and we will make America great again. We will repeal and replace Obamacare and give the American people the world-class health-care they deserve.
And once Obamacare is gone, we're going to cut taxes across the board for working families, small businesses, manufacturers, and family farms. (Applause.) We're going to work with these great leaders in the Congress to pass the biggest tax cut since the days of Ronald Reagan. We'll make the tax code flatter and simpler and fairer for everybody.
There's an old joke about how the tax code is 10 times the size of the Bible, with none of the good news. (Laughter and applause.)
Well, here's some real good news -- President Trump's plan is going to put more money in your pocket and make American business competitive again.
We're going to cut the corporate tax rate in America, one of the highest in the world, so that companies in American jobs can invest and create opportunities for America's workers right here in Ohio. (Applause.)
And President Trump is going to keep slashing through the red tape that's strangling Ohio's small businesses and manufacturers. The truth is that bureaucrats in Washington, D.C. are too often standing in the way of job creators, making it harder for them to grow and thrive.
You know, complying with federal mandates actually costs businesses like this one here over $13,000 dollars a year for every single employee. All told, red tape from Washington, D.C. actually costs the economy over $2 trillion dollars a year. That's enough money to create more than 24 million new good-paying manufacturing jobs. But it's wasted on pushing papers and jumping through government hoops.
Folks, that's just not right, and that's why President Donald Trump is getting government out of the way. He's reining in unelected bureaucrats so they can no longer cripple Ohio's economy from the comfort of their taxpayer-funded metal desks in Washington, D.C., and we're going to keep that fight going. (Applause.)
And as President Trump announced just this week, a new era of American energy has begun -- the war on coal is over. (Applause.)
You know, it's really heartbreaking to think that nearly a quarter of Ohio's coal miners have lost their jobs in the past few years, and that nearly half the state's mines have shut down. Countless Ohio families have been forced to watch good-paying jobs disappear from their communities. But now they have hope.
From the first day of this administration, President Trump has been fighting for Ohio and fighting for American energy. The executive order President Trump signed on Tuesday will end Washington's assault on affordable energy and give hardworking Americans and manufacturers the relief they need.
And President Trump is going to put coal miners back to work. As he likes to say, we all like to say: President Trump digs coal. (Laughter.)
We're going to unlock our country's amazing national resources -- not just coal, but shale oil, natural gas, clean coal, you name it -- because lower energy costs mean more jobs, more growth, and more opportunity for American families and American businesses.
And folks, under President Donald Trump, we're also going to rebuild America. If you haven't noted it, the American people elected a builder to be President of the United States. And with his Hire American, Buy American strategy, we're going to work with the Congress, and we're going to give our nation the best roads, the best bridges, the best highways and airports that America has ever had. (Applause.)
Thanks to President Trump, we're going to have jobs and growth and prosperity like never before. But making America great again isn't just about our economy. It also means standing with those who are protecting our communities, our nation, and protecting our way of life.
I can tell you -- I'm with him every day -- President Trump has no higher priority than the safety and security of the American people. That's why the President every single day is standing with the men and women in law enforcement here in Ohio and all across this country. (Applause.)
We've got a fair amount of men and women in uniform who are with us today. Would you all mind getting on your feet and showing these men and women in law enforcement just how much we appreciate the job they do protecting our families each and every day? (Applause.)
? President Trump is strengthening our borders. He's building a wall, enforcing our laws, and as he said in his joint address to Congress, we're taking measures to remove all the "gang members, drug dealers, and criminals who threaten our communities and prey on our citizens" off the streets of Ohio and off the streets of America. (Applause.)
We're working with law enforcement every day -- Immigrations and Customs Enforcement to accomplish that.
Beyond our borders, I have to tell you, I couldn't be more grateful, couldn't be more proud, as the father of a United States Marine, that we now have a President who will rebuild our military, restore the arsenal of democracy, and give our soldiers, sailors, airmen, Marines, and Coast Guard the resources and the training they need to accomplish their mission and come home safe. (Applause.)
And here in the homeland, in the wake of last November's terrorist-inspired attack on the grounds of Ohio State, I just want to assure all of you here in this community under President Donald Trump's leadership, America is standing strong and taking the fight to the terrorists on our terms, on their soil -- and ISIS is on the run. (Applause.)
And I'll make you a promise. President Donald Trump will not rest and will not relent until we hunt down and destroy ISIS at its source so it can no longer project violence around the world or inspire violence here at home. (Applause.)
So it's jobs. It's health care. It's energy, and it's the national security.
And this President is also keeping his promise to appoint a strict constructionist to the Supreme Court in the tradition of the late and great Justice Antonin Scalia. (Applause.)
By nominating Judge Neil Gorsuch, President Trump has kept his word to appoint to the Supreme Court a justice who will keep faith with our Constitution and uphold the God-given liberties enshrined there.
Next week the United States Senate will take his confirmation up. Let me just say emphatically, as America saw in those hearings just a little more than a week ago, Judge Neil Gorsuch is one of the most respected, qualified, and mainstream nominees to the Supreme Court in American history. (Applause.) It's true.
But remarkably, yesterday your very own senator, Sherrod Brown, announced that he and the obstructionist Democrats in the Senate plan to filibuster Judge Gorsuch's nomination as an associate justice -- something that's never been successfully done in American history.
? But let me say the President and I are confident, with the strong support of Senator Rob Portman, we know: For the sake of our Supreme Court, for the sake of our country, for the sake of our Constitution, we will overcome the obstructionists. And the United States Senate will confirm Judge Neil Gorsuch -- one way or the other. (Applause.)
My friends, the record is clear: President Donald Trump is a man of his word, and he's a man of action.
Before I wrap up, there's one other issue I'd like to address that I know also hits close to home here in Ohio, just as it did back in my home state of Indiana. I want you all to know, as America saw this week from the Cabinet Room in Washington, D.C., President Trump is working every day to end the opioid crisis that's ruining lives and tearing apart families and communities across Ohio and across America. Ohio knows all about the tragic consequences of this crisis. Over 2,500 Ohioans died from an opioid overdose in 2015, one of the hardest hit states in the nation. It grieves my heart to think of it. Tens of thousands more still suffer in the grip of addiction.
Let me say your own senator, Rob Portman, and Congressman Tiberi have been true leaders on this issue, and we're grateful for their leadership -- helping countless people through their work on Capitol Hill. And the President and I are grateful for their strong and compassionate leadership, as I know all of you are. (Applause.)
On Wednesday of this week in the Cabinet Room in the White House, President Trump and I met with a group of people who've seen opioid addiction up close and personal. We heard the inspiring stories of Vanessa and AJ, two young people who courageously overcame drug addiction, found hope and healing through counseling and medication to break the grip of addiction on their lives.
And tragically, we also heard from a mom, Pam Garozzo, who lost her son Carlos, the light of her life, a young man of incredible promise and creativity, to the scourge of drug addiction. President Trump told Pam -- with real emotion, he said, Pam, "your son will not have died in vain." And that very day, the President announced the creation of the President's Commission on Combating Drug Addiction and the Opioid Abuse.
? Under President Trump's leadership, we're bringing together public servants, medical experts, community leaders. And we will find innovative solutions to stop the flow of drugs into our communities and help families who need it most.
As the President said in his joint address to the Congress, in his own words, we will "stop the drugs from pouring into our country and poisoning our youth, and we will expand treatment for those who have become so badly addicted." Those two promises will be kept by this President and this administration. (Applause.)
Under President Donald Trump's leadership, I just know our communities, our country are on the road to healing.
My friends, we've really come to a pivotal moment in our nation's history. I believe with all my heart in this moment, we need every freedom-loving American -- we need all of you -- to stand up and to speak out.
We need you to tell the world that you believe we can do better, that you know it; that President Trump and his vision can renew and restore this country and put us on a path to a brighter future.
For my part, I know we're going to get it done because I have faith. As your Ohio State motto says, "With God, all things are possible." (Applause.)
One of my favorite verses in the Old Book, comes out of the Book of Jeremiah. It's actually -- it was a gift from my wife the first year I was elected to Congress. It was the same year as your congressman, back in the year 2000. It hung over the mantle of our little home in Indiana when I served in Washington, D.C. It hung over the mantle in the Governor's Residence. And now these words hang over the mantle in the residence of the Vice President of the United States.
It simply says: "For I know the plans I have for you, plans to prosper you, and not to harm you, plans to give you a hope, and a future."
Those words a millennia ago have been words that Americans throughout our history have clung to, and I believe they're as true today as they were throughout our history.
In November, the people of Ohio voted to give America a President with the strength, the courage, and the vision to make America safe again. You voted to give us a new leader who will make America prosperous again. And I believe with all my heart, that with your continued support, and with God's help, together we will make America great again. (Applause.)
Thank you very much. Thank you for being here today. God bless you and God bless the United States of America. (Applause.)
Mike Pence, Remarks by the Vice President at Dynalab Incorporated in Reynoldsburg, Ohio Online by Gerhard Peters and John T. Woolley, The American Presidency Project https://www.presidency.ucsb.edu/node/326520