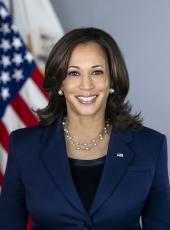 Remarks by the Vice President During the Democratic National Committee's Virtual Pride Celebration
Via Teleconference
THE VICE PRESIDENT: Thank you, Barbra, for that kind introduction. Barbra Streisand is extraordinary. She is always front and center in these fights for civil rights and equality, and she has been a longstanding ally, supporter, advocate for equality in America. So I'm just -- it was great to see you, Barbra Streisand. Thank you for all you do.
And it is so wonderful to be here with everyone. You know, a few weeks ago, I became our nation's first Vice President of the United States to attend a Pride parade. And as many of you know, for many years, I lived and worked in San Francisco, so it definitely was not my first Pride parade, but it was an important moment.
And for me, every year, Pride is a time for joy-filled celebration and a time to recommit to the fight for equality. And that's, of course, what brings us together today on this final month of -- and the final day of Pride.
Thank you to each of you. Our nation has made incredible progress because of your work. Marriage equality is now the law of the land. LGBTQ+ people are protected against discrimination. Members of the LGBTQ community proudly and openly serve our military and our government.
Because we know that there is work still to be done to achieve full equality, last week, I invited a number of LGBTQ+ activists to my Ceremonial Office, and we talked about how, for transgender people especially, equality remains elusive. Transgender and gender non-conforming people face violence and discrimination. Transgender and gender non-conforming youth face bullying and harassment.
And this year alone, more than 250 bills have been introduced -- 250 -- that would undermine the rights and dignity of queer people everywhere.
The President and I are determined to ensure equal protection for every American. On our first day in office, President Joe Biden signed an executive order strengthening the enforcement of laws that protect LGBTQ+ people from discrimination.
And just last year, the President signed a bill into law establishing a national memorial at the site of the Pulse nightclub -- last week, that was.
Our Defense Department has welcomed transgender people into our armed forces. Our Education Department has extended protections to transgender students under Title IX. Our Veterans Affairs Department has announced coverage of gender-confirming -- confirmation surgeries. And our Interior Department hoisted the Pride flag high over the building for the first time ever.
And we continue to call on the Senate to pass the Equality Act. We have been called the most pro-LGBTQ administration in history. That is a point of pride, and that is the point of Pride.
Friends, we know that, without your support, the progress we have made would not have been possible. In 2020, you helped Democrats hold on to the House. You helped Democrats take back the Senate. You help send me and the President to the White House.
And let me tell you, if you thought 2020 was tough, just wait for 2022. Our majorities in the House and the Senate are incredibly slim. We know that Democrats are going to need bigger turnout in 2022 to hang on to the House and the Senate, and Republicans know that too.
That is why, in states across the country, they are pushing legislation that would make it harder for people to vote, and that includes queer people.
And so, as we push back on these efforts with everything we have, we must also build up our infrastructure so that no matter the obstacle we can help the American people exercise their right to vote. I believe we can get it done.
We drove historic voter turnout in the middle of a pandemic. Just think about that. And if we start now, we can register more voters, turn out more voters, and break records once again. The LGBTQ+ community knows that we cannot take progress for granted.
So, on behalf of President Joe Biden and myself, thank you for all of your support. Please keep it coming with all of the work that you do every day. It may be the end of Pride Month, but our work is just beginning.
Thank you all. Happy Pride. Be well. Take care.
And now, it is my great pleasure to welcome our host, Colman Domingo.
MR. DOMINGO: Well, hello there. Hi, how are you?
THE VICE PRESIDENT: How are you? It's so good to see you.
MR. DOMINGO: It's so good to see you. I am so honored to be here with you, Madam Vice President.
THE VICE PRESIDENT: Thank you.
MR. DOMINGO: And happy, happy Pride to you.
THE VICE PRESIDENT: Happy Pride.
MR. DOMINGO: I want -- I have a question for you. How was your first Pride Month as Vice President?
THE VICE PRESIDENT: Well, it was wonderful. I mean, I'll tell you -- so my husband and I, we were -- you know, and he's gone to the Pride parade with me. Usually, I'm in the Pride parade in San Francisco, but we were in D.C. And -- and we both looked at each other and said, "We got to go." And so, without notice, we went to the -- to the parade. It was a -- it was really a march in D.C., but it was so good and important to be there.
And -- you know, and I talked about -- when I was there -- about the work we still have to do: the work for our transgender community, the work for our LGBTQ+ youth, passing the Equality Act.
So, as it has been every year for, I think, all of us who attend, it's a moment that is about joy and celebration and also a recommitment to the fight for equality in every regard. Right? Because we still have work to do. The Equality Act is about --
MR. DOMINGO: Yes, we do.
THE VICE PRESIDENT: -- the work we have yet to do around employment and housing and public accommodations and not being kicked off of a jury because of -- because of their status. So there's still so much work to be done, but we do the work. I like to say, "We are joyful warriors."
MR. DOMINGO: Yes, we are.
THE VICE PRESIDENT: We -- we enjoy -- right? We know how to, you know, enjoy a moment, and we also know the work to be done.
So, thank you, Colman.
MR. DOMINGO: Absolutely. Absolutely. Well, thank you so much, Madam Vice President.
THE VICE PRESIDENT: Thank you.
MR. DOMINGO: And I love the jacket that you wore. It was beautiful and vibrant and lovely. And I love it. Thank you.
THE VICE PRESIDENT: Thank you. Thank you. Be well.
MR. DOMINGO: Thank you. All right, be well. Thank you for being here. Most importantly, thank you so deeply for everything that you and the President are doing --
THE VICE PRESIDENT: Thank you.
MR. DOMINGO: -- to support that LGBTQ+ community. All right?
THE VICE PRESIDENT: Thank you. Thank you.
Kamala Harris, Remarks by the Vice President During the Democratic National Committee's Virtual Pride Celebration Online by Gerhard Peters and John T. Woolley, The American Presidency Project https://www.presidency.ucsb.edu/node/350665