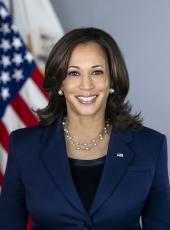 Remarks by the Vice President During a Meeting with Women Entrepreneurs in Mexico City, Mexico
THE VICE PRESIDENT: Well, it is an honor to be with all of you today, and I'm very much looking forward to our conversation.
You are extraordinary leaders. You are role models. And a lot of the work that we have done -- and that has been personally important to me -- in the United States and, by extension, among our friends is what we can do to lift up the status of women in my own country and around the globe.
I think we would all agree that when you lift up the economic status of women, you lift up the economic status of families, of neighborhoods, communities, and -- and all of society benefits. And so the work that you have done as entrepreneurs is a great model of the work that is happening and can happen more around the globe.
So, I'm looking forward to our conversation and highlighting that. In so many of our countries -- and I'll speak for mine -- we still have a lot of work to do in terms of parity. When we look at wage disparities, for example, there's still a lot of work that we have to do. And especially if you break that down by race, there is work that we have to do in terms of recognizing the demands on a woman's life. And not only for sustenance she may need to work and to take care of her family and keep a roof over their head and food on the table, but also to pursue her passion. And what kind of structure do we have and system do we have in place to support her, such as affordable childcare, such as paid family leave?
The pandemic has made it clear the work that we have yet to do, and, frankly, the failures in -- in the structure of our system. But let's take this as a moment of opportunity to share the stories, to uplift those stories in a way that we encourage all women and all people to see the capacity.
And it is, again, not only in the best interests of those families and those individuals; it is in the best interest of all of society.
Being in Mexico today has been, for me, a trip that is about also reinforcing the partnership between the United States and Mexico. We have -- we share families; we share history; we share a border, obviously. And so, the work that we can do together, in a bilateral way, on this subject and so many others, I think, has great potential.
So, with that, I thank each of you for being a part of this -- this conversation. And -- and I will hand the microphone, as we say, over to our Chargé d'Affaires.
Kamala Harris, Remarks by the Vice President During a Meeting with Women Entrepreneurs in Mexico City, Mexico Online by Gerhard Peters and John T. Woolley, The American Presidency Project https://www.presidency.ucsb.edu/node/350295