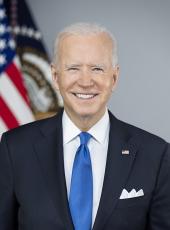 Remarks by the Vice President, Croatian President Kolinda Grabar-Kitarovic, European Council President Donald Tusk, and Slovenian President Borut Pahor in Zagreb, Croatia
PRESIDENT GRABAR-KITAROVI?: Good evening, dear ladies and gentlemen. First of all, I welcome my co-host, President of the Republic of Slovenia Borut Pahor; and our special guest, Vice President of the United States of America Joe Biden; and President of the European Council Donald Tusk, with whom I will give joint statements today about this presidential process summit meeting.
I also welcome President of the Republic of Albania, Bujar Nishani; Chairman of the Presidency of Bosnia-Herzegovina, Dragan Covic; member of the presidency of Bosnia-Herzegovina, Bakir Izetbegovi?; member of the presidency of Bosnia-Herzegovina, Mladen Ivanic; President of Montenegro Filip Vujanovic; President of the Republic of Kosovo Atifete Jahhaga; President of the Republic of Macedonia Gjorge Ivanov; and President of the Republic of Serbia Tomislav Nikolic; and our previous guest, President of the Republic of Austria Heinz Fischer. He has left us a bit earlier.
We have just concluded the extraordinary summit of the Brdo-Brijuni Process with prominent U.S. and EU participants. This was a dialogue of Southeast Europe, of the European Union and the United States aimed at strengthening the stability, security and prosperity of this part of Europe.
Southeast Europe is an area that we no longer talk about somewhere else, but instead of -- is talked with. We adopted conclusions inside of the common strategic vision of Europe whole, free, and at peace, for which I would like to emphasize the following key messages.
First, we discussed current challenges, as well as opportunities for strengthening the stability, security and prosperity of Southeast Europe. It was agreed that to achieve these common aims, we must continue to strengthen the transatlantic partnership -- the partnership between the United States and the European Union, and of course all aspirants, and to re-energize the EU Enlargement Process for Candidate Countries, and the Euro-Atlantic integration process for NATO aspirants.
The European Union and the United States expressed their steadfast commitment to advancing and supporting these European and Euro-Atlantic integration processes for Brdo-Brijuni Process members, which will help to realize our common strategic vision of Europe whole, free, and at peace.
Second, even though the EU Enlargement Process is an effective tool for transformation and modernization of candidate countries, commitment to this process needs to be re-invigorated. This process has to be considered not only a technical exercise, but a paramount political process.
Third, outstanding bilateral and regional issues should be constructively addressed according to international law and its principles, and in the spirit of good neighborly relations.
Fourth, we pledged to improve economic cooperation and connectivity through regional infrastructure projects, with special attention dedicated to energy security. Focus was given to guaranteeing prosperity for young generations by providing them with mobility programs and job opportunities. Here, synergy of the Brdo-Brijuni Process with the Berlin Process was emphasized. In this context, we welcome the outcome of the Vienna summit.
Fifth, it was agreed that regular dialogue at the operation level between the United States, the European Union and the countries of Southeast Europe is necessary to counter global security threats.
Sixth, joined in our unity and solidarity, and appalled by the brutality of the terrorist attacks in Paris, as well as terrorist acts in Ankara, Sinai, Beirut and Bamako, we called for effective and efficient global solutions to combat and address the root causes of radicalism, violent extremism and terrorism, which affect all of us. Broader international cooperation as well as better coordination and sharing of information by law enforcement agency is vital.
I'm encouraged by the commitment expressed by all of us today, especially by our special guest, to advancing and supporting these European and Euro-Atlantic integration process of Brdo-Brijuni Process members. I believe that we have just made a pledge to realize our common strategic vision of Europe whole, free, and at peace, which is not complete without Southeast Europe.
I called upon everyone in the spirit of what I've said to refrain from using the term "the Western Balkans." I do know that it won't disappear from the jargon so easily, that it is a technical term that is used by very many institutions and in documents, but I believe that we should clearly start to call this part of Europe, experience it as it -- what it really is, and this is Southeast Europe.
We also agreed in our assessment that this is a turning point for EU, NATO, and for the global community. Due to the emerging security challenges that all of us are facing -- particularly recent acts of terrorism, extremism and radicalism -- we focused on the need to strengthen Europe and transatlantic cooperation.
From Zagreb, we as leaders sent a strong message that we can do more, and that we should do more, building upon this dialogue and cooperation at all levels. For lasting stability in Europe, we need to achieve stability and prosperity in Southeast Europe. For prosperity and peace in Southeast Europe, we need strong partners and alliances.
To achieve all of this, we need to reinforce and magnify the dialogue among Southeast European, European Union and United States that will bear fruit in terms of concrete cooperation. The consolidation of Europe is possible only if the European Union includes this part of Europe. But Croatia and Slovenia will play a role of strong advocates of all the countries included in the Brdo-Brijuni Process, to which I wish a lot of success, both on their path in Euro and Euro-Atlantic structures, as well as on all the reform paths.
Thank you for your attention. And I give the floor to the Vice President of the United States, Mr. Joe Biden.
VICE PRESIDENT BIDEN: Madam President, thank you very much. And, Mr. President, you had a great idea a number of years ago. And the both of you have -- I am flattered that I was invited.
Can you hear me now? All right, well, I want to speak to your camera. Not you. (Laughter.) I'm teasing. I'm teasing. It's only a joke. It's okay. Ready, get set, go, all right? (Laughter.)
I'll repeat what I said. Madam President, thank you for your hospitality and I want to thank your colleague, as I said before, for having this idea that has blossomed into a coalition between the two of you to hold this conference and other conferences that float from it in a way that it's a real experience for me. I found it a very productive day.
For me personally, it's been meaningful. As I said to all of my colleagues, I felt privileged to be in the meeting we had earlier because I felt like I was -- and I mean this sincerely -- gentlemen and ladies, I felt like I was listening in on a family conversation. I've been coming to the region for a long, long time. I have had the privilege of -- this is not my first trip. I came to Zagreb when Tito was still President of Yugoslavia, as a young United States senator. I have known I think every major player. I've met with Milosevic, Tudjman. And I had the great honor of knowing President Izetbegovic's father, who I literally was in a bunker with on a number of occasions.
And so I'm not new to this. I am firmly committed -- and I speak -- I should make it clear, I speak for the President of the United States. There is going to be nothing missed in that translation. You should understand and I mean it sincerely. He very much wanted me to be here today, as I wanted to be here today.
My involvement goes back -- in Southeastern Europe -- since I was Chairman of the Foreign Relations Committee, over 25 years ago. As I said the first visit was in the '70s, and where I had the privilege of sitting in on a conversation between Averell Harriman, our ambassador to Russia -- the Soviet Union in World War II -- and president -- at the time a man who was there, as well. And hearing them both in their late 80s discuss the situation in the region was like going back and having a history lesson to hear them both discuss the circumstances that existed in 1945.
That was my introduction. And I know the history of the region. I've had the great privilege of getting to know the people, and neither my interest nor my investment in the region has waned over the years as long as I've been in public life because I've believed for a long, long time what everyone -- the phrase everyone is using, and we used it 25 years ago -- that we look forward to and has been a dream of my generation and my father's generation that there be a Europe that was whole, and free, and at peace.
In my view and the President's view, that is not realistically possible without Southeastern or the Balkans area being integrated fully within Europe. It is the ultimate guarantee that there be a Europe whole, free, and at peace.
And I want to set another -- I've read -- I've had translated for me the press that preceded my meeting here. Our presence isn't a return. The United States never left. Let me clear: We have multi-billion-dollar investments in Europe. I find it interesting, my European friends -- whether I'm in Paris or I'm in Zagreb, the United States has taken its focus off of Europe. We've gone nowhere. We have other responsibilities about -- around the world, jointly responsibilities and independent, but we have gone nowhere.
Matter of fact, when I was elected Vice President, the first foreign trip the President asked me to take to explain our policy was to the region. And I'm happy to be back today because every time I return, I see more progress. I'm not looking at what I saw in the 25 trips I've made in the middle of war. I'm not looking at bombed-out buildings. I'm listening to these gentlemen joke with one another instead of shooting at one another. A lot has changed. And I'm being a bit facetious, but it is -- there's been a fundamental change.
And I want to thank my friends for organizing this event. The leadership in moving the region toward a brighter future and the example your countries have set in the recent years demonstrate the transformational power of replacing discord and division with cooperation and reform.
I'm also proud to be here with my good friend, and he is my good friend, President Tusk, but Donald, the President of the European Council. I speak with him frequently. I seek his advice. And I unsolicitedly give him my advice on occasion. But it's an honor to be with him, as well.
The fact that we're here together demonstrates the importance both Europe and United States attaches to the future of this region. President Obama sends his best, and he wanted to be here, but we both thank you for accommodating me at this meeting because I know you've previously met in June. And you may have had this planned anyway, but I appreciate you accommodating my being able to be here.
We are firmly committed to achieving what we've set out to do from the Dayton Accords on to have -- to see the integration of this region of Europe fully for the first time, totally, thoroughly, within the institutional structures of Europe. There is no reason why over time the borders of the European Union shouldn't unite countries in the region rather than divide them.
And anchoring the Balkans in NATO and the European Union -- and I never tell another leader of another country what's in their interest -- but from our perspective seems to me the best way to promote stability, security, and prosperity.
Accession pushes countries to make tough, but necessary reforms. Countries have to make difficult choices to root out corruption. They have to commit to upholding the rule of law. They have to strengthen civil society and independent media. And they must reform their militaries and intelligence services. And we're committed to helping advance this process for all those who wish to be part of NATO.
This year the United States has allocated more than $130 million to help nations in the region implement the reforms I've mentioned, among others. Joining the Euro-Atlantic institutions is hard work. And it's precisely because it's hard work that I want to be absolutely clear to all countries in the region that the door to NATO -- I want to make this clear -- the door to NATO remains open, wide open.
Croatia and Slovenia have already proven that it's possible after undertaking the missions of reform and reconciliation. And they're now members of both NATO and the EU. Albania has joined NATO and become an EU candidate. Montenegro has made critical progress in the past year and the United States -- I want to be absolutely clear -- strongly, strongly supports its membership in NATO.
And Montenegro has also recently signed border agreements with Bosnia-Herzegovina and Kosovo. Albania and Serbia have reciprocated historical visits. We support these as hopeful signs for budding regional reconciliation, knowing there's much more that has to be done.
After so much conflict, we appreciate and applaud the steps that Kosovo and Serbia have taken to work productively together. I know it's far from over, but it is -- the dialogue is underway.
I need not tell all of you that there are critical issues that still have to be resolved, but the EU-facilitated dialogue between Kosovo and Serbia represents a historic step in the right direction. It opens the European perspective for both countries, and I commend the political courage and strategic vision the leaders of both Serbia and Kosovo had to summon in order to move this dialogue forward.
Bosnia and Herzegovina, unfortunately, have seen what happens when reform stalls. We discussed today the need for some far-reaching political and economic reform, and there's been a delay that has been too long. To be blunt, the people of Bosnia are being held back by the failure of basic governance reforms. And we don't think it's easy. We know it's very, very difficult.
In Macedonia, the political gridlock and drift of Euro-Atlantic standards has also stalled reforms. Fortunately, a new agreement now allows for elections this spring. And implementing the agreement will also I think allow the parties to work together to undertake the reforms necessary to move Macedonia forward. And I hope, and I will encourage that it opens the door to address obstacles and integration including the long-standing dispute with Greece over its name.
Let me say again, this region has incredible potential. But in too many cases, the region is held back by habits of fragmentation. In too many places, the cancer of corruption still lurks, hollowing out institutions and robbing the people of the opportunities they so desperately need and are capable of taking advantage of.
For the countries of your region to make real progress, politically, economically, and strategically, and to resolve your shared challenges, there is no option but to work together. But that is easier said than done. That's particularly true when it comes to energy security, a topic we spent some time dealing with today.
It's obvious to the whole world that Europe has to diversify its -- all of Europe, but particularly here -- diversity its sources of energy. That includes suppliers, transportation routes, and the types of fuel. Every country should have an alternative. They should not be locked into only one source of energy. It is a difficult position to be in.
Not only will this generate greater independence. When countries don't have to rely on a single energy source, it spurs economic growth and it brings good-paying jobs and opportunity to the region, something desperately needed.
And no country -- no country, let me say it again -- should, as one has now, use energy to manipulate internal or external politics of another country. That's why diversification of sources of energy is absolutely essential for Europe as a whole, this region in particular. And I know that President Tusk has worked very hard on that score.
So the United States is committing to working with all our European partners to advance energy projects that can and will transform this region. For example, a few examples would be investing to bring liquid natural gas to Croatia; new gas connections to Hungary, Bulgaria, and Serbia; offshore exploration along the coast of the Adriatic. All hold significant promise. But it requires cooperation and determination to move, and we should move now.
We also spoke about the refugee crisis that is straining the resources of countries across the region. I understand from President Tusk that he has called a meeting of EU leaders in Turkey this Sunday on the issue. But we already know there are immediate needs of food, shelter, warm clothing, as winter approaches. And these needs are only going to increase. This is another challenge that requires all of us, including the United States, to pitch in. We all have to do more. The United States does not have the immediate problem of thousands crossing the border, although we have other border problems in our own country that are different, but not totally dissimilar.
The United States has donated $4.5 billion in humanitarian assistance to support Syrian refugees, and we'll continue to do our part to care for the most vulnerable among us. But more has to be done. It's clear there's a need to improve cross-border cooperation, information sharing, and to deal with the flow of refugees while stepping up our ability to counter terrorist threats, as well.
To that end, we had a long conversation -- the President and I -- with President Hollande who was in Washington yesterday, and I'm sure we'll continue this conversation throughout the Union. But we stand ready to help the Union implement passenger-information-sharing agreements we've been working on that will improve the ability to stop foreign terrorist fighters from entering our countries at least by air.
We've also offered to share with our European partners the kinds of tools we have used to screen refugees before they enter the United States. Our biometric screening tools and other security checks may be of some value and help. And we're prepared to provide it.
But again, this crisis underscores the continued importance of Southeastern Europe to the stability and security of Europe as a whole. You all are making significant sacrifices -- more than we are making in terms of this refugee crisis.
But my guess is that because you've all lived through the horrors of war, you are deeply committed to helping alleviate the suffering of those who are today fleeing terror and atrocity. As a matter of fact, one of the President's spoke to their own personal experience during the crisis as to why they could not shut their border and turn their back.
This year marks the 20th anniversary of the Dayton Accords, the first step toward peace and reconciliation in the region. I was as there when those accords were agreed to. And it was never intended that they be the end of the process. There is more to do.
And I can tell you that President Obama and I and all of America have an enduring commitment to see for the first time in modern history this region fully integrated in Europe. I've had the great privilege to witness the history over the past 40 years. I saw firsthand the terrible scenes of people fleeing Srbrenica and Tuzla and other parts of the region. Today I see history in the making that will hold something new for all your children -- the promise of peace, prosperity, and cooperation.
That's the future that you've so long desired, the future that your children deserve, and the future that the United States is committed to helping you realize.
So again, let me conclude by saying thank you very much for allowing me to participate. And we have more work to do, but I'm confident that it can be done.
Thank you.
PRESIDENT TUSK: Thank you. It is good to be back in Zagreb to attend the Summit of the Brdo-Brijuni Process. In fact, it is less than three months, if I remember, since my last visit to Zagreb.
So let me first thank President Grabar-Kitarovi? and President Pahor for the kind invitation. I greatly appreciate the personal engagement in the Brdo-Brijuni Process.
Geography, history, recent events and plain common sense all teach us the importance of the Western Balkans. The Brdo-Brijuni Process is an essential contribution to the reconciliation process in Southeast Europe. And a reconciled Southeast Europe is crucial for all Europe -- for a common peace, prosperity, and stability.
Today, 20 years after the Dayton agreement was reached, we concluded that Euro-Atlantic and European integration will help transform Southeast Europe. Today, what we need most so far is real progress -- to reinvigorate the EU Enlargement Process for Candidate Countries, and to step up the Euro-Atlantic integration process for countries aspiring to join NATO.
I fully support the initiative of regular dialogue on security at the operational level between the European Union, the United States, and the countries of Southeast Europe. For me, there is no doubt that the future of the Western Balkans is with the European Union. The EU remains firmly committed to the enlargement policy for this region that we established back in Thessaloniki. It is crucial for peace, democracy, and stability throughout the whole region.
The region and the whole of Europe face enormous challenges today with the influx of refugees and migrants. In the past days, I visited several countries in the region, and I can only repeat, we must continue working on this together in a coordinated and cooperative manner. The European Union is ready to provide support. But I also want to reiterate that this is a global problem. Just like we need the commitment of the Western Balkans, we need the commitment from the United States, Turkey, and from the African countries.
The recent events in Paris, Ankara, Baghdad, Beirut, Bamako, and in the Sinai, or today in Tunisia, brutally demonstrated the growing security challenges posed by violent extremism. The Western Balkans remains a key region, and also in this context. A comprehensive approach against terrorism must include actions to counter extremism, prevent radicalization, and incitement to terrorist acts, as well as attacking the issue of foreign fighters. These challenges can only be solved through common efforts. The European Union will continue to work closely with Southeast Europe and the United States on this.
This is our common responsibility. We live in hard times, in a world that is interconnected as never before. Cooperation among us is as vital as it's ever been. I look forward to the further strengthening of our relations to address the common challenges we face.
Before concluding, let me comment on the situation after the downing of a Russian warplane by Turkey. As I said yesterday, this is a dangerous situation, and all need to stay cool-headed, calm, and use all channels of communication to de-escalate tensions. The incident underlines the difficult situation in Syria where there are different actors with different interests, conducting different operations with different aims. There is only way to avoid such incidents in the future: All resources should be concentrated on the fight against ISIL. This should be a common objective. There will never be a coalition to fight the moderate Syrian opposition. Everybody needs to understand that.
Thank you.
PRESIDENT PAHOR: Ladies and gentlemen of the press, it has been a very long but very successful day. At the end of the day and the conference, it is my job to finish this press conference by saying a couple of words. And I'll do that in my native language.
(As interpreted.) The Brdo-Brijuni Process is a good story, because at the times of increased security risks, the leaders of the Brdo-Brijuni Process and our high-level guests send the message that we should do everything in our power in order to preserve and strengthen our cooperation towards peace, security, and prosperity.
In light of the Euro-Atlantic integration -- (interpretation interrupted.)
(In English.) It's been a great privilege and a very successful day. Thank you so much.
Joseph R. Biden, Remarks by the Vice President, Croatian President Kolinda Grabar-Kitarovic, European Council President Donald Tusk, and Slovenian President Borut Pahor in Zagreb, Croatia Online by Gerhard Peters and John T. Woolley, The American Presidency Project https://www.presidency.ucsb.edu/node/321749