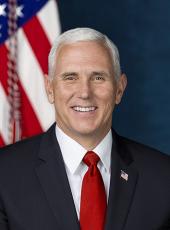 Remarks by the Vice President at a CEO Town Hall Meeting on the United States Business Climate
THE VICE PRESIDENT: It's a great privilege to be able to welcome you to the White House. Thank you so much. I want to thank everyone involved in the Partnership for New York City -- Michael Corbat, Stephen Schwarzman. It's an honor to have the leaders that are gathered in the room here with us today. I know the President is on his way over, and it's my great privilege this morning to share a few thoughts, in the midst of this important conversation on the topics that you're covering before I introduce my friend and the 45th President of the United States.
But let me say first and foremost, though, the companies represented in the Partnership for New York City are all American success stories. You have our admiration. You have our appreciation. Your businesses account for more than 7 million jobs and you add over $1 trillion to our economy each and every year.
What's more important is the people behind the numbers, and the topics that you've covered today are all about creating more jobs and more opportunities for Americans who are anxious to climb the ladder of success in the organizations that you represent and in companies all across this country.
So, first and foremost, on behalf of the President and the whole team that you've heard from this morning, and distinguished members of our Cabinet, thank you. Thank you for what you do. Thank you for your leadership.
I think as you will hear this morning in the dialogue that is about to commence that America has elected a businessman as President of the United States, and he is committed to being the best friend business has ever had in the White House. (Applause.)
We've already seen the results. Since literally when the election was called at -- I think it was about 4 a.m. in the morning, wasn't it, Ivanka, that we were all together -- literally we've seen renewed energy and dynamism in the American economy. The first two jobs reports, as I'm sure you are aware, thanks in no small part to the leadership represented in businesses here in the room today, the first two jobs report show that under President Trump, nearly 500,000 new jobs have been created in the first two months of this year.
Businesses and consumers haven't been this optimistic in decades. In fact, we just learned from the National Association of Manufacturers that in their historic quarterly report, 93 percent of manufacturers are optimistic about the future. That represented almost a 40-point increase in optimism since the last report. (Applause.)
We think that is evidence of a vote of confidence in our new President and in his vision to get this economy moving again by putting common-sense principles into practice. From the very outset of this administration, the President has been energetically working to roll back excessive regulation and red tape. Leaders in Congress -- and I see Leader McCarthy, who is with us today -- have been producing under what's known as the Congressional Review Act, legislation to roll back onerous regulations that emerged in the waning days of the Obama administration. And in the coming days, President Trump will be signing even more bills into law, rolling back that avalanche of red tape.
The President has also taken decisive executive action on expanding American energy -- the Keystone pipeline and the Dakota pipeline. We continue to work earnestly with Congress for a new future on healthcare reform. The President and I remain confident that working with the Congress we will repeal and replace Obamacare with healthcare reform that will work for the American people and work for the American economy. And of course, in the offing before we reached the end of the year, the President is determined to roll his sleeves up, work with the Congress and pass the largest tax reform in a generation.
Business -- as I said in those numbers about optimism -- business has clearly gotten the message. But today's conversation is all about learning from job creators represented in this room how we can continue to build on the momentum in this economy, particularly focusing on infrastructure, government modernization and workforce.
I can tell you that the subject that I came in at the end of and I know was much a topic today with Ivanka and with Wilbur, having to do with improving the quality of our workforce, expanding opportunities for what is known as career and technical education -- what we back in Indiana call vocational education -- is a real passion for our new President. And we look forward to partnering with you in ways that we can continue to encourage investment and create opportunities for expanded career and vocational education.
So today is all about really giving you an opportunity to share your thoughts. It's part of an ongoing conversation this administration has commenced since the very first day the President took office -- listening to business leaders, listening to everyday Americans about ways that we can bring about his agenda to make America Great Again and to have our economy growing and expanding in a way that is consistent with the most powerful economy in the history of the world.
I think the President is in the side chamber, so let me say to all of you, the opportunity you have today is to hear from a man who I have a chance to sit with every day. What you're going to see firsthand is what I see each and every day, and that is not only just a businessman made President, but you're going to see a leader, informed, focused, decisive, and absolutely committed to Make America Great Again.
It is my high honor and distinct privilege to introduce to all of you my friend, the 45th President of the United States of America, President Donald Trump. (Applause.)
Mike Pence, Remarks by the Vice President at a CEO Town Hall Meeting on the United States Business Climate Online by Gerhard Peters and John T. Woolley, The American Presidency Project https://www.presidency.ucsb.edu/node/327073