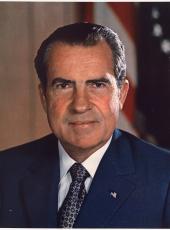 Remarks of the Vice President, Campau Square, Grand Rapids, MI
Thank you very much, Jerry Ford
May I request that all of those who have signs hold them down so the people in back can see a little better?
If you will just pull your signs down, then the people in back can see.
Thank you very much.
Certainly, as Jerry Ford and your county chairman have indicated, this is a crowd that will never be exceeded in this campaign or any campaign for that matter, and Pat and I want to express our appreciation to you for giving us one of the greatest welcomes of this whole campaign right here in Grand Rapids.
Incidentally, as we were coming along, I had a very great compliment paid to me. At least it will appear that way to my daughters. One of the youngsters alongside of the road said something that Pat overheard. She said, "You know, he almost looks like Maverick."
But certainly having all of the young people here out of school and also all of you of voting age is an opportunity which I, as a

candidate, have welcomed, and it's one that I do not want to miss on this occasion, but before I speak of the campaign for the Presidency I want to say something about Jerry Ford and about the candidates for State office. First, he is not on the platform because he was unable to make his way through the crowd, but I think that the people of Michigan, after many years of bad government at the State level, are entitled to good government, and with Paul Bagwell you'll get the best government in the United States.
And I have been thrilled by the fact that, as we have whistlestopped through Michigan today, we have had the biggest crowds in the history of every town we have been in on that whistlestop tour - and this can mean only one thing: that Michigan is going to vote for Paul Bagwell on the State ticket, for Jerry Ford for Congress, and I think for our national ticket as well on November the 8th.
Jerry Ford is one who needs no words from me in this district, but I want to say to you that, as one who has been a close personal friend of his from the time I came to the Congress and he came, as one who knows that he has worked with the President so closely in these past few years, I don't think there is any one man - and I use these words advisedly - who is more valuable in the House of Representatives, Democrat or Republican, than Jerry Ford of this district in Michigan - and let's have him back with the biggest vote ever from this district.
And, finally, there is another man who was unable to get here. Al Bentley has been circling in the air trying to catch up with our train, but certainly at the Senate level he will be one of the most articulate Senators that Michigan could ever have - and for Al Bentley I give my all-out support as I appear here in Grand Rapids.
And, now, my friends, I want to talk to you very briefly, because you have been standing here a long time and you're crowded, but very directly, about what I think is the most important decision that you will be making this year as voters - not only this year, but perhaps in your whole life. I say that because the time is past in this critical century in which we live and in this critical decade of the sixties in which what happened in Washington was not particularly important as far as people living in a community like Grand Rapids. Now what we do in Washington, what the next President of the United States does in Washington, will affect the lives of everybody in this State and in this city. So, consequently, I urge you to make a decision. I urge you to make it on the basis of what the men stand for, and, what is more, I urge you to work for the man whom you think is best between now and election day, because it is that important to you. Now, let me tell you why I believe these issues are important.
First of all, sometimes I know that when you hear talk about spending in Washington or spending at the State level, you must think: Why should I worry about that? I got plenty of troubles worrying about my family budget without worrying about the Federal budget or the State budget.
And I know sometimes that you must feel: Why is it that men like Jerry Ford, a member of the Appropriations Committee, fights for fiscal responsibility, fights for a Government that will spend as much as is necessary, but not a penny more than is necessary? Why is it that this is necessary to make this kind of a fight?
Well, my friends, there is an answer to that. During the darker days of World War II, one of the world's great statesmen was asked this question: He said, "Why are the allies fighting? What are they fighting for?"
And his answer was this: He said, "Well, if we quit fighting, you'll soon find out." And that's the same thing with regard to the fight that Jerry Ford, Paul Bagwell, A1 Bentley, and I are putting on and will put on in this great field, because, my friends, when we quit fighting against extravagant use of your money in Washington or in Lansing, you know what it means here in Michigan. You know that it means that the State's credit begins to drop. You know that it means that even the State employees begin to wonder where their next pay checks are coming from. You know the effect is to discourage new business from coming into Michigan, and you know the effect has been even to discourage the businesses that are already here, and cause them to leave Michigan.
My friends, that kind of extravagant government hasn't been good for Michigan. That kind of irresponsible government hasn't been good for Michigan. You're not going to continue it in Michigan, and I say we're not going to have that kind of government for all the 50 States of the United States by sending it to Washington, D.C.
When you think that programs of our opponents would each year cost approximately the whole gold reserve of this country, you can get an example of what this spending can mean - and I say to you that I am going to fight for all those programs that we need - in education, in medical care, in all the rest - that will spell progress; but, my friends, I am going to oppose every program that will raise taxes or raise prices for the American people, because I know that's what you need and what you want.
And I say to you today that, as we make that fight for you, we are making it because we realize that the money we spend, the promises we make; are not paid by our money, and not by Jack's money, either, but by yours. We realize, therefore, that we are rendering a real service to you when we see that you get your money's worth.
Now, the second point I want to cover is one that is particularly appropriate for me to cover in this city, and in this area, which is the home of Senator Vandenberg. He was a great fighter for peace, but he was also a great fighter for freedom, and I am proud of the fact that I stand here as a member of the team that has served for 7½ years with President Eisenhower and in those 7½ years we got America out of the war she was in. We have kept it out of other wars, and we do have peace without surrender today - and we're going to continue that kind of leadership, with your help.
Cabot Lodge and I stand for that kind of leadership. We know Mr. Khrushchev. We have sat opposite him at the conference table, and I can tell you, knowing him as we do, we will not be fooled by him. I can also tell you that in these days it is, I believe, certainly something we must avoid at all costs. We must avoid inexperience, the kind of inexperience where well-intentioned mistakes could lead either to war on the one side or surrender of principle or territory on the other.
Let me tell you something: There have been occasions in these last 7 years when I have seen the President make decisions, occasions when if he had made a mistake, the wrong decision, it might have led to war; it might have led to surrender of principle of territory, but because he was wise, because he did the right thing, my friends, we're here today - and I say to you that when we consider the record of my opponent, when we consider what he has said in this campaign, disagree and criticize the President for what he did on Quemoy and Matsu - he thought we should have drawn a line as we did in Korea - criticize the President because the President did not apologize to Mr. Khrushchev, did not express regrets - he said he could have expressed regrets, could have expressed regrets or apologized to him for the U-2 flights - disagreed with the President on Cuba and advocated a policy which, around the world and particularly around this hemisphere, has dismayed our allies - I say that on those three counts alone that they prove that we cannot afford any opponent's inexperience abroad or his extravagance at home, and the American people are going to vote that way on November the 8th.
What do we want then? What can we have? I'll tell you what we want. We want leaders in Washington, D.C., who know only one boss, and that is the American people.
We want leaders in Washington, D.C., who can go there and be independent, independent so that they can always put the interests of the people first; but, beyond that, in this field of foreign policy my friends, what we need is to believe in the right things, to stand for the right things, to be strong militarily, firm diplomatically, but, above all, we must stand for freedom not only for ourselves, but for people throughout the world.
Why do I say this? I say it, my friends, because the moment you surrender freedom or the moment you disappoint the hopes of freedom any place in the world, you run the risk, of losing it here, and we Americans have had a tradition from the time of our foundation for standing for not only freedom for ourselves, but for all mankind.
It is this crusade that Cabot Lodge, my colleague, and I ask for your support and your votes to lead. We want to fight for peace, fight for it the only way that it's effective, from strength and with firmness. We want to strengthen the United Nations and the instruments of peace, and we also want to keep alive for all the world the hope of freedom because we believe that is America's destiny, and we believe you think so, too.
So, this is my message to you today. If, clearly apart from the parties of which we are members, clearly apart from any labels we may wear, you in your hearts believe that Cabot Lodge and I are the men America needs in this critical period, then I say: Here's your chance to strike a blow for freedom, to strike a blow for peace by working between now and election day in this great crusade for peace and freedom for all mankind.
Thank you very much.
Richard Nixon, Remarks of the Vice President, Campau Square, Grand Rapids, MI Online by Gerhard Peters and John T. Woolley, The American Presidency Project https://www.presidency.ucsb.edu/node/273896