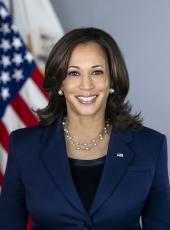 Remarks by the Vice President Announcing Actions to Fight Gun Crime
THE VICE PRESIDENT: Good afternoon, everyone. Good afternoon.
President Joe Biden, members of Congress, members of our administration, friends, and fellow Americans: When gunfire rings out in a community, it brings fear and it brings pain to the victims, to those who love them, to the parents who tell their children to run into the bathtub when they hear gunfire on the street outside because it is the safest place in the home from a stray bullet. Gun violence brings pain to the entire community and, by extension, to the whole of society.
As a prosecutor, I brought many perpetrators of gun violence to justice. But I knew, even after a successful prosecution, the hurt and the loss and the fear often still remained.
To the survivors of gun violence who are here with us today, and to the friends and family members of those we have lost, I thank you for your incredible determination in the face of so much pain. And it is a deep honor to stand with you today.
As we know all too well, our nation continues to be plagued by an epidemic of gun violence.
The President has worked for decades to end this terror. For my whole career, addressing gun violence has been one of my top priorities -- first, as a courtroom prosecutor; then as the elected District Attorney of San Francisco, when we created a gun specialist unit to go after violent offenders; then as Attorney General of California, where we worked within our California Bureau of Firearms to investigate and seize firearms for those who unlawfully possessed them.
I have seen firsthand how our nation's epidemic of gun violence has been driven by the prolification [sic] -- proliferation -- excuse me -- of guns in our communities and, increasingly in recent years, by the proliferation of ghost guns.
Ghost guns can be purchased on the Internet and assembled at a kitchen table.
They can be bought without a background check by people who otherwise would be legally prohibited from gun ownership -- domestic abusers, gun traffickers, individuals convicted of violent crimes, and even young children.
Traditional guns are required to have serial numbers, which can help law enforcement identify a firearm that has been stolen from its lawful owner or found at the scene of a crime.
Ghost guns have no serial numbers. They are practically untraceable, making it more difficult for law enforcement to hold to account those who use weapons to do violence.
Because of how easy they are to access and how difficult they are to trace, ghost guns pose an especially grave threat to the safety of our communities.
That is why, as a United States senator, I was proud to co-sponsor a bill to manufacture and -- end the manufacturing -- excuse me -- of sale of ghost guns. And it is why we are here today to announce new actions to get ghost guns off our streets and to protect our communities from gun violence. (Applause.)
The Department of Justice plays a critical role in addressing gun violence in our communities. And the actions we are taking today would not be possible without their partnership.
So I'm proud to now welcome a leader who has spearheaded much of the Department's work on this important issue, Deputy Attorney General Lisa Monaco. (Applause.)
Kamala Harris, Remarks by the Vice President Announcing Actions to Fight Gun Crime Online by Gerhard Peters and John T. Woolley, The American Presidency Project https://www.presidency.ucsb.edu/node/355411