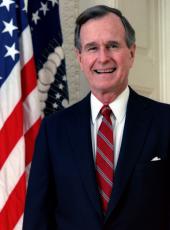 Remarks of the Vice President and Deputy Prime Minister Mieczyslaw Jagielski of Poland Following Their Meeting
The Vice President. Well, let me say that we've had a very good discussion with the Deputy Prime Minister Jagielski of Poland. He is the First Deputy. We had a broad range of discussions of U.S.-Polish relations. Secretary of State Haig was there throughout. And Secretary Regan and Secretary Baldrige took place in the meeting also-took part in it. I should say at the very beginning that the Deputy Prime Minister expressed his concern over our President, and I told him that after my visit today to the hospital that I could report to him, firsthand, that our President was, indeed, doing very well.
The U.S. values its constructive relations with Poland, and we want to develop those relations further on the basis of mutual respect and reciprocity. We're following a policy of nonintervention in Poland's internal affairs; and of course we are anxious that others do the same, and we're doing what we can to ensure that. We support the policy of the Polish Government, which is to use peaceful means to resolve Poland's internal problem. And we also welcome the Polish leadership's policy of renewal and economic reform.
We talked a good deal about that, the Deputy Prime Minister explaining in considerable detail the concerns of the Polish people and of his government. And we recognize that these economic problems can only be resolved through an economic program which does have the full support of the people. We're very sympathetic to Poland's economic difficulties. And the American people have, as I told him, a very strong, compatible, humanitarian interest in the welfare of the Polish people.
For these reasons, I had the pleasure of confirming what Secretary Haig had told the Deputy Prime Minister, and that is that the United States Government will sell at concessionary prices certain dairy products, surplus dairy products to Poland. This food, consisting of dried milk and butter, was requested by the government, and we were pleased to be able to reach agreement on that. There are other matters that the Deputy Prime Minister raised with us in terms of things that we might do to help further the economy of Poland. Those matters are being considered with a matter of some urgency, because he impressed upon us the problems facing his country.
We hope that the assistance that we can give will help relieve the current difficulties. And from our standpoint we had a most cordial and productive visit.

Thank you, sir, for coming our way.
The Deputy Prime Minister. Just as the Vice President has said it, I would like on my own part to confirm that our meeting was very interesting and that it was very fruitful, above all, and very advantageous. This allows us to present a wide spectrum of matters very important to our country, for Poland, from economic problems of general meaning and about the means that we in our own country, Poland, to solve the problems with which we are faced and confronted in our country in the most effective way, in the interest of the whole of our people.
I have emphasized once again that the will of my highest authorities is the consistent implementation of the Polish Socialist renewal and the solution of all swelling problems by political means. It is clear that the essential role is assigned to economic matters. And in their solution we expect assistance on the part of our friends, the United States. We are fully cognizant that we must solve these matters, referring at this point to economic matters, by means of our own resources and forces by our own work; increasing its productivity, reinforcing law and order. But we expect also to have assistance from our friends. This will be a subsequent consecutive demonstration of efforts to expand our economic cooperation as much as the historically shaped ties of friendship.
I wish to extend my thanks to the Vice President and to other interlocutors and for the cordial and warm reception accorded us.

Once again, thank you for your attention.
Note: The Vice President spoke at 3:28 p.m. to reporters assembled outside the West Wing Lobby at the White House. The Deputy Prime Minister spoke in Polish, and his remarks were translated by an interpreter.
George Bush, Remarks of the Vice President and Deputy Prime Minister Mieczyslaw Jagielski of Poland Following Their Meeting Online by Gerhard Peters and John T. Woolley, The American Presidency Project https://www.presidency.ucsb.edu/node/246448